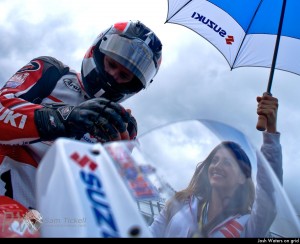 Josh Waters may not be a name you are familiar with – or at least weren't until this weekend.  When Yoshimura Suzuki decided to field their Suzuki GSR-R1000 as a wildcard bike in this weekend's season opener at Phillip Island, they called on Waters for the ride.
He beat out other bigger names for the ride, something that hasn't escaped him when we caught up with him.
"I am so grateful to the team for this opportunity, there were big names that they could have put on the bike like Yukio Kagayama, John Hopkins – so many good riders and they chose me for the Aussie round," Waters said.
Last time Yoshimura fielded a wildcard rider was at Monza in 2010 when Daisaku Sakai crashed heavily three times.
Yoshimura were scheduled to race four times in 2010 but abandoned that effort after the disastrous Monza weekend.
This weekend, however should provide more encouragement for the team.
The immaculately prepared GSR-R1000 was last raced in the Suzuka 8 Hour and Waters competed in the Australian Superbike Championship for Suzuki.
While both the national series bikes and world bikes are both high performance machines, the World SBK machines have that something extra.
"The bikes are quite different, a lot different actually. It hasn't been easy but the bike has been fantastic."
Indeed, Waters adapted well making Q2 in Superpole, beating out many fancied rivals.
"It was pretty cool, I just wanted to make it to Superpole.  Once I made it, I had an aim to make qualifying two and made I achieved that.  A huge thank you to the team has to go out for that!"
Qualifying is one thing but the race is another, and with a field as competitive as this Water's is understandable cautious.
"I don't know what these guys are like in the race – they are the best in the world.  I will try my hardest, which has been my attitude all weekend.  Whatever happens, happens so I will try my hardest and see how we go."
Waters has worked hard to reach this stage.  2010 was a difficult year after suffering serious injury after a race in America where he was placed into an induced coma but through hard work and the efforts of his manager, Phil Tate, he returned to the form that won him the 2009 Australian Superbike Championship and the form that won him 24 national dirt track titles in the earlier stages of his career.
Waters, who will be competing full time in Australian in 2011, will be starting 14th for race 1 after setting a time of 1:32.196 in the Q2 Superpole.
Article and interview by Sam Tickell on 27 February 2011