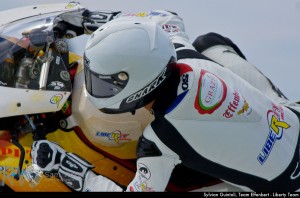 Sylvian Guintoli is entering his second year of World Superbike, switching from the factory team to the private Effernbert Liberty team.  He will be campaigning the former factory Ducati bikes with Jacob Smrz.  He had a difficult year last year but as he showed before his accident in the British SBK Championship, he has the pace to run at the front.  We were able to chat with Sylvian at the World Superbike opener at Phillip Island.
A front row grid position, a great way to start the season.
Yeah, definitely, definitely.  Especially for the first year of the team – the first race, first full run and I think we can do really well in the races.  Definitely they have put together a great team and a great bike.  It seems I am getting up to speed quickly.
Last year you did really well at Phillip Island, is this a circuit that you particularly enjoy?
Yeah I like the track but last year was more, I struggled more in the practice and it didn't feel as natural.  This year I get on there and I was quick straight away, which was good.  Last year I did a great second race but I really had to 'pull my finger out', you know what I mean?  I think tomorrow for me it will be better, so fingers crossed.
Your 2010 season started and ended well but you seemed to go through a mid season slump, can you tell us more about your 2010 season?
From about race two to about race six was shit.
Was there a particular reason for that?
It was a bit of  a fluke here.  Phillip Island is a track I like and we had been here for winter testing.  Leon also gave me a bit of help in qualifying – he let me draft him in qualifying so that helped.  I this event, it was great but it was not really what I could do.  It was better than what I should have been able to do at that moment.  From then on it was expected that I would be at the front and I was pushing and pushing but I couldn't do it.  From mid season, I spent a lot of time with different people talking about the race – that helped me a lot.  From that point on – from the middle of the season on I improved my qualifying and racing.  I started to understand the Championship a lot better which takes time.  It is difficult to arrive an nail it.  There are many experienced riders on great bikes.  Learning really.  The down in the middle of the season, it was more like a fluke at the start and then.  Now I am happy.  I know the tracks, I understand the tyres, I understand the Championship.  I feel more comfortable.  I am happy now, the Ducati, fuck me, it is brilliant – I like it!
You mentioned that you got on better with the Dutacti straight away, does that give you confidence for the rest of the season?
Yeah I think so, I think I will be better this season.  For that reason and as a superbike rider I am a lot better than I was this time last year – so yes, it should be better.
Riding the Ducati – a different bike in a lot of ways from the Suzuki f last year – have you been able to translate that experience and has the MotoGP experience given you a better appreciation of the Ducati 1198?
Well riding anything here, riding a pocket bike here will help you understand things.  MotoGP was a great experience and I learnt a lot there.  Superbike too – the fastest bikes and riders are here.  Carlos' time for pole position would have been good enough for the first or second row in MotoGP in qualifying last year.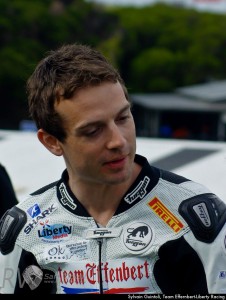 You can't dispute the quality of the field in World Superbikes – you look at the manufacturer support and the records of the guys riding here.
You see there are four different bikes on the front here, so everyone has a chance.
With the factory Ducati team pulling out, do you think that will hurt your team as the season wears on with no development etc?
Well, in way Althea is the factory team with the 2011 bikes.  Our bikes are also the factory bikes from last year, so factory or no factory it is not all there is – you know what I mean?  We have the technicians, and you get the spare parts, whether they are factory or not may not matter.  We have the factory bikes from last year and I don't know if we will get new parts but the bikes are good.  I don't know if the bikes will get better or not but we have started the year with a good bike.  We started the year with Suzuki with a good bike and by the end of the year you are not riding a donkey – you know what I mean?  If it is good start with, it will remain good.
Thanks Sylvian, good luck with the race and the season.
Interview and article by Sam Tickell on 26 February 2011