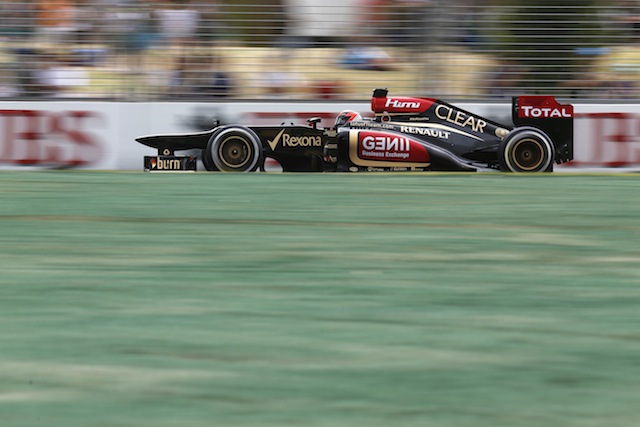 The Rolex Australian Grand Prix has been run and won and Twitter was again abuzz with chat, photo and media about what happened at the Albert Park circuit.
We start off with a plea to keep the race in Australia as a change in leadership in the State political party came in negotiations for the extended future for the race
The Grand Prix show packs up and moves on as attention now turns to contract negotiations to keep the race in Melbourne beyond 2015 #AusGP

— Ten News Melbourne (@tennewsmelb) March 18, 2013
F1 is all about technology and progress.  This is what you needed to know coming into the Grand Prix.
New #F1 technical analysis of the upgrades + key events from Australia! youtube.com/watch?v=9JCZoG… @somersf1 @techf1les @formula1tech @ivanf1

— JPetrolhead (@JPetrolhead) March 17, 2013
Your class of 2013
2013 drivers photoshoot before the #AustralianGP. See all the photos from the #F1 weekend: bit.ly/WoFurS twitter.com/motorsport/sta…

— Motorsport com (@motorsport) March 17, 2013
Due to the weather, qualifying was a shambles.  While Vettel couldn't get it done in the race, he could get it done in qualifying.  Here is the quick lap.
Video: #F1 2013 Sebastian Vettel Pole Position lap Australian GP youtu.be/2cVDHzs6NLE

— Sebastian Vettel ☝ (@sebvettelnews) March 17, 2013
The protocol was a little lost on the guy who sung (I use the term loosely) the Australian National Anthem before the race…
Only an Aussie could sing the National Anthem with his hat on…. #F1

— Maurice Hamilton (@MauriceHamilton) March 17, 2013
Undoubtedly the coverage from Network 10 was fantastic, though the cross promotion was, at times, cringeworthy for the Australian audience.  As was the grid.  This is why you need professionals.  Slick professionals.  Not people from sports or people from other walks of life.  We like professionalism.
@tensporttv gets access to the @ausgrandprix grid and they interview two b grade celebs. Bunch of dickheads! #F1 #ausgp

— AUSmotive.com (@AUSmotive) March 17, 2013
Mark Webber fluffed the start.  They claimed he didn't do many practice starts in pre season testing.  Not wise for a man who usually loses positions on the starts.  The press was not kind to the local hope.
Classic #WEB start, in infographic form… #F1 #EmbraceTheRace #AusGP twitter.com/jaysee_au/stat…

— John Cleary (@jaysee_au) March 18, 2013
Alonso would have thought he had the race covered.  He picked off most of his rivals.  This move on Hamilton was fantastic.
Fernando Alonsı Overtakes Lewis Hamilton – 2013 Australian GP bit.ly/Wt6mZ4 via bit.ly/YaVSZH #F1

— F1 Drivers (@f1d_2013) March 17, 2013
Raikkonen was at 9-1 for the win.  After Lotus showed so much potential in 2012, and only (just) won a GP, they started with bang this year, with all the front running rivals still on the road.
Here's a pretty cool shot of our #Iceman celebrating his win on the podium… #F1 #Kimi #LotusF1Team #AusGP twitter.com/Lotus_F1Team/s…

— Lotus F1 Team (@Lotus_F1Team) March 17, 2013
 Kimi's legendary party habits have been noted in how he 'does' a podium, as this parody site explains…
Kimi the only driver to drink champagne FIRST, then spray. Perfect. #F1

— Sniff Petrol (@sniffpetrol) March 17, 2013
And in a weekend where he got everything right, he didn't quite get everything right…
Press conference time for #Kimi and it seems he's forgotten his hat. Not sure he's aware though… #F1 #WeBeatYo… yfrog.com/ocot1cdj

— Lotus F1 Team (@Lotus_F1Team) March 17, 2013
—
RacerViews was established in 2011 and with the aim of delivering a new web experience to motorsport fans.  We bring exclusive interviews and photos from motorsports finest drivers of yesterday, today and tomorrow.  Our team has over 30 years of experience in the motorsport field.  With a heavy presence on Facebook, Twitter and iTunes where we have over 2800 followers,  our mission to bring exclusive content is in safe hands.  We have partnered with motorsport teams like Stig Richards Motorsport, One of a Kind Motorsport, Dark Horse Racing and MRT Performance in order to give you the best exclusive motorsport coverage.
We are always looking for new people to join our team.  If you are a motorsports photographer or journalist looking for additional exposure or a great place to learn your trade, contact us