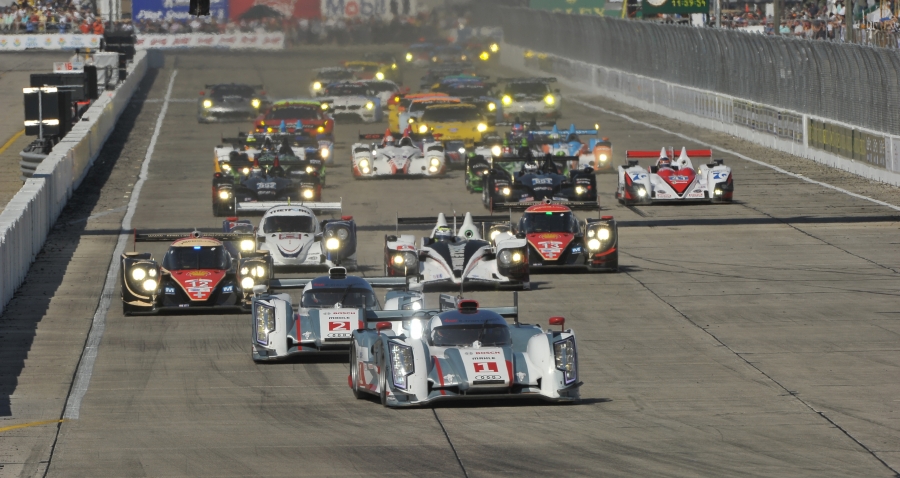 With the final Sebring 12 Hours to be run under the ALMS banner, we took to Twitter to see what people were saying throughout the event.  The official race results will be posted here, on the ALMS site.
This is a sentiment that many of us feel regarding the 12 Hours of  Sebring.  It has been a great ride and we at Racer Views look forward to the future.
Hard to imagine that there will never be an #ALMS race at Sebring again, but looking forward to a bright future @almsnotes #Sebring12

— Diane Swintal (@dswintal) March 17, 2013
This is your fast lap of Sebring, with thanks to Audi and Marcel Fassler
VIDEO: @audi__sport #1 driven by Marcel Fassler Qualifying onboard at @sebringraceway @almsnotes @specutainmentyoutube.com/watch?v=y05IsJ…

— Phil Diaz (@PMD9409) March 15, 2013
The Deltawing was back, this time with an Elan engine and Bridgestone tyres.  The engine expired early in the race, which was a shame.  It had pace, if not outright pace in the P1 field.
The "Chrome Comet" ! @deltawingrace (© Eric Gilbert). #Sebring12 Entry List bit.ly/YhoGTz #24LM #ALMS twitter.com/SportAutoLive/…

— Sport Auto Live (@SportAutoLive) March 13, 2013
The morning at Sebring – the calm before the storm.  At least the weather was good!
Sunrise over the Sebring Paddock… twitter.com/sebringraceway…

— Sebring Raceway (@sebringraceway) March 16, 2013
The teams are always working, like here with the SRT Viper team and a round table discussion
SRT Motorsports roundtable discussion: Sebring 2013. youtu.be/yODWUVtsqHI

— Bobby Cerchione (@JerzViper) March 15, 2013
Jeroen Bleekemolen was not in a great spot at mid race after losing a mirror and getting a flat tyre
We are a lap down now. That will make things hard today. But we won't give up!!! #flatout #ALMS #Sebing12

— Jeroen Bleekemolen (@jbleekemolen) March 16, 2013
But they got through for a class win…a great job by all involved
We have won the 12 hours of Sebring!!!! instagr.am/p/W8dwbTFHtp/

— Jeroen Bleekemolen (@jbleekemolen) March 17, 2013
It was also a difficult race for the Muscle Milk guys – Klaus Graf was displeased…
RT @baronvonclutch: [Just In] All Penalty and No Play Makes Klaus an Angry Boy. @klaus_graf #ALMS

— The ALMSChicks (@ALMSChicks) March 16, 2013
The new BMW Z4 GTE looked pretty decent in the dead of night…
Sebring by night ! BMW Z4 GTE n°55 @rllracing (Pic @bmwmotorsport). #ALMS #Sebring12 twitter.com/SportAutoLive/…

— Sport Auto Live (@SportAutoLive) March 17, 2013
The Level 5 crew making sure their cars don't faulter and give away the class win
45mins remain at Sebring, HPD engineers watching Level 5 cars running 1&2 in LMP2 twitter.com/HondaRacing_HP…

— Honda Racing / HPD (@HondaRacing_HPD) March 17, 2013
But it was all Audi at the top of P1
Sebring by night ! Audi R18 e-tron quattro n°2 (Pic @audi__sport). #ALMS #Sebring12 twitter.com/SportAutoLive/…

— Sport Auto Live (@SportAutoLive) March 17, 2013
This would be welcomed by all I think for the new series
Isn't it time for #Ford to develop a new flagship car to join the #Vette and #Viper in the #ALMS? #Sebring12

— Anthony Florio (@atflorio) March 16, 2013
I love P1 as much as anyone but this would definitely NOT be welcome!
Breakaway US sportscar series rumoured with LMP1 as lead class – Sebring paddock sources have confirmed potential rival 2014 series to USCR

— Graham Goodwin (@dsceditor) March 17, 2013
—
RacerViews was established in 2011 and with the aim of delivering a new web experience to motorsport fans.  We bring exclusive interviews and photos from motorsports finest drivers of yesterday, today and tomorrow.  Our team has over 30 years of experience in the motorsport field.  With a heavy presence on Facebook, Twitter and iTunes where we have over 2800 followers,  our mission to bring exclusive content is in safe hands.  We have partnered with motorsport teams like Stig Richards Motorsport, One of a Kind Motorsport, Dark Horse Racing and MRT Performance in order to give you the best exclusive motorsport coverage.
We are always looking for new people to join our team.  If you are a motorsports photographer or journalist looking for additional exposure or a great place to learn your trade, contact us