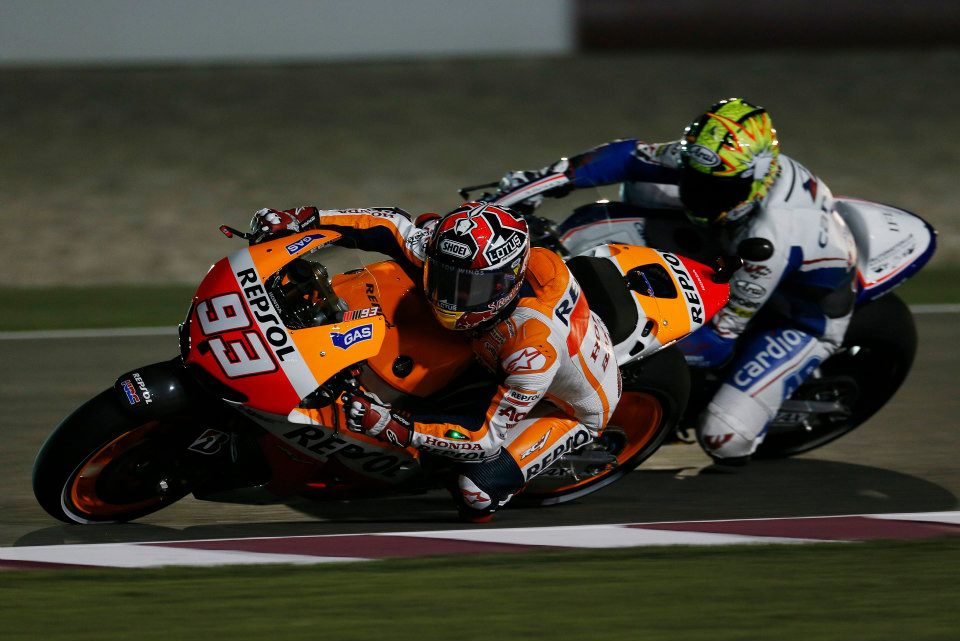 We take a look at the first MotoGP round of the season at Qatar. In this RaceTweet feature we scour Twitter to grab the best & funniest tweets to look at the weekend.
This is what most of us think of MotoGP.  Housemates/family beware
Excuse me while I shout at my telly for 45 minutes. #MotoGP

— Jared Earle (@jearle) April 7, 2013
Watching #MotoGP great cardio exercise

— Chris (@F1ML) April 7, 2013
Sportscar's Jonny Cocker has a good point.  Although MotoGP over the last couple of season's hasn't been the best – the race on the weekend was pretty decent.
Oh this is just insane!!! #MotoGP .. Motorsport take note, mechanical grip racing = EPIC racing!!

— Jonny Cocker (@jonny_cocker) April 7, 2013
 Rossi back with Yamaha and Marquez is all grown – the fight was awesome
Rossi y Marquez, dos idolos juntos para disfrutar en motoGP este año! twitter.com/Alexgm07/statu…

— Alex González(@Alexgm07) April 6, 2013
 And Marquez wasn't scared to get a bit of lean angle…
PIC – This is how @hrc_motogp'sboy @marcmarquez93 is going in Qatar – twitter.com/PataHonda/stat…

— Pata Honda Team (@PataHonda) April 5, 2013
;p
— Lauret (@Lauret46) April 5, 2013
Rossi was back in Blue and going fast…
The Doctor getting ready #MotoGP twitter.com/MotoRaceFeed/s…

— Moto Race Feed (@MotoRaceFeed) April 6, 2013
Though there were some awkward situtaions…
Hang on, did Rossi qualify behind a Ducati? Oops. #MotoGP

— Jared Earle (@jearle) April 6, 2013
In fact is seems Rossi really did love Ducati and had to have a ride before the weekend was out…
#MotoGP Paradojas del destino, Valentino Rossi se queda sin gasolina y llega a meta en Qatar en una DUCATI !!! twitter.com/road_over/stat…

— Roadover (@road_over) April 7, 2013
There was a new qualifying procedure and it seemed to gain support, especially from those that did well
'The new qualifying sessions were brilliant' – I'm sure many would agree with @aleixespargaro! #MotoGP

— Gregory Haines (@GregoryHainesGP) April 6, 2013
But it was Lorenzo who took out qualifying
#motogp @lorenzo99 comienza el Mundial 2013 con pole y sonrisa de ganador. twitter.com/motociclismo_e…

— Motociclismo España (@motociclismo_es) April 6, 2013
The racing was tough, and Aussie rookie Bryan Starring felt it
Gutted with my race last night. I still can't believe it. Few more tricks to motogp than what's in the hand book. #longrace #unforgiving

— Bryan Staring (@BryanStaring67) April 8, 2013
These 3, and Pedrosa – I have a feeling we'll be seeing a lot of them this year
La imagen del día #MotoGP @lorenzofanclub @ofcmarcmarquez @fanclubvr46 @lorenzo99 @marcmarquez93 @valeyellow46 twitter.com/motocuatro/sta…

— motocuatro.com (@motocuatro) April 7, 2013
And to end, a clear statement of the obvious
This Marquez kid is pretty impressive! #MotoGP

— Dan West-Burnham (@StradaleCorsa) April 7, 2013
—
Compiled by Sam Tickell, April 2013
RacerViews was established in 2011 and with the aim of delivering a new web experience to motorsport fans. We bring exclusive interviews and photos from motorsports finest drivers of yesterday, today and tomorrow. Our team has over 30 years of experience in the motorsport field. With a heavy presence on Facebook, Twitter and iTunes where we have over 2800 followers, our mission to bring exclusive content is in safe hands. We have partnered with motorsport teams like Stig Richards Motorsport, One of a Kind Motorsport, Dark Horse Racing and MRT Performance in order to give you the best exclusive motorsport coverage.
We are always looking for new people to join our team. If you are a motorsports photographer or journalist looking for additional exposure or a great place to learn your trade, contact us