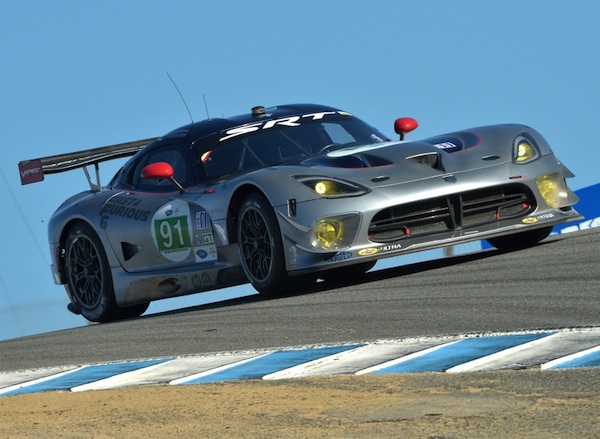 The ALMS just raced at Laguna Seca for the final time. It was a cracker of a race and we took to Twitter to see how the world saw the race.
Waking up to this, then racing  – there are worse ways to live
Another beach front hotel from TRG! Morning jog at 6.30 – some people think I don't work! 😉 #alms #California twitter.com/DamienFaulkner…

— Damien Faulkner (@DamienFaulkner) May 8, 2013
Meanwhile, Kyle Marcelli is hard at work…sort of
Interview time with #ALMS T.V.! #LAGUNASECA #BAR1 #MBRPinc @bar1motorsports @mbrpinc twitter.com/KyleMarcelli/s… — Kyle Marcelli (@KyleMarcelli) May 9, 2013
We agree, your dad is pretty cool. And what a track that will be.
Your dad's pretty cool. RT @maccbookpro: My dad bought us tickets for the ALMS race at Road America in Wisconsin! #ALMS #RoadAmerica — Road America (@roadamerica) May 10, 2013
Back to Laguna, and a gratuitous shot of your winner through the corkscrew
The Corkscrew. #ALMS #24LM #LagunaSeca twitter.com/SportAutoLive/…

— Sport Auto Live (@SportAutoLive) May 10, 2013
Or a gratuitous shot of your pole sitter, and runner up
The @rebellionracing P1 car starting pole on the #alms grid, for @tamerlaneblog twitter.com/bzrong/status/…

— Blake Z. Rong (@bzrong) May 11, 2013
Don't worry Team Falken, I doubt this car will have a chance of catching the guys on the other side of the fence
Heads up, there's a speed trap on turn 6. #teamfalken #alms twitter.com/FalkenTire/sta… — Falken Tire (@FalkenTire) May 11, 2013
I still struggle seeing Grand Am and ALMS promote each other. After reporting on the sport for the best part of a decade, it still is a mind…
Want to follow the #ALMS race at @mazdaraceway on Twitter? Follow @almsnotes and join the conversation using #MontereyALMS. — Rolex Series (@RolexSeries) May 11, 2013
Agreed. So what did YOU today? There are some very talented drivers coming for the future of sportscars.
Tristan Nunez is 17, racing #ALMS and #GrandAm and making you and me feel absolutely terrible about our lives. twitter.com/bzrong/status/…

— Blake Z. Rong (@bzrong) May 11, 2013
Girls with inflatable things. Yes this is motorsport
Poster time! @falkentire @falkenalms #ALMSMonterey #ALMS #teamfalken twitter.com/JoyceLex/statu…

— Joyce Lex (@JoyceLex) May 12, 2013
Reason number 750 of why sportscars is better than stock cars
What kills me is there's NO excuse for this race being boring! The cars are fast, they run inches from the wall.. where's the wow?! #nascar — Steph@MoreFrontWing (@99forever) May 12, 2013
Sportscars are also better than F1 – of course we will bring you a F1 report too
Sod the F1, switched over to watch the #ALMS replay on @motorstv. I like watching us win everything #HPD #YesSon #GetIn — Jason Easton (@lankylegohead) May 12, 2013
The fans were given a great show with the ALMS
#ALMS race at #LagunaSeca in Monterey, CA. Super fun day, lots of fast loud cars. instagram.com/p/ZMYdyshAuX/

— Will Chambers(@artillery606) May 12, 2013
Without doubt, the fight at the front was exciting – and Jani does his best to emulate the legendary Alex Zanardi
Line of the race so far: "Jani does the #Zanardi Bounce." #Corkscrew @mazdaraceway @lxznr #ALMS

— Peter Leung (@BaronVonClutch) May 12, 2013
Pitlane is a hazardous place
Traffic Jam: @mazdaraceway @bmwusaracing @rllracing @jedwardsracing @muellerdirk twitpic.com/cpzifi #ALMS — Peter Leung (@BaronVonClutch) May 12, 2013
It is a shame the Deltawing didn't make the finish but it did set up a great one
#deltawing stalls with 15mins to go and everyone dumps on it. Go figure.#alms — Kris Ronald Anderson (@4allintents) May 12, 2013
Yeah, yeah it was
Checkered flag at Mazda Raceway Laguna Seca. Retweet if you thought that last lap was intense! youtu.be/Ls2_faBIJ5w #alms #mrls

— almstv (@almstv1) May 12, 2013
Cracking race and great result for the Pickett guys. Great to see them go hard with the Rebellion car
Yessssss @musclemilkrace! Great win! Easily the most thrilling race I've ever been to. Great run from Rebellion until the end. #ALMS

— Steve (@s_evans10) May 12, 2013
Even the AJR/West Ferrari is feeling the pain
Team West AJR finishes fourth in GT @mazdaraceway #alms exciting last lap by Bell. twitter.com/westajr/status… — Kyle Chura (@westajr) May 12, 2013
Andy Lally is sorry for something? For what we don't know, can't be for a bad race. Must be for something else. Possibly for not donating his car to us? Employing us? It is definitely something to do with not giving us something good
I'm sorry. — Andy Lally (@AndyLally) May 12, 2013
After a disaster last time, Level 5 were flawless this time
Perfect Weekend for Tucker, @level5racing at Laguna Seca. bit.ly/10BEb7B #ALMS #24LM #LagunaSeca twitter.com/SportAutoLive/…

— Sport Auto Live (@SportAutoLive) May 12, 2013
I couldn't think of a worse thing to happen!
#AA flight delayed from DFW…what else is new? This means I'll miss the start of the #ALMS race on ESPN at 4 🙁 good thing I know who wins!

— Shea Adam (@GearboxGirl) May 12, 2013
Oh yeah! Keep an eye out here for the video
Finally Monterey Laguna Seca race is on YouTube. I need to see this race – the reports made it sound epic! #ALMS

— 卡爾頓·尼科爾森 (@Ginz44) May 12, 2013
If you want the results go here
—
Compiled by Sam Tickell, May 2013
RacerViews was established in 2011 and with the aim of delivering a new web experience to motorsport fans. We bring exclusive interviews and photos from motorsports finest drivers of yesterday, today and tomorrow. Our team has over 30 years of experience in the motorsport field. With a heavy presence on Facebook, Twitter and iTunes where we have over 2800 followers, our mission to bring exclusive content is in safe hands. We have partnered with motorsport teams like Stig Richards Motorsport, One of a Kind Motorsport, Dark Horse Racing and MRT Performance in order to give you the best exclusive motorsport coverage.
We are always looking for new people to join our team. If you are a motorsports photographer or journalist looking for additional exposure or a great place to learn your trade, contact us