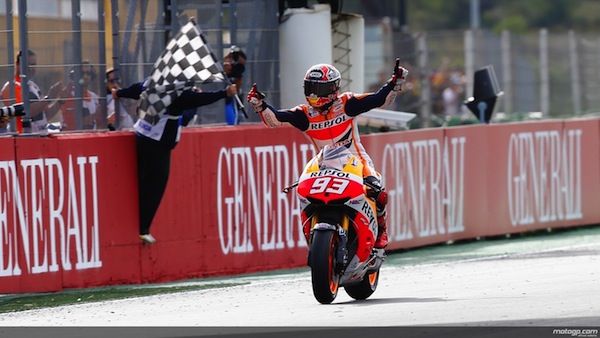 We took to Twitter to find out what you thought of Marc Marquez and his record breaking Championship after the MotoGP finale from Valencia
There could only be one. Lorenzo always had a tough task but Marquez had to have a wise head on his shoulders, act with expereince that belies his age
This cap belongs to @marcmarquez93 ! Congrats for being the youngest ever winer in the premiere class!! #Go93 pic.twitter.com/wqTX8ZJiue

— Marc Márquez Fanpage (@Marquesistas) November 10, 2013
But he handled the pressure like a master, riding a tactical race, keeping himself clean and gravel free all weekend
So who's supporting @marcmarquez93 today? #MotoGP pic.twitter.com/iyGM5Aykpj

— Red Bull Motorsports (@redbullmotors) November 10, 2013
And it worked out, despite tactics from Lorenzo and tight battles he hung on and the celebrations could start right at the checkered flag
Red Bull gives him wings! @marcmarquez93 #MotoGP pic.twitter.com/TlZwIymFOV

— Red Bull Motorsports (@redbullmotors) November 10, 2013
Not even Honda expected this so quickly but the joy for the Japanese was plain to see
Gratulation an @marcmarquez93 World Champion #motogp pic.twitter.com/NxI69cyFHR

— SPORT1 (@SPORT1) November 10, 2013
His fans though, never doubted him
RT to congratulate 20-year-old @MarcMarquez93 on winning the 2013 #MotoGP World Championship http://t.co/1udTcSt3Lf pic.twitter.com/sZLIOhDPY5

— SPEED (@SPEED) November 10, 2013
His achievements were recognised across sports with football's Gerard Pique being there for the moment
The cutest moment between Marc Márquez and @3gerardpique in Cheste 2013 🙂 pic.twitter.com/W6sLUFW2p6

— Marc Márquez Fans (@MarquesistasIND) November 10, 2013
This was the third time he could celebrate the Championship on the podium…the first time, in his 125cc year, he wasn't old enough to spray the champagne
#MotoGP @marcmarquez93 lost for words over world title win: http://t.co/gzOddXf3ob pic.twitter.com/zMmiKiNQUi

— MotoGP™ (@MotoGP) November 10, 2013
As a result of an amazing year, he got do to this
Marc Marquez placing his name on the trophy pic.twitter.com/eSG7PJBRa3

— Support Marc Márquez (@MM93_ID) November 10, 2013
And this
RT @marcmarquez93 Putting the number 1 on the bike!!! 😉 pic.twitter.com/gSp91V82kL

— Red Bull Motorsports (@redbullmotors) November 12, 2013
He rewrote history as the youngest premier class champion and only the third to win the what is now the Moto3-2-GP triple
History has been rewritten. @MarcMarquez93 -YOUNGEST EVER #MotoGP WORLD CHAMP! http://t.co/DOFyKofYrY #GO93 http://t.co/BrAsYGTY8E

— Oakley Motorsports (@OakleyRacing) November 11, 2013
Was this destiny? Could you see it in his eyes, as a young kid on a bike and meeting his heroes?
Congratulations to Marc Marquez – 2013 MotoGP World Champion For everyone else: never stop believing. #MotoGP #MM93 pic.twitter.com/Ygavl8fWe0

— RTR MotoGP (@RTR_MotoGP) November 11, 2013
RT @AussieGrit: Was a special little bloke when I met him the 1st time. congrats on the world title @marcmarquez93 pic.twitter.com/vAfAjX5p3c

— Zdravko (@zdravkost) November 11, 2013
It´s all about chasing dreams, isn´t it? #MarcMarquez #MotoP pic.twitter.com/pq4ejCW3kG

— Laura Meseguer (@Laura_Meseguer) November 10, 2013
Check out this #throwback pic of @NickyHayden & @marcmarquez93 pic.twitter.com/2JXDuzkS2E

— Eric Lawton Forbes (@EricLForbes) September 17, 2013
He had fun with his age – I think he will be a great asset to MotoGP for many years
BABY CAMP ON BOARD. ROOKIE OF THE YEAR @marcmarquez93 pic.twitter.com/v7hoMzlsQw

— Aulia Wirendra (@AuliaS93_) November 10, 2013
He still loves his games, or so it seems (though he can ride the real thing…). Wonder if he is any good?
Aduh ganteng"@marcmarquez93: I have to rest and to avoid getting bored.. PSVita! pic.twitter.com/fK1snyOjZL"

— Irene Aulia (@Ireneauliaa) September 27, 2013
He is the ultimate athlete of this moment
Ready @marcmarquez93 for The race ? 🙂 Good luck 😀 ! Campeón !!! pic.twitter.com/gmYs2aUhzj

— Campeón 2013 #93Fans (@LoanneHerbelin) November 10, 2013
And as if it wasnt' enough to be Champion, he gets a BMW as well
MotoGP champ Marc Marquez gets awarded with BMW M6 Coupe http://t.co/ZO5knfdoFn

— Flyin18T (@Flyin18T) November 12, 2013
His style is unique, from the generation that grew up with the gadgets…and apparently an ability to defy physics
The most difficult race of the season for @marcmarquez93 because he didn't want to shut the throttle! ©martinheath pic.twitter.com/fNbQNGuhYX

— Martin Heath (@martinheath) November 10, 2013
Win, like here at Laguna, or lose like in Australia, he was always smiling
RT @MotoGP:LagunaSeca race reaction – @marcmarquez93 surprised even himself with his U.S. win: http://t.co/eiCxtMpVDe pic.twitter.com/1U40qs6scq

— Felix Widhi (@BotaXRULES) July 26, 2013
He has his first book cover – I'm sure there are many more to come
This will be the first of many for @marcmarquez93 Congratulations, you're the cover star of this year's Motocourse! pic.twitter.com/GTMjewSajW

— Motocourse (@Motocourse1) November 10, 2013
And a video to go out on…
Video: Marc Marquez 2013 MotoGP™ Champion. #MM93 is the youngest ever rider to clinch the premier class world title http://t.co/qSpggM7naz

— MotoGP Fan Zone (@bgmotogp) November 10, 2013
By Sam Tickell, November 2013
RacerViews was established in 2011 and with the aim of delivering a new web experience to motorsport fans. We bring exclusive interviews and photos from motorsports finest drivers of yesterday, today and tomorrow. Our team has over 30 years of experience in the motorsport field. With a heavy presence on Facebook, Twitter and iTunes where we have over 2800 followers, our mission to bring exclusive content is in safe hands. We have partnered with motorsport teams like Stig Richards Motorsport, One of a Kind Motorsport, Dark Horse Racing and MRT Performance in order to give you the best exclusive motorsport coverage.
We are always looking for new people to join our team. If you are a motorsports photographer or journalist looking for additional exposure or a great place to learn your trade, contact us