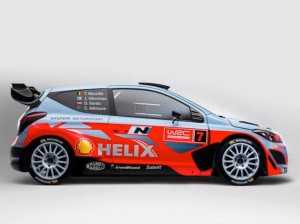 Hyundai Motorsport are back in a big way for 2014 with the i20 taking on the World Rally Championship.  With rapid Belgian, Theirry Neuville leading the team, the Koreans will be hoping for wins and even the Championship in 2014 – a tough ask with Volkswagen, Citroen and M-Sport all at the top of their game.  Neuville will be joined by Dani Sordo, Chris Atkinson and Juho Hanninen who will share the second car.
Of course it isn't the first time Hyundai will have rallied at in the top flight, having taken the Hyundai Accent into the WRC in the late 1990s, early 2000s.  It rallied without a lot of success, unable to take on the might of Mitsubishi, Peugeot and Subaru – all of whom were spending a lot more with teams that had a lot more experience.
The team had a lot of good drivers including Alister McRae, Armin Schwarz, Kennith Eriksson, Freddy Loix and four time Champion Juha Kakkunen.  Despite this list of names, they could never crack the podium taking fourth in Australia 2000 and Britain 2001.  Their efforts in the top flight would end half way through a tough 2003.
Previous to the WRC effort, they had an F2 kit car based on the Coupe which achieved success in the lower formula and national championships.
In anticipation of the Hyundai WRC comeback, we take a look at two testing videos from the team, one from the year 2000 and one leading up to their 2014 return.
httpv://youtu.be/ZNyeMh9hwcc
httpvh://youtu.be/igB7L3qL-B8
RacerViews was established in 2011 and with the aim of delivering a new web experience to motorsport fans. We bring exclusive interviews and photos from motorsports finest drivers of yesterday, today and tomorrow. Our team has over 30 years of experience in the motorsport field. With a heavy presence on Facebook, Twitter and iTunes where we have over 2800 followers, our mission to bring exclusive content is in safe hands. We have partnered with motorsport teams like Stig Richards Motorsport, One of a Kind Motorsport, Dark Horse Racing and MRT Performance in order to give you the best exclusive motorsport coverage.
We are always looking for new people to join our team. If you are a motorsports photographer or journalist looking for additional exposure or a great place to learn your trade, contact us