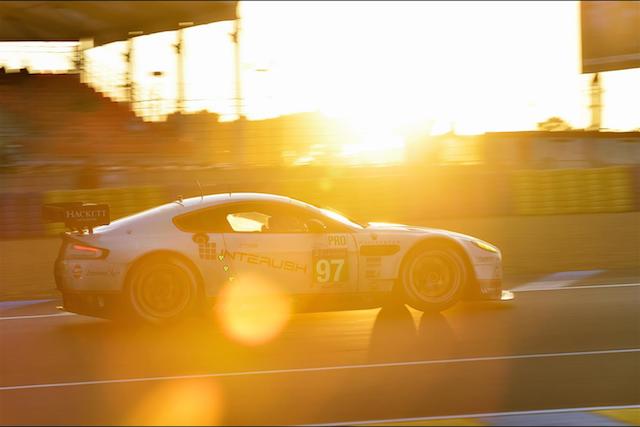 After an epic 24 Hours of Le Mans here is what the drivers and team personnel said from the GTE PRO class and take a look at how the teams saw the race.
You can relive the LMP1 class battle here.
You can relive the LMP2 class battle here.
Toni Vilander
"Our strength is that our team is very solid. It's our third Le Mans together. We won in 2011 and we won again this year. AF Corse put a fast, reliable car in our hands. Gianmaria is one of the fastest GT drivers, Giancarlo is very fast and consistent, and I think we make up the three of us a good combination."
Good luck @GianmariaBruni @toni_vilander @OfficialFisico #AFCorse #24hoursoflemans #Ferrari #51 #LM24 #keepushing pic.twitter.com/BMoyV83KD4

— Alberto Massimo (@Alberto_Massimo) June 12, 2014
Giancarlo Fisichella
"A victory here is always very special, it's one of the biggest races of the year, maybe even the biggest. A huge tip of the hat to AF Corse and Ferrari for the work provided. The mechanics did great work, the refuelings were impeccable, we made it to the end and we won!"
@OfficialFisico weeeee orgoglio italiano!!! Complimenti per la vittoria a tutti voi!!! pic.twitter.com/6MDbhbltl4

— Alessandra 🙂 (@ally_cu) June 16, 2014
Gianmaria Bruni
"Crossing the line, the car was like us, a little tired! We fought from the first to the last lap, without the slightest issue and all the credit goes back to the team. A big thank you then to the mechanics, to AF Corse and to Ferrari. The last four hours were long, very trying on the nerves…But we held fast!"
Luca di Montezemolo
"This is a very important victory in an amazing race. This result is extremely satisfying and is a just reward for all the hard work from everyone in the team and my congratulations go to them. We dominated the race with a car that was able to outclass some very strong opponents and everyone at Ferrari can be very proud of that.
ICYMI: Looking back at some of the top #IMSA tweets from the #LM24 -> http://t.co/MtfMfjUJXK pic.twitter.com/Zu8wQASbdS

— TUDOR Championship (@UnitedSportsCar) June 18, 2014
ANTONIO GARCIA
"We weren't able to go for a win at the end. Things don't always work out the way you planned, and when they don't you always try to go for the next best option. At some point all the lead GTE Pro cars had issues; we had ours and they had theirs. At one point we were really down the order but we dug our heels in and slowly climbed back up the order, ready to strike when possible. So throughout the night and morning we moved back up the leaderboard – at the same time putting as much pressure on the other as we could. For most of the race we had the fastest car out there and we managed to finish in second a lap behind the leader; exactly the amount of time we lost in repairs at the beginning. I therefore can't complain, and the lessons learned today will be implemented next year."
JAN MAGNUSSEN,
"It's hard to be satisfied with second since it started so well for us a day ago. We had the car to win but as so often happens in Le Mans, things get in the way. We had some small issues in the pits and quite often picked up the wrong safety car. Three times I was stuck right behind the safety car which means you lose at least one third of a lap. But everybody performed flawlessly – especially Antonio and Jordan – but also the crew and the engineers did a stellar job."
JORDAN TAYLOR
"My last stint was my best-ever stint in Le Mans, no doubt about it. The car was awesome and we were much better on the tires than the Porsche we beat to third at the end. We triple-stinted our tires but they only double-stinted. Regardless we had the strongest package out there today. We were just unfortunate in the beginning of the race."
OLIVER GAVIN
"Our teammates did a fantastic job recovering from a broken air jack and losing some time. That's pretty much what cost them victory but they got a great second place, and they are fully deserving of that. "For us, the gearbox issue we had cost us seven laps and that's how far we finished behind the leader. You could say that was what cost us victory. Our car wasn't necessarily the fastest but we all worked extremely hard at it. Fourth is a good result but we were here to win. By not winning, you're disappointed, you're frustrated and you realize another year has gone by. But you also have to come back and shoot for it again the next year."
TOMMY MILNER
"First of all congrats to the winners, and to Jan, Antonio and Jordan. They drove a great race. All three of them were quick all weekend. We were just not quite there all weekend. In the race, certainly anything can happen. You look past the issues you had in practice. Obviously the first part of the race went fairly well. But still you could see that our pace wasn't quite what it needed to be with outright speed. In these kind of races not having trouble, not making mistakes, that is the biggest key. We did that for the first 12 hours then we started having little problems here and there. It is always fun to coming here to Le Mans, especially with this team. All the people in France seem to like our cars and the loud, thunderous V8s that we have. It is always an experience coming here. No matter if you finish first or last, it is a fun week, and one that I look forward to every year."
6 hrs complete, Richard keeping Senna and Fisichella at a steady 28-30s gap distance. 18 hours to go #lm24 (PR) pic.twitter.com/NHncpp05uw

— Richard Westbrook (@RWestbrook1) June 14, 2014
Richard Westboork
"This race just shows you how far we have come in a year: with a new car fighting at the front for a good chunk of the race, for more than half the race. We had a couple of issues out there, but that famous Chevrolet and Corvette Racing never-say-die attitude shown through. I am really, really proud to be part of this team and seeing everyone fight at the end of the race and claw our way back. Like I said, we've come a long way and the future looks bright for this car."
DOUG FEHAN
"The race today clearly demonstrated why Le Mans is such difficult, demanding and awe-inspiring race. The final hours of the event required a passionate effort by Antonio Garcia, Jan Magnussen and Jordan Taylor – along with the efforts of the entire Corvette Racing crew, engineers and the GM Powertrain team. The podium experience at Le Mans is truly an Olympic moment. Congratulations to everyone at Corvette Racing and thanks to all our fans for their unequalled support. "
@BSenna talking strategy with @AMR_Official Team Principal John Gaw before his current stint. #GTEbattle pic.twitter.com/rpqizTU7w2

— Aston Martin Racing (@AMR_Official) June 15, 2014
Darren Turner
"We led the class on and off for the majority of the race. Early on in the race, Corvette showed their pace but the plan was to stay close but out of trouble and to use a triple stint strategy to jump them in the pits. However, the rain came and interrupted our plans and we were left with a new plan; pick them off one-by-one and take the race lead. "The Corvettes had troubles and the Porsches dropped back leaving us and the #51 Ferrari swapping places at the front numerous times. We were leading and Bruno was on a charge when the power steering issue brought us into the pits."
Le Mans at night @24hoursoflemans @PorscheRaces #LM24 @FIAWEC pic.twitter.com/PXrX3W0b8i

— Marco Holzer (@MarcoHolzer) June 17, 2014
Olaf Manthey
"We tackled the race with other expectations, but small technical gremlins can always turn up all the time. That's nothing new for me. I've been doing this for 40 years. Both cars reached the finish line and third place is good. You win some, you lose some. You just have to make it through."
Marco Holzer
"It was a long and demanding race. We faced all weather conditions you could possibly imagine. At times it was dry, then it poured with rain, half the track was wet and half dry. The car ran like clockwork until we had to pit unexpectedly shortly before the finish. That cost us second place. But the team did a great job and we earned vital points for the WEC."
See you in 2015 @PorscheRaces @RichardLietz @MarcoHolzer pic.twitter.com/KaIo9fu0C5

— Fred Mako (@FredMako1) June 16, 2014
Frédéric Makowiecki
"Thank you to my pit crew. They were very fast and didn't make one mistake. We constantly tried to push to the max and get everything we could out of the car. I regard this podium spot as a basis for even better results in the second half of the season."
Richard Lietz
"After scoring first and second last year we were all expecting more. But some of our rivals were bluffing at tests and only displayed their actual race speed here. We tried to keep up and my teammates really went flat out. The podium spot is the just reward for this. I'm certain we'll return next year even stronger."
Joerg Bergmeister
"That's unfortunately not the result we wanted and were hoping for. We experienced a problem that relegated us back down the order. Other than that the car ran well. A podium result would definitely have been possible. Unfortunately, of all places we had this bad luck here where double points are awarded."
Patrick Pilet
"Our car was perfectly prepared for the race, but we experienced a problem during the night. Okay, we solved it but it cost us a lot of time. For this reason we couldn't do a thing about the outcome of the race. But still, we can be proud of our team and Porsche. Now we have to concentrate on the rest of the season."
Porsche Team Manthey cheering @RichardLietz @MarcoHolzer @NickTandyR @FredMako1 @JBergmeister @PatrickPilet pic.twitter.com/5Os9JMbNrd

— Porsche Motorsport (@PorscheRaces) June 15, 2014
Nick Tandy
"It wasn't the best race, but with the exception of this one problem the car ran very well. The entire crew did a fantastic job. If the second twelve hours had run as well as the first, we would have achieved a fabulous result."
One more stint coming for @CooperMacNeil in #LM24. Solid run to P6 in GTE Pro w/ @jbleekemolen in only 2-driver team. pic.twitter.com/gmffIvv0Iz

— TUDOR Championship (@UnitedSportsCar) June 15, 2014
Cooper McNeil
"The car ran flawlessly the entire race, and we were two cut tires away from a podium finish today. The ProSpeed guys did a great job to rebuild the car after our practice crash, and it was just as good, maybe better, than the primary car. A top five in the LMGTE-Pro class is a great result from where we started the weekend. We miss Bret, but I know he shares in our excitement. The car doesn't have a scratch on it from contact or offs. We kept it clean and on the track. I got back in at the end and had to push because I didn't know where the Aston Martin was and it was our goal to finish in the top five or better. We had nothing but support from everyone in the paddock for Jeroen and myself to take on the race with just the two of us. It was a challenge, but I think I got over 1,100 miles of Le Mans laps under my belt this weekend. That will pay off when I come back next year."
RacerViews was established in 2011 and with the aim of delivering a new web experience to motorsport fans. We bring exclusive interviews and photos from motorsports finest drivers of yesterday, today and tomorrow. Our team has over 30 years of experience in the motorsport field. With a heavy presence on Facebook,Twitter and iTunes where we have over 3000 followers, our mission to bring exclusive content is in safe hands. Additionally we have over 1 million views on our G+ page. We have partnered with motorsport teams like Stig Richards Motorsport, One of a Kind Motorsport, Dark Horse Racing and MRT Performance in order to give you the best exclusive motorsport coverage.We are always looking for new people to join our team. If you are a motorsports photographer or journalist looking for additional exposure or a great place to learn your trade, contact us