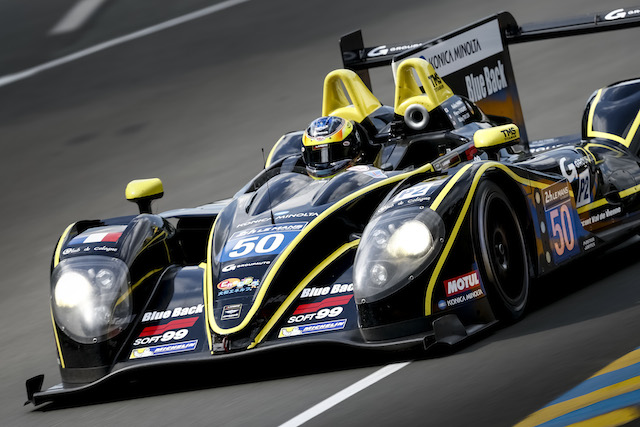 After an epic 24 Hours of Le Mans here is what the drivers and team personnel said from the LMP2 class and take a look at how the teams saw the race.
You can relive the LMP1 class battle here.
Thanks to the @JotaSport team and my teammates @simondolan @HarryTincknell for making this possible #LeMans24Winners pic.twitter.com/B61t2X6LIy

— Oliver Turvey (@OliverTurvey) June 16, 2014
Simon Dolan:
"It's a very special result! It's the biggest race in the world. We just won and we are having a hard time letting it sink in given our situation last night. We never backed down and our strategy ended up working at the end of the race. Wonderful driving by Harry and Oliver, no one made a mistake. Victory came into view during the last stints, with a gap of 20 seconds to make up, which we managed to do. A very important result for the team."
Love this. I think I was shouting something along the lines of, "WE JUST WON LE MANS"! @simondolan @JotaSport #LM24 pic.twitter.com/8wrLfwOZEC

— Harry Tincknell (@HarryTincknell) June 17, 2014
Harry Tincknell:
"I was in the middle of my stint when the pit asked me to put pressure on our opponents in order to see if they would crack. I just drove to the max for the duration of the triple-stint, and even during the third one the times were still very competitive. Then the Ligier started to slow down and I passed it a few laps before it stopped. During the last laps, I just gave it my all for the team. Crossing the line as the winner was just insane."
Oliver Turvey:
"These last few days have been unreal! The team with which I was initially entered could not come and I was frustrated not to be at the start of this fantastic race. Then, Wednesday evening, I got a phone call from Jota Sport telling me that following Loic Duval's incident, Audi may need Marc Gené. The Thursday sessions were just about getting my bearings. The race was amazing. We had some issues during the first third of the race but the team didn't give up. Starting early morning, we didn't quit pushing. It was a tight race right to the finish. An absolutely incredible result!"
Our favourite single blue light! @karunchandhok takes over for his first qualifying stint #HertzAlsoSellsCars pic.twitter.com/kXsOkBNwBI — Murphy Prototypes (@MurphyPrototype) June 12, 2014
Karun Chandhok
"It's been a frustrating race, Le Mans is the best race in the world and the biggest race in the world, but it can also be the most frustrating race in the world. As soon as we had the car fixed and we converted from a canoe back to a racecar, we were really fast. I had fastest lap comfortably at that point of the race. What might have been, but that's Le Mans. I'd love to come back again with Greg and win it one day as I feel we deserve a result out of this."
Night speed… pic.twitter.com/PACZS0qR21

— David Cheng (@dchengracing) June 14, 2014
Adderly Fong
"I would describe the 24 Hours of Le Mans as confusing. You've got to do it by yourself, corner by corner for the 24 hours. You don't know who's in front of you, you don't know who's behind you. You've just got to get around as quick as you can. In hindsight, I wish I would've pushed harder in the beginning. I wish I didn't go in the gravel trap, so we would have had a better result, but that's what learning is about. That's the experience of Le Mans. I'm glad to have finished it and made it to the 24 hours, because for the last two hours while I was in the car, I was getting a power cut and we were losing power. I was afraid that something would happen, but I'm glad we finally made it; it's an amazing feeling."
David Cheng
"This whole month has been a whirlwind. The 24 Hours of Le Mans is like nothing I've ever done before. The whole experience has been amazing. This has been my life goal, to complete my first 24 Hours in the top 10, we finished 7th, it's quite amazing. With a brand new team, a brand new car, the Ligier JS P2, the Honda package, Total lubricants China , Michelin, Orsun, Sculfort…It's incredible what we've put together over the last 6 months. Now, the goal is to win the Asian Le Mans title again, that way I can be here next year in this very spot going for the win. Hopefully, we can be standing on that podium."
#24LM @LarbreComp termine 9ème pour ses débuts en prototypes aux @24heuresdumans #MorganLMP2 | http://t.co/GhHxFzHwOc pic.twitter.com/bC3tUCTBQj — SportsCars Fans (@SportsCarsFans) June 16, 2014
Ricky Taylor
"Jack [Leconte] gave me the honour of finishing the race. That was a first for me and I will always treasure the memory. Le Mans is such a special place and event, and even more so for a French team. The whole experience has been genuinely amazing.
"I can't find words to describe what the team has achieved this weekend. Recovering from the tyre blow-out and ensuing damage to secure a place in the top-10 is nothing short of a great achievement!"
Now that the @24hoursoflemans are in the books, you can resume your daily frivolities. cc @PierreRagues 😉 pic.twitter.com/RhNPIQCXRO

— Larbre Competition (@LarbreComp) June 15, 2014
Pierre Ragues
"I am very happy with this year's Le Mans 24 Hours. We pretty much followed the plan established before the event. The only setback came when we experienced a tyre blow-out, which cost us a lot of time. We could have finished a couple of positions higher in the LMP2 order, but also knew we couldn't match the three quickest cars. We didn't have any reference points, either with the car or between each other. "In the end it's mission accomplished and the team did a tremendous job! They were new to the sports- prototype ranks and gave us a fast and reliable car. On a more personal note, I drove a lot and all of my stints went smoothly. I was also able to maintain the pace throughout the race. "My team-mates and I really hit it off well despite only meeting a fortnight ago. I was very happy to race alongside both of them. The start probably remained my personal highlight; it's always a special moment. To be fair, I had an awful lot of fun during my eighth appearance at La Sarthe.
@Greavesmsport 2014 #24LM edition @ChrisDyson16 @TKS77 @AlessandroLatif pic.twitter.com/A6Kl50eEb8 — Matt McMurry (@mcmurrymatt) June 10, 2014
James Winslow
The 24 Hours of Le Mans dream may be over, but we've just found out that I was the fastest LMP2 car on circuit during my second stint on debut at the Circuit de la Sarthe, so whilst on the one hand I'm disappointed, on the other, it really was a dream come true!!
Great effort from @Jannthaman, @Shootstokill and @AlexBrundle – they battled through to finish fifth in class pic.twitter.com/0I86ndDvRk

— NissanUK (@NissanUK) June 15, 2014
Alex Brundle
"We're gutted, to be honest, but that's Le Mans for you. We were out front controlling the race and had a handy advantage, which is why we were still in contention after the engine problem struck this morning. But from then on we knew it would be incredibly difficult to hold on. The car was 30km/h slower in a straight line and losing about 10 seconds per lap to our rivals, so although it took them a while to close in it was inevitable in the end. "But I really want to congratulate and thank everyone in the team and at Onroak Automotive who have put together an absolutely brilliant car. We completed a lot of test mileage beforehand but to come here with the brand new Ligier chassis for its first race and have so few issues is testament to the hard work back at base. Jann and Mark were also fantastic and together we made a great team. We might have been the youngest driver crew here but that didn't stop us from showing what we're capable of against a very experienced and competitive LMP2 field."
@Onroak ready for the scrutineering ! #43 #LM24 @christianklien @garyhirsch @romainbrandela pic.twitter.com/U8J8mKmxB3 — 24hours_Live (@24hours_Live) June 8, 2014
Christian Klien
"In the end it is a good result for the team and for our package. We did not have the fastest car but we have a very good team with good mechanics, a very reliable car and we did not suffer any problem. The most important in Le Mans is to make no mistake in order to finish the race in the top 10. We finish sixth in our class and we can all be happy about this."
RacerViews was established in 2011 and with the aim of delivering a new web experience to motorsport fans. We bring exclusive interviews and photos from motorsports finest drivers of yesterday, today and tomorrow. Our team has over 30 years of experience in the motorsport field. With a heavy presence on Facebook,Twitter and iTunes where we have over 3000 followers, our mission to bring exclusive content is in safe hands. Additionally we have over 1 million views on our G+ page. We have partnered with motorsport teams like Stig Richards Motorsport, One of a Kind Motorsport, Dark Horse Racing and MRT Performance in order to give you the best exclusive motorsport coverage.We are always looking for new people to join our team. If you are a motorsports photographer or journalist looking for additional exposure or a great place to learn your trade, contact us