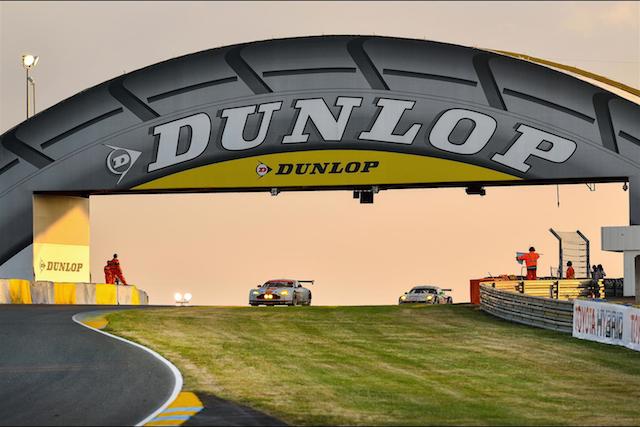 After an epic 24 Hours of Le Mans here is what the drivers and team personnel said from the GTE AM class and take a look at how the teams saw the race.
You can relive the LMP1 class battle here.
You can relive the LMP2 class battle here.
You can relive the GTE PRO class here
#champagne #showers #LeMans #GTEam #winners @amr_official @dhhracing @kristianpoulse3 #thiim pic.twitter.com/0NuulLy7DT

— Lisa Crampton (@_LCC7) June 15, 2014
Nicki Thiim
"I came here without really knowing what to expect. I was the rookie of the driver line-up and everyone told me it was going to be a good experience for me. So obviously to win in my first attempt, I do not have the words to describe what I'm feeling. A big thank you to my teammates who supported me a lot. I really enjoyed the experience and I hope of course to be at the start again next year.
Kristian Poulsen
"I enjoyed the battle on the track, the positions that we had to get back. The car is just phenomenal. We didn't have the least bit of mechanical issues and managed to keep the car on the track under all circumstances…That's how we won the 24 Hours. A big thank you to the mechanics and the team for giving us such a great car!"
Here they are – your 2014 @24hoursoflemans GTE Am winners – @YoungDriverAMR! #wewonitforAllan #winners #LM24 pic.twitter.com/8ew3LWfYKb

— Aston Martin Racing (@AMR_Official) June 15, 2014
David Heinemeier-Hansson
"It was a very difficult week for the entire Aston Martin team. A few months ago, I didn't think we'd be back. To be honest, during the first laps, I told myself it wasn't a good idea. But this race, we had to compete and win it for Allan (Simonsen), for his parents, for the foundation that now carries his name, for the support that we have in Denmark and, especially for him, for Allan, who we do not forget!"
Le Mans after 8hrs: team @ProtonRacing #abudhabiracing stands 4th in class @QubaisiKhaled @klausbachler #lemans pic.twitter.com/X3kGS7IvBL

— AbuDhabiRacing (@AbuDhabiRacing1) June 14, 2014
Klaus Bachler
"Second place is awesome. A dream has come true for me. We did everything right, kept out of trouble at the start, only refueled and changed the tires. That's how we got ahead. Now we're all over the moon."
Patrick Long
"We certainly could have done more this year. Still, I'm satisfied with our performance as a team. Our car didn't have the slightest technical problem and Patrick [Dempsey] improved consistently and posted super times. Not everyone can climb the podium at Le Mans. If it was that easy then everyone would have a Le Mans trophy at home."
Getting ready 4 his 1st stint @PatrickDempsey of @GoDempseyRacing @TAGHeuer @24hoursoflemans #BeCreative ©VladimirRys pic.twitter.com/ya6hqtRJTH

— Vladimir Rys (@vladimirrys) June 17, 2014
Patrick Dempsey
"I drove really well, didn't make any mistakes and my pace improved consistently. We all did a great job against such tough competition and I'm happy with the result and the team's great performance. I'll definitely be back at Le Mans next year."
#KrohnRacing #Ferrari in the dark @FIAWEC @24hoursoflemans @BenCollinsStig @NicJonssonRacer #LM24 pic.twitter.com/Ax23IhPZnF

— Krohn Racing (@KrohnRacing) June 15, 2014
TRACY W. KROHN
"It was a really great race because everyone got it done. There are a lot of reasons why it couldn't have worked and why we couldn't have gotten to the end. I had no real expectations other than just being here. It was little more than just a routine Sunday drive. No, it was really more than just a Sunday drive. This is a fantastic venue. It's my favorite race on the planet and the people here are amazing. The car was fantastic and Ben Collins did a spectacular job. It was exactly what we wanted to see from him. He has a lot of skill and no ego and nothing bothers the guy. He just gets it done. He's very similar to Nic, and I think we proved that the car has some speed to it. I was pleased with what I did and there was no major drama. Too bad we have a two-dollar part failure, but such is life. That's part of this business, but at the end of the day, I'm looking forward to coming back and I feel there's a pretty good chance we'll get another invite."
NIC JONSSON
"Unfortunately we had a gearbox issue, a little component, but were otherwise running strong the whole time. Because we didn't make the test days, we were a day behind everybody, so it took us the first three or four stints to figure out everything with the car. We got that and were running leader pace, switching between third, fourth, and fifth position in class. Unfortunately, when Ben got in the car we had a gearbox issue that put us three laps down, and then Tracy had an issue with vibrations in the car. All in all, we had a decent showing and we were fast. With the late entry, we came here and showed we had the speed and the guys did a phenomenal job, it just didn't go our way. We learned a lot and are now looking forward to Watkins Glen."
Drivers discussing car set-up during morning warm up #TracyKrohn #NicJonsson #LM24 pic.twitter.com/4f5v6HuyY5

— Krohn Racing (@KrohnRacing) June 14, 2014
BEN COLLINS
"This race weekend has been amazing. I'm really disappointed for the team that we had sight of the podium, and then had a gearbox problem that the team brilliantly fixed, but it held us up long enough to take that away. We were chasing down third, which would have been incredible. At the start of the weekend, we were very confident of getting the car to the podium. My last three stints were really fun and I did my best time (of the race), so I was pleased with that. The car felt fantastic throughout and the guys got a good balance in the short amount of time we had. In the qualifying sessions, when everyone was crashing and bashing, we kept our heads down and made sure we could get our car across the line.

I've loved working with Krohn Racing. It's a great mix of guys, and Gary, the team manager, is extremely switched on. They're all super professional, and the race really ran like clockwork. We had great communication, the engineering was fantastic, so we were really well supported throughout the entire thing from a technical standpoint, it was all first-rate. I think that's what definitely put us in contention for the podium finish and gave us that pace, especially towards the second half of the race. I hope I get to do it again."
Here's the 8Star Motorsport Ferrari 458 at full throttle as the sun rose this morning #LM24 pic.twitter.com/wI5wQWChrA

— 8Star Motorsports (@8starmotor) June 15, 2014
Frankie Montecalvo
"It seems fourth has been the story of my season, but given where we were on Wednesday during practice, it was an amazing result for the team! We fought up until the very end and can be very proud of what we have achieved."
RacerViews was established in 2011 and with the aim of delivering a new web experience to motorsport fans. We bring exclusive interviews and photos from motorsports finest drivers of yesterday, today and tomorrow. Our team has over 30 years of experience in the motorsport field. With a heavy presence on Facebook,Twitter and iTunes where we have over 3000 followers, our mission to bring exclusive content is in safe hands. Additionally we have over 1 million views on our G+ page. We have partnered with motorsport teams like Stig Richards Motorsport, One of a Kind Motorsport, Dark Horse Racing and MRT Performance in order to give you the best exclusive motorsport coverage.We are always looking for new people to join our team. If you are a motorsports photographer or journalist looking for additional exposure or a great place to learn your trade, contact us