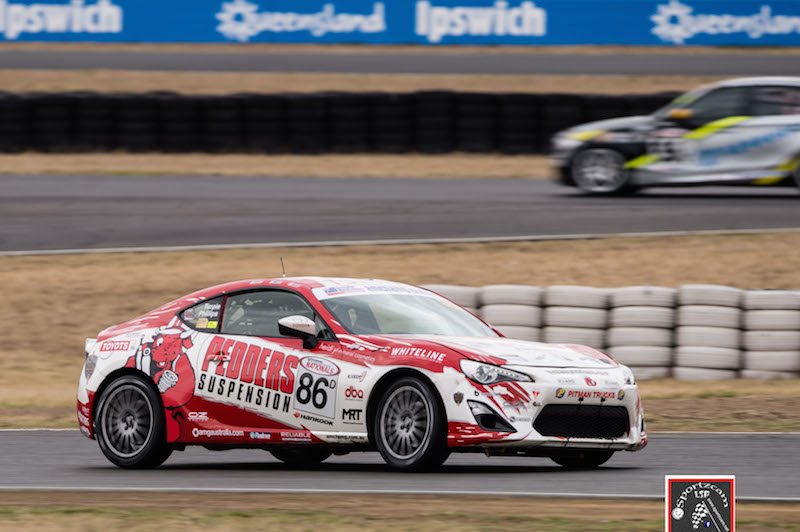 Last year we were able to catch up with Andrew Turpie and Grant Phillips in the early days of the Toyota 86 in the Australian Manufacturers Championship.  When they were back at Queensland Raceway we were able to catch up with them again to see how the program has developed.
It was a successful weekend for the team as they won Class D the bizarre 'Fight in the Night' – the 200km race held at night.  The race was interrupted by a red flag period after the race organisers lost the order of the cars during multiple safety car periods.
The second race saw them finish second in class but a post-race penalty for a pitlane infringement saw them drop to third in class.
The car has gone through a lot of development over the past 12 months and it is a much more sorted car now than it once was.  We go through some of these changes in our interview.
There is one round left in the Australian Manufacturers Championship, to be held at Wakefield Park in October, Turpie and Phillips sit in second in Class D behind the Honda of Kevin Herbern.  They took out the Class title last year.
There was a large turnout of cars from the Toyota 86 and Subaru BRZ club, which was great to see.  We also thought that one of these would be great for Jack Monkhouse as he tries to get back in the Australian Rally Championship…
Download this episode (right click and save)
Click here to subscribe to RacerViews iTunes channel
[mudslide:picasa,0,racerviewsphotos,6045727258520512017,8,640,center]
—
By Sam Tickell,  August 2014
RacerViews was established in 2011 and with the aim of delivering a new web experience to motorsport fans. We bring exclusive interviews and photos from motorsports finest drivers of yesterday, today and tomorrow. Our team has over 30 years of experience in the motorsport field. With a heavy presence on Facebook,Twitter and iTunes where we have over 3000 followers, our mission to bring exclusive content is in safe hands. Additionally we have over 1 million views on our G+ page. We have partnered with motorsport teams like Stig Richards Motorsport, One of a Kind Motorsport, Dark Horse Racing and MRT Performance in order to give you the best exclusive motorsport coverage.
We are always looking for new people to join our team. If you are a motorsports photographer or journalist looking for additional exposure or a great place to learn your trade, contact us