[mudslide:picasa,0,racerviewsphotos,5910437242076536353,2,600c,center]
The Pedders Toyota 86 in the Australian Manufacturers Championship scored a class win at Queensland Raceway
In our ongoing coverage from Queensland Raceway, we caught up with Pedders Racing team drivers, Andrew Turpie and Grant Phillips. They race a Toyota 86 in the Australian Manufacturers Championship and took a world first class win for the car at Queensland Raceway.
The Pedders Racing team have been around the Australian scene for many years and also have a hand in the Australian Rally Championship Renault team.  The team was taken with the Toyota when it was first shown to the public in 2009 and have worked hard to get it to the track.
The car hasn't had a lot of work from the one you see in the show room.  Work on the suspension and the ECU have been the most obvious changes.  They compete for class D honours in the Championship – up against a very well sorted Honda Integra from former Australian GT Champion – Mark Eddy who drives alongside Francois Jouy.  Despite the newness of the car, they were able to come away with a class victory from the night racing action at Queensland Raceway.  They plan to continue development of the car to ensure future victories.
In this interview, we talk with the Turpie and Phillips about the car, why the chose it, the Australian Manufacturers Championship and more.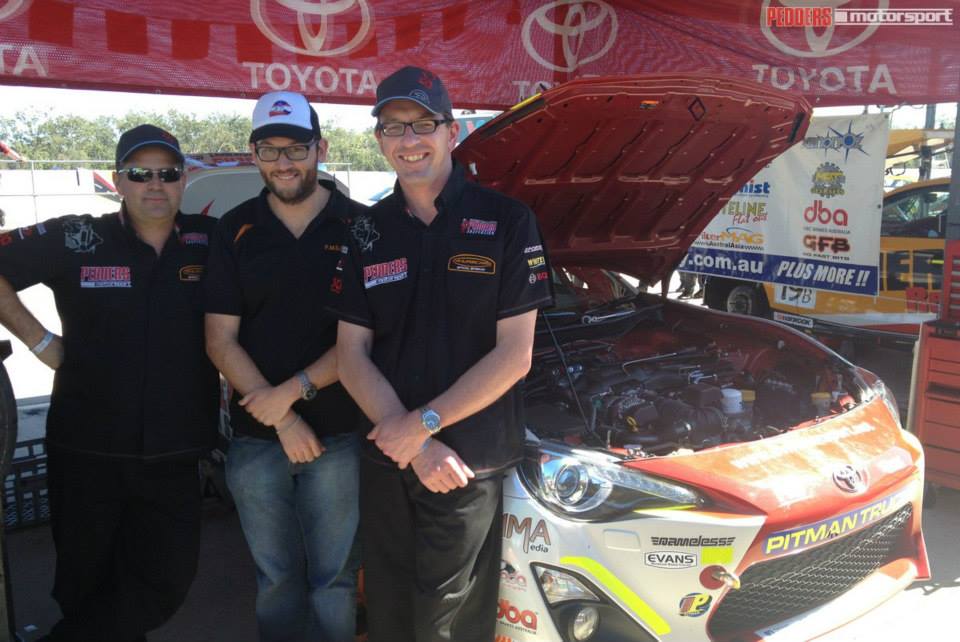 Download this episode (right click and save)
Click here to subscribe to RacerViews iTunes channel
See more coverage from our Shannons Nationals weekend at Queensland Raceway
– Preview with Nathan Assaillit
– Interview with Australian GT driver, Klark Quinn
– Interview with F3 Driver, Ben Gersekowski
– Our Australian GT photo gallery
– Our Kumho Tyres V8 Touring Car photo gallery
—-
By Sam Tickell, August 2013
RacerViews was established in 2011 and with the aim of delivering a new web experience to motorsport fans. We bring exclusive interviews and photos from motorsports finest drivers of yesterday, today and tomorrow. Our team has over 30 years of experience in the motorsport field. With a heavy presence on Facebook, Twitter and iTunes where we have over 2800 followers, our mission to bring exclusive content is in safe hands. We have partnered with motorsport teams like Stig Richards Motorsport, One of a Kind Motorsport, Dark Horse Racing and MRT Performance in order to give you the best exclusive motorsport coverage.
We are always looking for new people to join our team. If you are a motorsports photographer or journalist looking for additional exposure or a great place to learn your trade, contact us