From PR materials
There was a time where it looked like Eli Evans wouldn't make Rally Australia but a great job by his mechanics allowed him to rally to the win and extend his title lead..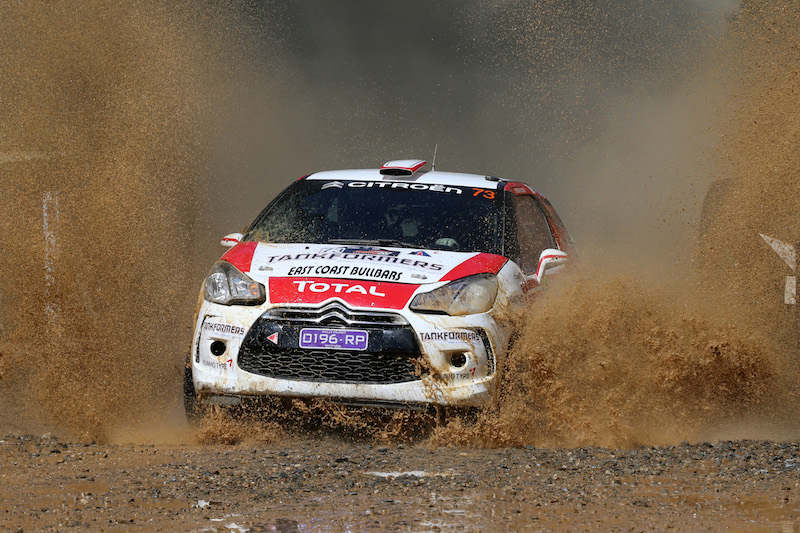 A clearly emotional Eli Evans said that he used the bitter disappointment of heavily crashing his Citroen DS3 on the Power Stage ahead of last weekend's Coates Hire Rally Australia as motivation to thank his team with a strong result.
"I tell you what after the crash on Thursday morning it probably wasn't until very late that night that I even thought we'd start the rally," said Eli after the event finish. "I spent that whole day thinking that was the end of our Championship, that I'd thrown it all away."
Evans started the event with an 8-point lead over Molly Taylor, but on his qualifying run over the ARMOR ALL & STP Power Stage he misjudged his speed into a sweeping corner, running wide and colliding heavily with a pair of tree stumps on the side of the road.
The damage to the front end of the front-wheel drive Citroen was significant, with the team unsure if they had the parts or resources to correct the amount of damage before the rally started the next morning.
But with a couple of hours to spare the Team Citroen Australia mechanics, with the help of a local panel repair shop in Coffs Harbour, were able to resurrect the damaged car allowing Evans and co-driver Glen Weston to start the rally.
"I can't thank the team enough, all the boys they just knuckled down, rebuilt the car and didn't finish until 3.30am Friday morning to allow us to make the start later that morning. They gave me a car that didn't have a single problem all weekend which meant it was all up to me to reward their hard work."
"Their hard work allowed me to hold onto the lead in the Championship. It's absolutely amazing, I can't possibly thank them enough and it was a huge weight off my chest when we crossed the finish line on that last stage," Eli explained.
"I said to Glen that it felt like it was the first breath I'd taken all weekend, that's what it felt like from the first stage to the last, like I was holding my breath just hoping to be able to repay them for their hard work."
Not only did the win allow Eli to maintain his points advantage with just one Round remaining in the East Coast Bullbars Australian Rally Championship, but he even managed to extend his lead over second placed Molly Taylor who clawed her way to a third for the weekend.
"It's a very emotional win because the pressure was on in the Championship, Molly was so close behind us in the points, and I honestly felt like I'd let it all slip from through my fingers. I didn't think we'd be standing here now at the finish," he commented.
"After the crash I thought the best I could hope for was a podium, but I also knew if I drove well and kept my nose clean that we would always be a chance to win. "
"Simon had dramas early and he bombed out, Molly (Taylor), Steve Mackenzie, Adrian (Coppin) and Tony (Sullens) were all quick too but had problems of their own over the weekend. I just had to stay focused and ignore what was happening around me and concentrate on my own race."
For a time Eli was lost for words when interviewed by Dean Herridge on the Rally Australia podium in the centre of Coffs Harbour, laughing that it was rare that he was ever in that position, but explaining the heightened level of emotion he was feeling after the massive highs and lows of the weekend.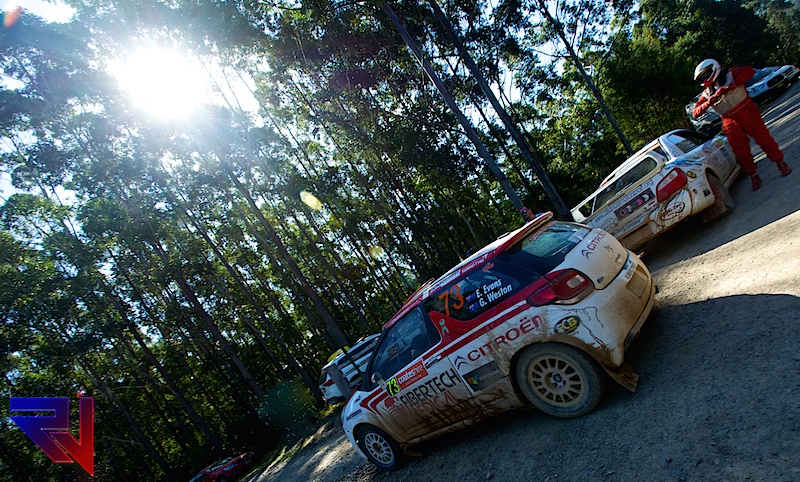 "I really did use that disappointment as motivation to stay focused and very happy to be here right now with the win!"
With just Scouts Rally SA to go before a Champion is crowned Eli is taking a pretty basic approach to hunting down a third title.
"We've got to win South Australia, simple as that. It's not in my nature to back off and be blasé about the numbers. If we win in South Australia we win the Championship, that's the way I look at it."
Scouts Rally SA is the fifth and final Round in this year's Championship and runs in the Adelaide Hills from the 23rd until the 25th October.