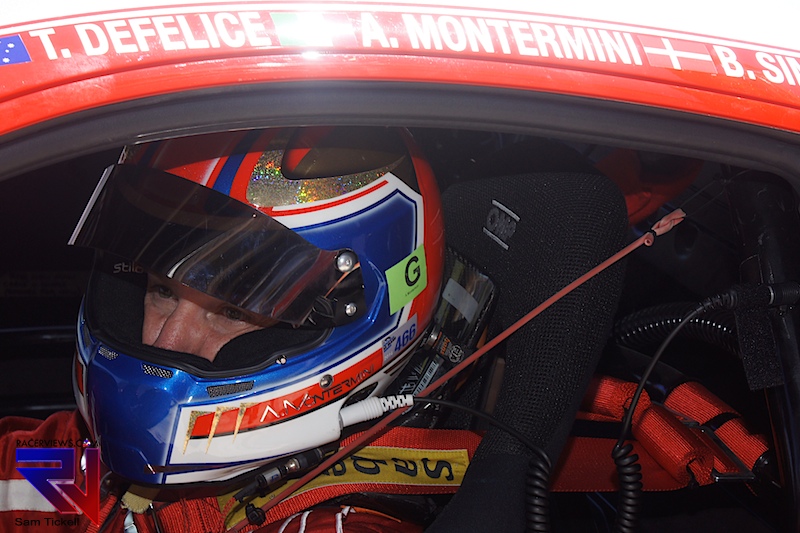 It is fair to say that Andrea Montermini owns his own slice of F1 history. A hero of sorts for F1 fans that loved the trier – that loved the back of the grid teams.
A hero to people that loved motorsport, rather than loved just those who had the fortune to race at the front of the F1 world.
Andrea had the fortune to race for Simtek, for Pacific, for Forti, was the tester for Lola and then even took his seeming love for racing back of the grid cars to the United States and raced for the All American Racers team in their final moments.
But there is no way that this actually defines his career, that he doesn't have the talent, that he didn't race for those at the front.
Afterall in CART – his first time around, he took a fine fourth place in 1993, he took second in the F3000 Championship in 1992, he raced for Nissan at Le Mans, did a brilliant job in the superb Ferrari 333SP and of course his extensive work racing, developing Ferrari GT cars the world over.   Something that has netted him three GT Open titles.
First thing, though is first. And that is F1.
http://gty.im/51427364
A massive accident in practice for Simtek in Barcelona in 1994. Exactly not what the beleaguered Simtek and F1 paddock needed. The crash would destroy the tub, exposing his feet and giving him some horribly bad injuries.
He would be back though for 1995 with the Pacific team racing the pretty if slow Pacific PR02, taking two top 10s. 1996 would see a part year with the Forti, with the FG01B and FG03. A 10th place in Argentina would be the only time he would see the flag before the team wound up just before the German GP.
His F1 record would see 29 entries and 20 starts. Zero points, though he would have scored three times if the 2015 F1 points system applied 20 years ago.
"F1 was a passion but it was also frustrating," Andrea said to RacerViews.
"You didn't have a chance to show anything of yourself. You didn't have a chance to do proper work that would like to do. "
"The cars were underdeveloped and didn't have the budget. It was not very enjoyable to drive. "
"It was nice to be in F1 but it was frustrating, If you are doing it with passion if you are doing with belief that you can do it – but you can't, it became very frustrating. "
"You want to do this, or that but you can't. You are stuck. At the end of the day it is better to go into another series and fight for the win than stay in F1 and be always last. It is nice to be there. "
"The first time I was in my first real race – Brazil, I finished in the top 9 but for me it was not a race. I was just cruising. Trying to keep the car together. It was not racing."
"…after 2 years racing I understood that it wasn't possible for me [to race at the front of F1] unless you had a huge sponsor on your back to be able to do a proper job."
This experience would have a few valuable lessons for the Italian. It taught him how to protect a fragile car, how to drive around issues, how to mentally prepare for racing. And it also gave him the honour of being an F1 driver.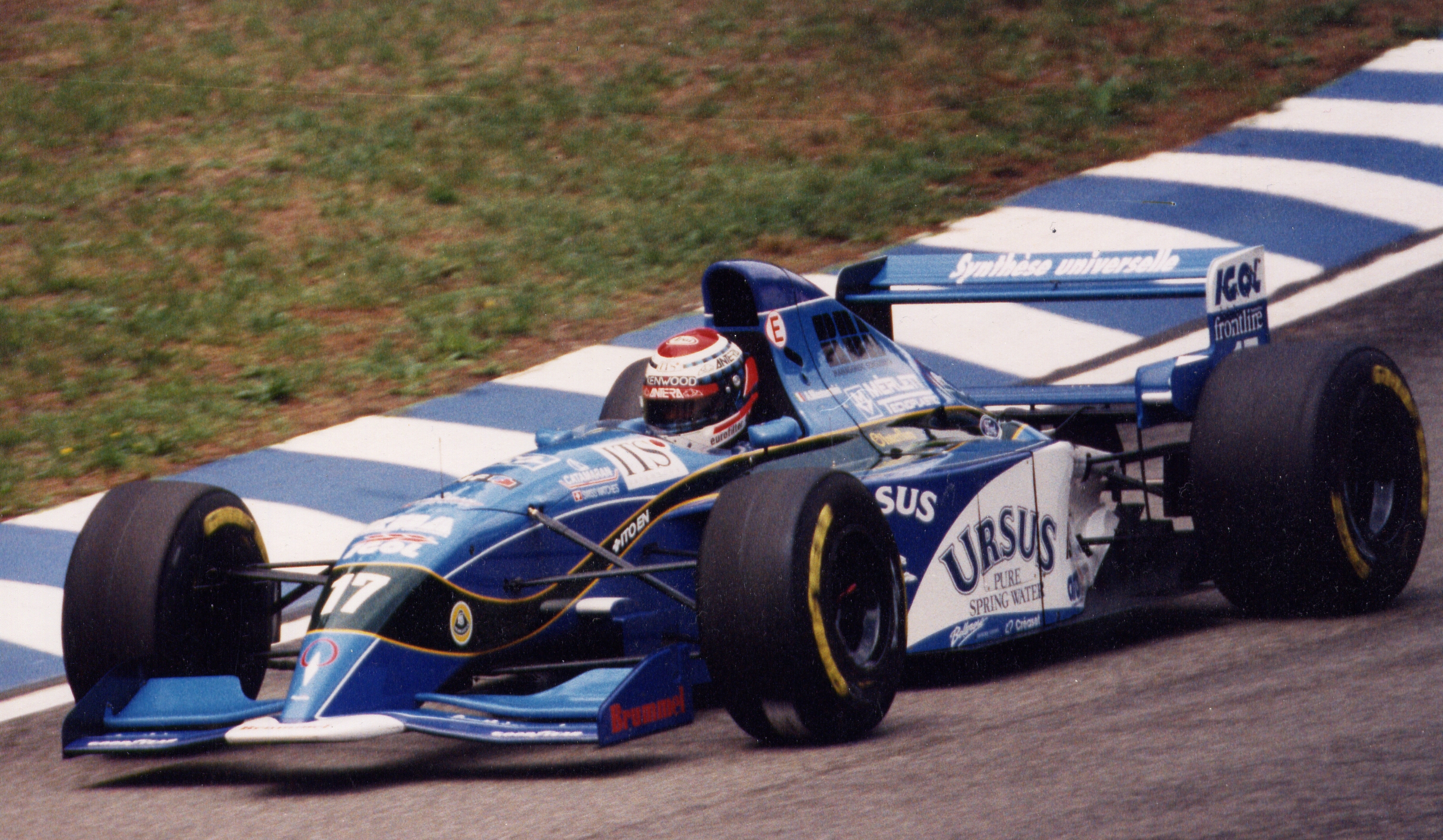 His patience would also be tested when he ran in CART again. After a solid run for Euromotorsport, Project Indy and King Racing in the mid 1990s, he came back at the end of the AAR dream, the Eagle 997 with the Toyota RV8D in the back. Goodyear tyres.
It was the final four races of the 1999 season. The final four races for AAR, for the Eagle chassis, for the Goodyear tyres.
"The Toyota (CART engine) was in the very early stages of development but there was another point – that needs to be understood, that hasn't been remembered.
"The fact that we were using Goodyear Tires that at the end of that year ended because the Firestone was at another level. That was also the end for Dan Gurney's car as he had his contract with Goodyear for 30 years and when Goodyear retired, he retired too."
Still an 11th place, scoring two points, adding to his three previous point scoring places, and the 22 points they delivered.
Still his open wheeler experience –particularly that in F1 led onto better days in GT and sportscar racing. He took on roles with the Moretti Ferrari 333SP in 1997, TWR Nissan factory effort in 1998, where a win was on the cards, with the Courage Nissan team in 1999, with Doyle Risi in 1999 before starting his Ferrari GT career in 2001.
https://youtu.be/PP-sARzEezY
The sportscar for me was beautiful."
"I started at the end of the 1990s with the Ferrari 333SP in the United States. That was a gorgeous car – a beautiful car to drive. "
"For me it was a renaissance – an opportunity to fight in the races, go for pole position, fastest lap because this car was gorgeous to drive. Like in F1, Ferrari did a beautiful car."
"Even today, that car is one of the quickest prototypes around. Gorgeous to drive even for a customer for historic races. For me it was nice to get back in a GT and prototype car. "
"I started another career and I took all my background with me, my knowledge. I was fast straight away. I started a new career and it is still going on."
It was easy to see his delight for sportscar racing – particularly the Ferrari 333SP. A car commissioned by a client, built by Dallara, with a spectacular screaming V12 in the back.
He, together with Antonio Hermann took the car to victory at Lime Rock, Pikes Peak the Sebring Two Hours. Further podiums would see his Moretti Racing team take second in the 1997 IMSA GT Championship season, behind the Dyson Riley & Scott.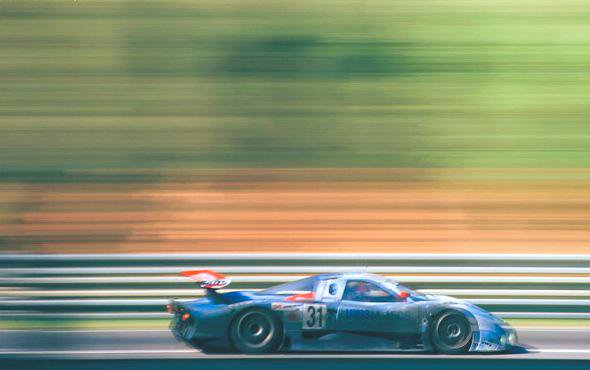 Then came Nissan. A team that had a budget that he had never seen before and a need to win that he had not encountered.
It was a mutually beneficial lineup too. Andrea had a lot of experience and racecraft that he could bring to the team. Added to that, it was a great car to drive.
"The team, the Nissan Le Mans program was a three year program – there was a lot of money that Nissan brought to this project – helped me and taught me a lot. I was able to bring my F1 knowledge, they brought the manufacturer knowledge and together with Bridgestone who were committed to the project too."
I think Le Mans is always nice. To do Le Mans with a chance to win is one of the big chances you can have."
"It was beautiful project. It was a multiethnic driver lineup. We had a Danish driver, a Dutch driver, an Italian driver, French driver, Japanese driver. It was beautiful to work with them and they taught me a lot and helped me understand many things."
"Unfortunately for just one single tyre explosion we missed that chance [to win]."
Andrea drove with Jan Lammes and Erik Comas in 1998 and in 1999 would return to La Sarthe with Courage Competition, taking the C52 Nissan to 6th with Alex Caffi and Mimmo Schiatterella. He would also compete at Petit Le Mans in 1999 with Doyle-Risi Ferrari but would not make the flag.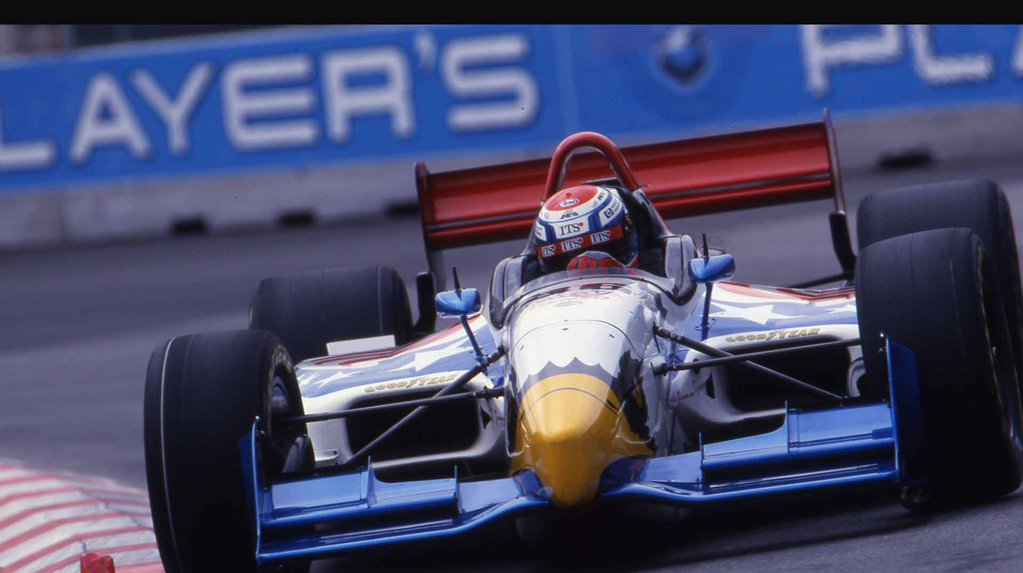 He wouldn't race in 2000 and just one race in 2001 but then came the long association with Ferrari. He had tested an F1 car in the late 1990s, been in sportscars but now the association grew a lot closer.
In part this association has grown to developing the GTE and GT3 machinery, racing around the world, teaching new Ferrari pilots.
It is a job that he is extremely proud of. Something that has many, many more gratifying moments than race wins and Championship victories. He has taken three Championships with the marque, the 2007, 2008 and 2013 GT Open titles. A second in the GT Am class at the 2015 Bathurst 12 Hour is also worthy of a mention.
"I am doing with Ferrari and I am so proud of it and I am very happy to do it. "
"I am happy that I can still do it and be an ambassador worldwide. Running Ferrari worldwide is always an honour and a prestigious. It is a chance to be always on top and winning. The Ferrari is always a very good car, always a very good chance to be at the top at the end of the race.
"When I am at home I am a coach to the Ferrari for all the GT Championship drivers, I am doing testing for them. I am doing my own races and always developing together. I feel in the family – I am in the family. That is very nice."
"I hope this lasts into the future. Use my knowledge, my speed, I hope to always be together with them. One day I am sure I will have to stop racing but I hope it is long way from now."
The worldwide racing is still something he enjoys. He has competed with the Vicious Rumour Ferrari team in the Australian GT and Bathurst 12 Hours – something that will happen again in 2016.
The second in class at Bathurst was then mirrored by a DNS in the Phillip Island 101 as part of the Australian GT when the Ferrari, for whatever reason, was undriveable and the team could not figure out how to fix it.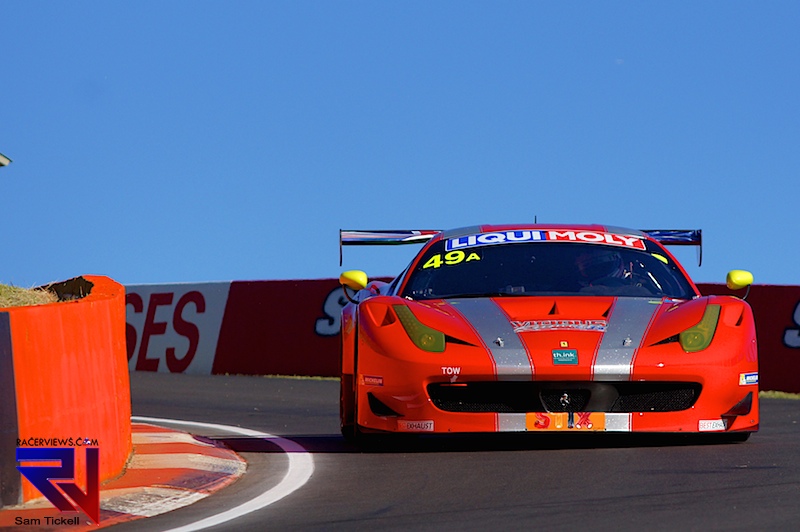 Still, he loves Phillip Island and the Australian Championship.
"It (Phillip Island) is a beautiful place, a beautiful circuit. I have heard a lot about it because of my friends in MotoGP. It is famous in Italy for MotoGP racing. I was watching many times on TV in the early hours of the morning and being here with the GT3 is beautiful. It has so many quick corners and just a couple of slow corners."
"I like Australian GT and GT in general. IT is very nice. Some situations – the ambiance – the high level of drivers and teams really stands out in Australia."
After spending so long racing in Europe and the United States, he is in a unique position to examine the Australian Championship and how it can grow – and how that the world can be helped by an Australian attitude – by the unique mateship that the culture brings.
http://gty.im/492268061
"…I think that European series can learn from the Australian GT and Australian GT can learn from other series around the world. The nature and the way the Australian GT runs – I like it and I see nice place, nice things and a nice way to do racing."
"For example, this morning the driver briefing was in breakfast offered to everybody, a chat during lunch and dinner – they have a good way to put people together. Europe and the rest of the world should learn."
"Racing always brings the best and worst of any person. "
"When you are full of adrenaline anything can happen. A person can say bad things and when they have calmed down, can be more quiet and say the good things. In any places there are good and bad people. This is not the main issue – the good things, there is a lot of patience. My team, many people say hello, come for shake of the hand – with the drivers."
"I have been introduced to the drivers and others have been introduced to me, to say hello. In Europe, some don't look at you in the eye when the encounter you. It is a matter of people and the way it has been in the series."
And this culture is certainly a positive indicator for Australian GT racing and suggests reasons why it has high car counts.
Over such a long career there have been many ups and downs. F1 remains an achievement, despite the teams that he raced for.
http://gty.im/158474707
But there are others too, though he did make it clear that Simtek is not to be inferred in this response.
"The first day I jumped in a Ferrari F1 for the first test, winning a couple races in a Ferrari prototype in the States, winning my first F3000 race in Spa –they are the main memories. The first race in F1…"
Ultimately however there are few drivers with the CV of Mr Montermini, few drivers in the modern age that know how to massage a recalcitrant car to the finish and drive flat out in an effort to bring a long wanted manufacturer win.
To develop a car for legendary company, then race it to Championship glory. To be an ambassador for Ferrari – and in our eyes, no one could do the job better.
The last word is for Andrea – the man best known for being at the back of an F1 grid but did so, so much more with his career.
"Some car you need to fight for the best lap time, fight to be on top and be the best possible."
"With some cars you have to fight to keep the car on the track, to keep it going and in one piece."
"I worked together with the team to do the best that you can with what you have. That helped me when I started to jump into a GT car and do Le Mans, Daytona, Spa 24 Hours. That mentality helped me in these sorts of races."
"Unfortunately I didn't have a chance to do anything properly in F1."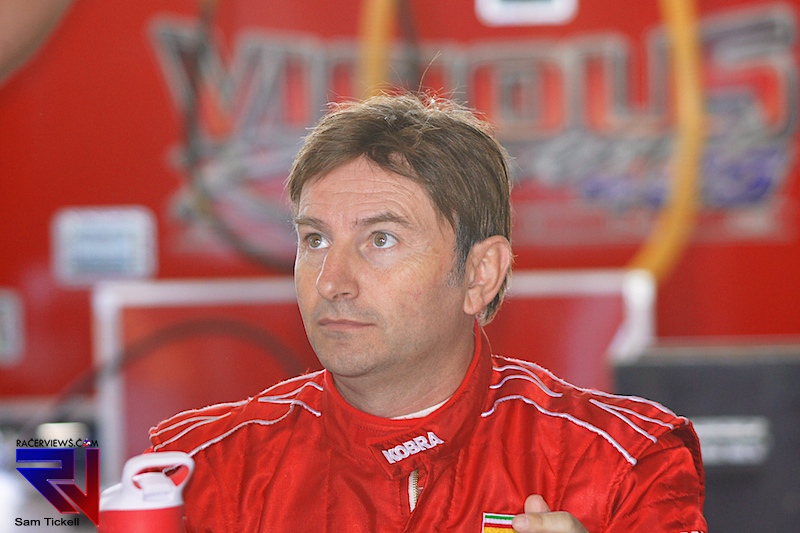 —
By Sam Tickell, January 2016
RacerViews was established in 2011 and with the aim of delivering a new web experience to motorsport fans. We bring you more than just the news.  Our exclusive interview and galleries brings you the views from the track, from the racers. Our extensive race review collection allows you to keep up with the action from around the world. Our team of passionate pros have decades of experience in the motorsport field. Our social media presence on Facebook, Twitter and iTunes  bring you more, a holistic experience.  We have more than 3100 followers on Twitter and more than 2 million views on Google Plus.  Our mission is to bring exclusive content is in safe hands. Over the time we have partnered with motorsport teams likeAndreas Wirth, Stig Richards Motorsport, One of a Kind Motorsport, Dark Horse Racing and MRT Performance in order to give you the best exclusive motorsport coverage.
We are always looking for new people to join our team and we are always looking to publish stories, photos and audio in world-class publications around the world. If this interests you contact us