It was an unpredictable FIAERC opener at Rally Islas Canarias with favourties Ostberg and Kajetanowicz making errors leaving Lukyanuk to take the win
ERC
Alexey Lukyanuk won the opening round of the 2016 FIA European Rally Championship after defeating the defending champion Kajetan Kajetanowicz on the final day of Rally Islas Canarias El Corte Inglés.
The triumph in Gran Canaria is a second consecutive ERC win for Russian driver Lukyanuk and co-driver Alexey Arnautov – the third in total – after they won last year's final round in Switzerland. Lukyanuk started leg two with a 22.7-second deficit to his fellow Pirelli-shod Ford Fiesta R5 driver Kajetanowicz but profited when the LOTOS Rally Team driver suffered excessive tyre wear during the morning loop as the result of high tyre pressures.
Lukyanuk took the lead on SS9 and extended it to over half a minute on SS10 before the midday service in Las Palmas. Thereafter he resisted Kajetanowicz's attempts to get back on terms, picking up his third and fourth stage wins of the event on the final two stages to finish up 32.7s ahead.
"It's incredible to be honest," said Lukyanuk, who had ended the 2015 season with a maiden Tarmac victory. "The competition was so hard. We did a lot of mistakes yesterday but this helped us today. It is super and I am really proud for my team and my sponsors. The competition is very high."
Local rallying hero Luis Monzón returned to the ERC podium, matching his third place from the championship's last visit to Gran Canaria in 2013. No longer suffering from the gearbox gremlins of Friday in his Citroën DS3 R5, Monzón was a frontrunner throughout the six stages that made up leg two and he beat Lukyunuk to win SS10.
Robert Consani had moved up into third place overall at the end of Friday but endured a torrid second day, which began with his Peugeot 208 T16 failing to start prior to the morning's first stage. The Frenchman then battled brake issues throughout the day and was eventually classified seventh after three-and-a-half minutes of road penalties.
Poland's Wojciech Chuchała starred throughout the rally in his Subaru Impreza STi, dominating the ERC2 class and also finishing a fine fifth overall behind Spanish Fiesta driver Jonathan Pérez. Jarosław Kołtun, in another Fiesta, was only 1.1s behind his fellow Polish driver Chuchała going onto the final stage but was forced to settle for sixth after stopping to change a tyre. Tenth overnight, János Puskádi ran first on the road during the second leg and climbed to eighth overall, just one position away from matching his best ever ERC finish from this same event in 2013.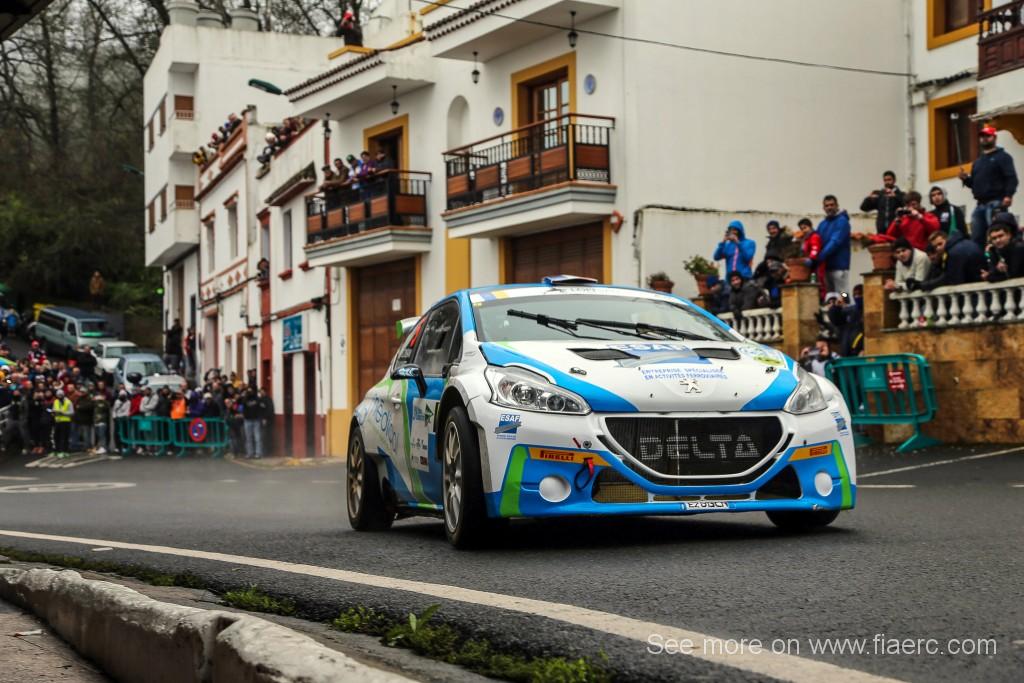 Puskádi's fellow ŠKODA Fabia R5 driver Hermen Kobus had dreams of a top-five finish and moved into that position on the day's opening stage, but the Dutchman's rally ended shortly afterwards when he crashed into a tree on SS9. Italian Giacomo Costenaro retired from top-five contention when hit by a power steering problem in his Peugeot 208 T16 early in the day. Tomasz Kasperczyk finished P10 in his Fiesta, benefiting when Iván Ares suffered a continuation of the braking issues that struck when he was running a fine fourth during Friday
ERC2
Wojciech Chuchała dominated ERC2 on Rally Islas Canarias El Corte Inglés and starred on the overall event to finish fifth for Subaru Poland Rally Team.
The Polish champion of 2014 made a perfect start to a planned seven-round FIA European Rally Championship programme with Subaru Poland, which he has rejoined for 2016 after a previous stint with the team in his homeland.
He was fastest in his class on every stage and finished up 3m37.8s ahead of his nearest competitor.
While Chuchała was clear out front, second place changed hands on the final stage, with Péter Ranga turning a 1.4-second deficit to Giacomo Scattolon into a 6.1s advantage, denying the Italian a position he had held since the first stage.
Argentina's Juan Carlos Alonso finished fourth in the class, pleased with what he learned over the weekend on an unfamiliar surface. Tibor Érdi of Hungary was fifth after gradually losing touch with Alonso as the second leg went on.
ERC3
Łukasz Habaj completed a commanding performance in ERC3 on Rally Islas Canarias El Corte Inglés.
The reigning Polish champion led the class from the start of the FIA European Rally Championship opener. He gradually pulled away from the opposition, finishing 2m36.8s clear and in 15th place overall in his Peugeot 208 R2 run by Rallytechnology.
There was much closer finish for second place in the class. Zoltán Bessenyey took the place from Murat Bostanci on the first of Saturday's stages and held on until the last, with only 4.3s separating the Hungarian and the Turk.
However, Bostanci would later receive a five-minute penalty for using 16 tyres during the rally rather than the permitted 14. This dropped him to sixth in the ERC3 results.
Habaj's team-mate Tomasz Gryc picked up third ahead of the four-time Slovenian champion Aleks Humar.