Leonard Smith was at Phillip Island for the World Superbike and Australian Superbike Championship opening rounds and he caught up with Australian wildcard and Ducati rider, Mike Jones.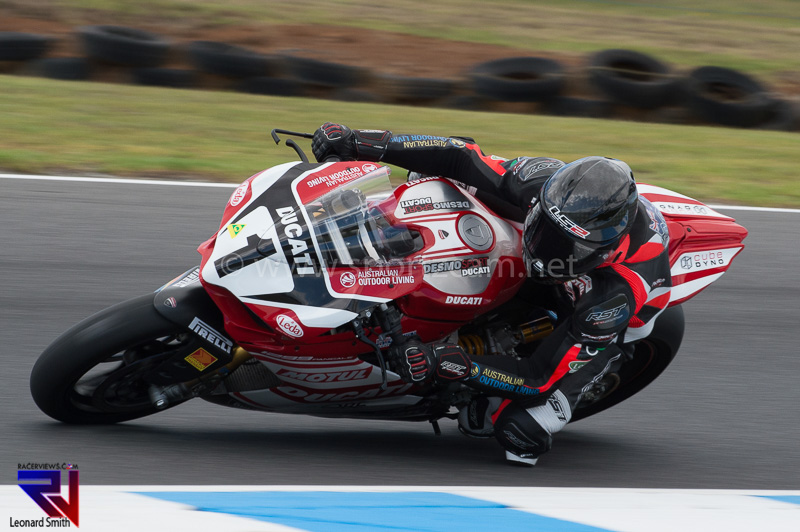 RacerViews: Hi Mike, thanks for joining me. I'd like to start with 2015 – you're Australian SBK Championship year. But particularly the last weekend – where after winning the ASBK without the big names, blitzed them when they were all there for the MotoGP support race – and in the mean time, silencing your critics. For me, I have to say it was a very satisfying thing to watch.

Mike Jones: "It was absolutely amazing to have won the ABSK and although there were critics saying that there wasn't the best competition in the Championship, to come here (Phillip Island) and race with all the best competition – all the factory teams – as a privateer and still go out, have a successful weekend and beat those guys really backed up my worthiness for the ASBK. It was an incredible weekend. Made me smile a lot!"
RacerViews: For me, I like that you're humble – you work through the weekend to get fast on Sunday.
Mike Jones: "I think that I try to do all my talking on the circuit. If I do well, and I can continue to do well, that speaks for itself. I don't need to tell anyone. My results – they can see them and make up their own decisions. I am always striving to the best of my ability to do well.
"On race weekends as a privateer with limited resources, I generally start off steady and build ito it and progressively get better as we go on. You can take more risks towards the end of the weekend as if you crash it is not so bad. But if you were to crash in the early part and wreck your equipment, you're out for the rest of the weekend."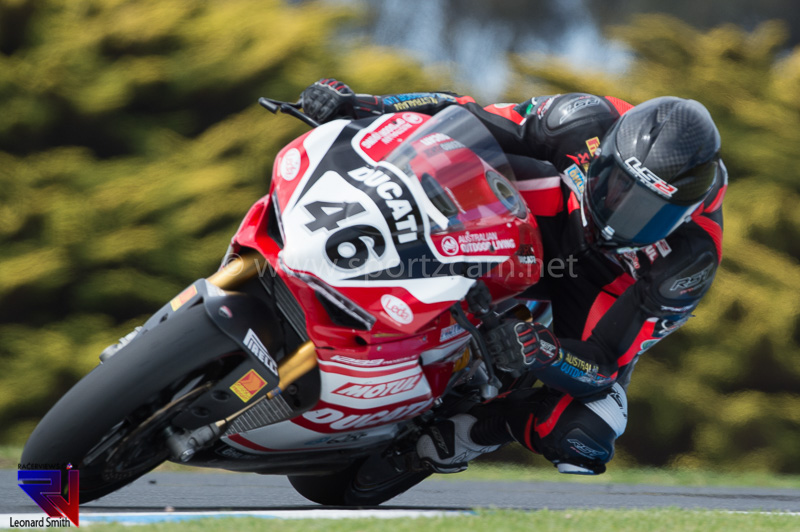 RacerViews: So you have switched from the privately run Kawasaki to the Ducati, how do they compare?
Mike Jones: "They are almost incomparable.  They are completely different motorcycles. I had two years on the Kawasaki – working with my father on the suspension and brother on the technical side of things. We developed the bike so it was competitive and I could be comfortable on it – be competitive.
Now stepping onto the Ducati, even though it is a such a short amount of time, it already feels good. It already feels comfortable to ride and amazing straight away. The development that we will do throughout the year will be trying to get the last little bit out of the bike.
In terms of differences between the bikes it is not the same. The Ducati – the power is different, there is so much torque. The handling  – the bike is so narrow and light, so it handles really well. The Kawasaki has so much top end – like a two stroke, it is very peaky. It is also so big and heavy, it didn't really like to go around the turns."
RacerViews: What is it to ride for Troy Bayliss – former WSBK Champion and MotoGP winner?
Mike Jones: "I put in a lot of hard work and to get a reward where you get the opportunity that allows you to do better than you could before. No matter how much hard work I put in before, it only allowed me to go to this level. Now, because I am racing with Ducati and Troy – if I put in the same amount of hard work, allows me to go to the next level. It is really awesome.
"To have Troy's involvement – to have his experience is invaluable. To have that on board this year – you can't put a price on it."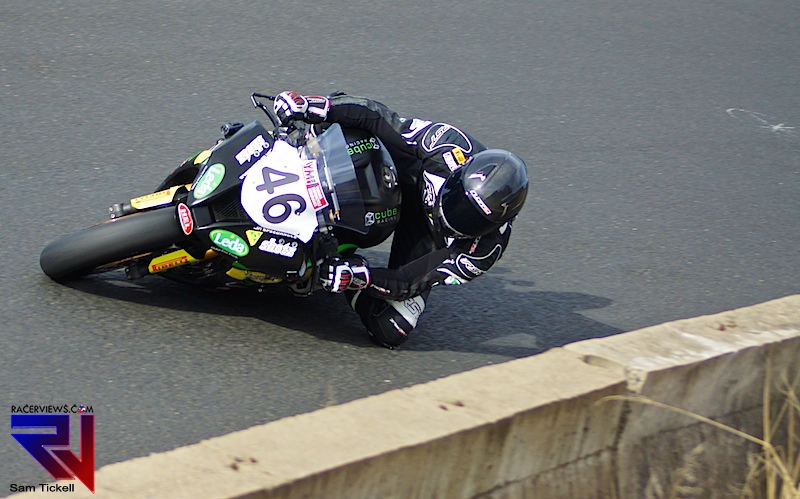 RacerViews: I notice you've done a huge amount of training to get out there – that plays a big part in modern sport, doesn't it?
Mike Jones: "Definitely yeah. The rider's physical and mental capacity play a big role in motorcycle racing today. Basically over the last few years domestically, we do 10-15 laps, the races are short so the level of fitness doesn't have to be extremely high. Where i am at now for the WSBK – racing against the world's top riders. These guys are athletes and some of the fittest motorcycle riders in the world. i need to get myself into the position where I can compete with them on a physical and mental level. In the off season I have been doing a lot of bicycle riding, running and gym work as well to try and get my body to go the distance and race with those guys.
RacerViews: So, after racing in FX and ASBK and going into WorldSBK – those last five laps must be exhausting!
Mike Jones: "Yeah, that's right. The races here are short sharp sprint races. You go as hard and fast as you can. You don't really worry about anything else. Where the World races are longer and you need to conserve a bit in the beginning and towards the end of the race is where you start to put the hammer down – it is a different style of racing."
[mudslide:picasa,0,racerviewsphotos,6261305576955692945,640,center]
—
RacerViews was established in 2011 and with the aim of delivering a new web experience to motorsport fans. We bring you more than just the news.  Our exclusive interview and galleries brings you the views from the track, from the racers. Our extensive race review collection allows you to keep up with the action from around the world. Our team of passionate pros have decades of experience in the motorsport field. Our social media presence on Facebook, Twitter and iTunes  bring you more, a holistic experience.  We have more than 3100 followers on Twitter and more than 2 million views on Google Plus.  Our mission is to bring exclusive content is in safe hands. Over the time we have partnered with motorsport teams likeAndreas Wirth, Stig Richards Motorsport, One of a Kind Motorsport, Dark Horse Racing and MRT Performance in order to give you the best exclusive motorsport coverage.
We are always looking for new people to join our team and we are always looking to publish stories, photos and audio in world-class publications around the world. If this interests you conta