Motul Grand Prix of the Republic of Argentina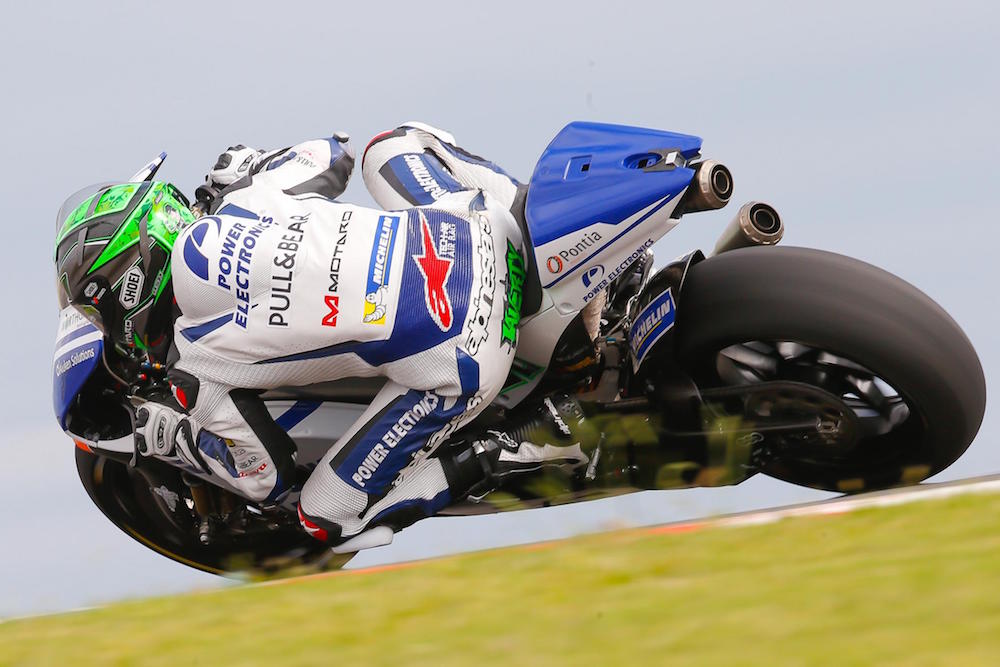 Marquez clinches victory and championship lead in Argentina
Issues with the rear tyre of Scott Redding's (Octo Pramac Yakhnich) Ducati during Free Practice 4 on Saturday saw a raft of changes brought in. Michelin and Race Direction were unsure about the safety of rear tyres brought to the Gran Premio Motul de la República, and came to the decision to reduce the race from 25 laps to 20. Riders were required to come in on their ninth, tenth or 11th lap of the race and change to their second bike. There were therefore no concerns about fuel or tyre life, riders able to give it their all on both stints.
With dark clouds looming overhead the race got underway, Jorge Lorenzo (Movistar Yamaha MotoGP) getting the hole shot into Turn 1. Andrea Iannone (Ducati Team) got a great start but came into contact with Dani Pedrosa (Repsol Honda Team), forcing them both wide and dropping Pedrosa outside the top ten.
Andrea Dovizioso (Ducati Team) used the power of the Ducati to hit the lead early with Valentino Rossi (Movistar Yamaha MotoGP) behind. The factory Ducati would head the field across the line on lap one with Rossi just behind, Marc Marquez (Repsol Honda Team) and ever-present threat. Meanwhile, Lorenzo plummeted down the field and soon found himself in sixth.
As the first lap came to a close, Cal Crutchlow (LCR Honda) and Aleix Espargaro fell, both able to re-join the race. Carving his way through field, Jack Miller (Estrella Galicia 0,0 Marc VDS) was up to seventh as the second lap began, slotting in behind Lorenzo and then passing him soon after.
The leading trio continually tightened, Valentino Rossi sniffing up the inside of Dovizioso at every chance he got. This opened the door for Marquez, the Spaniard sliding through on both Rossi and Dovizioso to begin lap four in the lead of the race.
http://gty.im/518938410
Miller's charge would be unfortunately short lived as the Australian rider fell on lap four at Turn 3. Dovizioso found himself with teammate Iannone for company, Maverick Viñales (Team Suzuki Ecstar) eagerly waiting to pick up the pieces of the Ducati battle.
Lorenzo's race would get even worse as with 15 laps to go he suffered yet another fall at Turn 1, ending his race. After the perfect weekend in Qatar, few imagined the World Champion would fail to finish in Argentina.
Marquez and Rossi continued to sprint away at the front, and on lap nine Rossi took the lead down the back straight but Marquez responded straight away to cut back ahead.
Viñales was able to get ahead of the Ducati factory pair for third. Iannone and Viñales were the first riders to enter the pits on lap nine as Marquez and Rossi tussled in the lead. With 11 laps to go, the pair came into the pits, Marquez just ahead as they were both forced to respect the 60km/h limit in pit lane.
http://gty.im/518938364
Marquez would re-join the race in first position with Tito Rabat (Estrella Galicia 0,0 Marc VDS) in second, as he had not yet pitted. With Rabat as a buffer, Marquez pushed as hard as he could to break away from Rossi and opened up a lead of over two seconds. Viñales was two seconds back on Rossi as the Suzuki rider was able to retain third after the bike changes.
As the leading three settled into their rhythm, Redding used the power of the Ducati GP15 to blast past Pedrosa and move into six behind, but he encountered a technical problem with five laps to go and was forced to retire.
http://gty.im/518938334
Viñales came under pressure from Iannone at Turn 1 as the 18th lap of the race began, unfortunately crashing out of the race. This gave Rossi a small amount of breathing room, Iannone over half a second behind his compatriot. But the cushion wouldn't last for long, Iannone blasting up the inside of Rossi and opening the door for Dovizioso to come up the inside of them both.
The last lap began with Dovizioso in second as Iannone held onto the final step of the podium, Rossi hunting for a way past the powerful Ducati. Iannone began to attack his teammate Dovizioso, the pair crashing out together at Turn 12 after an overly enthusiastic move from Iannone.
Their incident promoted Rossi to second and saw Dani Pedrosa take a surprise third place finish. Determined to finish, Dovizioso showed true grit and determination to push his Ducati across the line for 13th place.
Just off the podium was Eugene Laverty (Aspar Team MotoGP), the Irish rider ending fourth and as the top Independent Team rider. This is by far Laverty's best result in MotoGP™, besting Hector Barbera (Avintia Racing) by 0.169s.
Pol Espargaro (Monster Yamaha Tech 3) secured a solid sixth ahead of Stefan Bradl (Aprilia Racing Team Gresini), who secured Aprilia's best race result since returning with a factory entry. Bradley Smith (Monster Yamaha Tech 3), Tito Rabat (Estrella Galicia 0,0) and Alvaro Bautista (Aprilia Racing Team Gresini), completed the top ten.
http://gty.im/518938344
Back-to-back Argentina GP victories for Johann Zarco
A dry race was declared for the Moto2™ World Championship round at the Gran Premio Motul de la República Argentina. Conditions were not perfect as damp patches littered the circuit. All the riders lined up on slick tyres, the Moto3™ race before demonstrating this as the clear choice.
As the lights went out it was Jonas Folger (Dynavolt Intact GP) who charged into the lead as the intermediate class ran down into Turn 1. As in Qatar, the German pushed immediately but had Johann Zarco (Ajo Motorsport) and Sam Lowes (Federal Oil Gresini Moto2) for company. Franco Morbidelli (Estrella Galicia 0,0 Marc VDS) was within touching distance as the leading quartet opened up a two second lead over the rest of the pack.
With 20 laps to go, Sam Lowes struck, jumping into the lead and pushing Folger back down into the clutches of Zarco and Morbidelli. Dominique Aegerter (CarXpert Interwetten) was a man on a mission, the Swiss rider quickly catching and passing Syahrin and Rins with 19 laps to go. But Syahrin upheld his reputation as a rider who shines when conditions are at their most difficult, the Malaysian able to re-pass Aegerter soon after.
After a slow start to the race, Alex Rins rallied and cut past Aegerter, the Spaniard up to sixth. He then set his eyes on Syahrin just ahead, the leading four now almost seven seconds in the lead.
A classic slipstream manoeuvre down the back straight on lap 13 saw Johann Zarco charge into the lead. With clear track ahead of him, Zarco went about opening up a comfortable margin from Lowes.
Although Rins had broken away from them, Syahrin and Aegerter continued to push each other and produced a thrilling battle for sixth place. The Qatar GP race winner, Tom Luthi (Garage Plus Interwetten) spent much of the Argentina GP in a lonely eighth place.
As the final five laps began, the leading four upped their pace; a mistake from Lowes saw the Brit drop down from second to third at Turn 7 on lap 19. This gave Zarco clear track yet again, the Frenchman not wasting his time nor his second opportunity and opened up an advantage of one second on the 20th lap.
On the 22nd lap of the race, Franco Morbidelli fell at Turn 1 as he attempted to push past Lowes. The Italian remounted but finished outside the points in 25th.
Zarco returns to the top step of the podium for the first time since the Malaysian GP in 2015 and wins the Argentina GP for the second time in his career. Lowes took second, 1.347s behind the Frenchman with Jonas Folger completing the podium.
It was a valiant effort from Alex Rins as he attempted to come back from his poor start, the Spaniard reducing the gap to the podium to 3 seconds as he wrapped up the race in fourth. Dominique Aegerter would eventually get the better of Syahrin for fifth.
Hafizh Syahrin, Thomas Luthi (Garage Plus Interwetten), Axel Pons (AGR Team), Takaaki Nakagami (Idemitsu Honda Team Asia) and Mattia Pasini (Italtrans Racing Team) completed the top ten. Thanks to his seventh place finish, Luthi retains the lead in the Moto2™ World Championship with 34 points, Zarco moving to second after his win.
http://gty.im/518938528
Pawi powers to sensational first win
The Moto3™ World Championship race in Argentina was declared a wet race, the surface of the track somewhere in between wet and dry. All riders came to the grid on wet tyres, but some thought that slicks would be the best option. It was tense on the grid as a number of riders weighed their potential options, all riders hiding their tyre choice until the final seconds.
Livio Loi (RW Racing GP BV) was the only rider to opt for wet tyres, the rest of the field chose to run with slicks.
Starting from pole position for the first time in his career, Brad Binder (Red Bull KTM Ajo) made a solid start. But it was Romano Fenati (Sky Racing Team VR46) who shot into the lead, but his lead would not last as Khairul Idham Pawi (Honda Team Asia) shot ahead and quickly opened up an advantage of over half a second by the middle of the first lap.
But with wets fitted, Loi was in hot pursuit out the front, able to push immediately. Loi tagged onto the back of Pawi as the duo charged ahead. Pawi's performance was almost unbelievable given the fact he was on slick tyres.
Adam Norrodin (Drive M7 SIC Racing Team) was able to break away from the chasing group as well, three seconds ahead of Andrea Locatelli (Leopard Racing) who was in fourth. For both Pawi and Norrodin, this was just their third and second race in the World Championship. As the pack battled away behind, Pawi set fastest lap after fastest lap, consistently three seconds faster than everyone else on track.
Championship leader Niccolo Antonelli (Ongetta-Rivacold) found himself outside the points with 18 laps to go in 17th, his title rival Brad Binder staying steady inside the top ten, involved in the battle for fourth.
With 15 laps to go Adam Norrodin slipped past Livio Loi, the pair swapping positions for several corners as Pawi continued to set fast laps, his lead now 20 seconds. The battling of Norrodin and Loi allowed Jorge Navarro (Estrella Galicia 0,0) to catch them, he and Norrodin able to wrestle past Loi. With a third of the race gone, Loi was clearly struggling with his wets on the rapidly drying track.
The battling raged, Brad Binder and Joan Mir (Leopard Racing) charging into the top five. Fourth produced a stunning battle with the likes of Binder, Locatelli and Mir all trading places. Unfortunately Aron Canet (Estrella Galicia 0,0) suffered a fall at Turn 7 as he attempted to stay with the other riders. Meanwhile Navarro and Norrodin were locked together, Navarro's experience allowing him to just remain ahead until midway through the final lap.
After an almost unbelievable race, Pawi would cross the line a staggering 26.170 ahead of Jorge Navarro. Navarro and Norrodin's battle would go down to the penultimate corner, Norrodin high siding as he tried to do everything he could to end second. This promoted pole man Brad Binder to third, continuing his 100% podium record in 2016.
Pawi is the first Malaysian rider to take a Grand Prix victory, doing so in just his third race on the world stage.
Norrodin stood up and pushed his bike across the line for 11th, drawing applause from all those in the crowd and pit lane.
Andrea Locatelli produced his best ever Grand Prix finish with fourth ahead of teammate Mir, who also produced his best result.
Hiroki Ono (Honda Team Asia), John McPhee (Peugeot MC Saxoprint), Jorge Martin (Aspar Mahindra Team Moto3), Jakub Kornfeil (Drive M7 SIC Racing Team) and Niccolo Antonelli completed the top ten.
With his third place finish, Brad Binder leads the Moto3™ World Championship with 36 points.