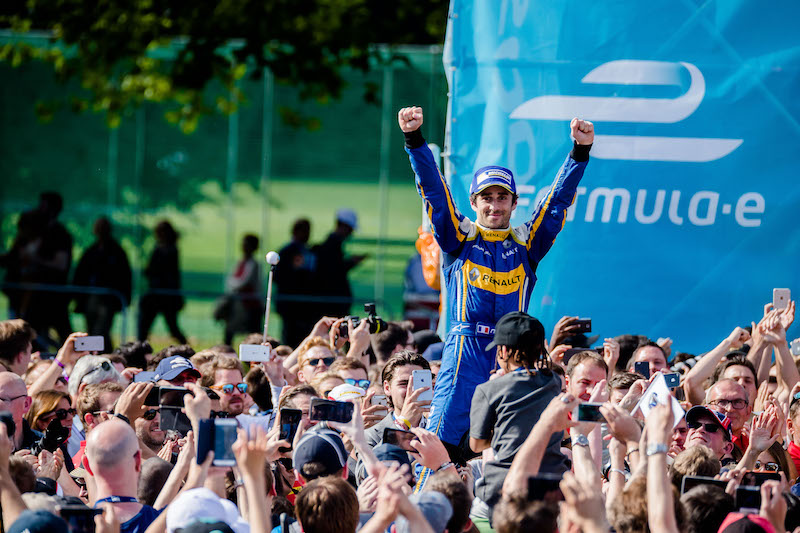 Race 1: Buemi and di Grassi charge up the order, but it's Prost who leads the way
Nico Prost scored his second FIA Formula E Championship win in style at the Visa London ePrix, but it was the action that played out behind him that captured the imagination of the enthusiastic crowd in the penultimate race of the season.
Prost drove a faultless race, leading away from pole, establishing a commanding lead before easily defending it when a late-race Qualcomm Safety Car period closed up the pack. It was his first win of the season, in fact his first since Miami in season one. But it was a stunning performance nevertheless.
https://youtu.be/pCvLepG0Wnc
"It's been an up and down year for me, so it's really nice," said Prost. "I was very confident coming here as in the last few races we've been very competitive and to be honest the team gave me a fantastic car all day long. It's the kind of race you want to have. When I see Bruno's helmet in the pitlane I get goosebumps. It's really nice, he's a friend and it's nice to be on the podium with him here."
In second place Bruno Senna gave the headline writers plenty of ammunition by delivering his best performance to date, and securing second place for Mahindra Racing sealing the first Prost/Senna podium in Britain since Donington, 1993. While he was never really close enough to challenge Prost, equally he was never really under threat from behind, and duly delivered his first podium finish.
"Today I finally got to second place," said Senna. "There's always one more if you're in second, but today I had no chance against Nico. He was faster, I was trying to keep up with him but also at the same time I had to do my race. Ultimately the safety car put things on the back foot, especially because the guys behind had a bit more energy. Today was all about being safe on the track, and we did a good job. The team did a great job. The team was working well with the car and I had no issues. Qualifying, we finally got to Super Pole without being disqualified as well! Everything went to plan and here is the result."
The dominance of the lead duo meant that the focus of the race was the battle for third. Oliver Turvey appeared set to give NEXTEV TCR a first podium of the season, but with just a couple of laps left to run he hit the wall bringing his great drive to an end.
This promoted Jean-Eric Vergne into third. The DS Virgin driver had an entertaining race, with his mirrors full almost throughout. At first it was his team-mate Sam Bird applying the pressure, but after the pitstops it was the title protagonists Lucas di Grassi and Sebastien Buemi.
After catching the worst of the fickle weather in qualifying, they lined-up 10th and 12th, but despite the difficulties of passing around the Battersea Park circuit, they pulled off a series of great overtakes to put themselves in the mix for a podium spot. At one point di Grassi managed to get fully alongside, but JEV refused to yield and there was contact, which removed the right front wheel fairing of the Abt Schaeffler car.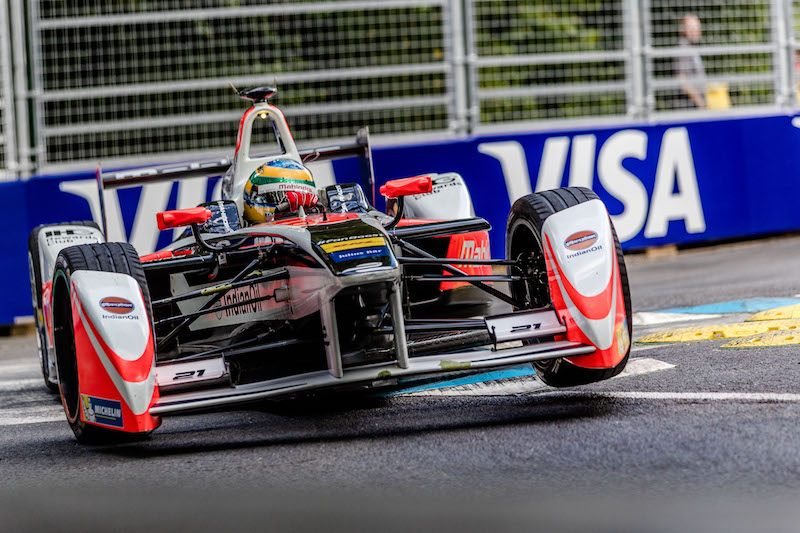 "I'm really happy but I owe this one to the team," said Vergne. "I have to say that I have been very unlucky in the past few years but today I had a huge amount of luck. I had a crash and then the rain came, and no one could beat my time that I did on 170kW, I got lucky. The team has done an amazing job to fix the car on time."
Despite the damage di Grassi managed to come home fourth. Going into the final lap Bird was sandwiched between the title rivals, having pulled a great move on Buemi after the Swiss driver had initially passed him. But with the finish almost in sight the Brit ran out of energy and slowed, which caused some contact with Buemi who was in his slipstream at the time. All this meant Buemi finished fifth and means there's just three points separating the two top with only tomorrow's race left to run.
From 14th on the grid, Antonio Felix da Costa drove a great race to take sixth place for Team Aguri. Two of those places came after Daniel Abt and Robin Frijns banged wheels as they fought for position. This sent Abt bouncing into the wall and back into the path of the Andretti entry.
Bird coasted home for seventh, just ahead of Nick Heidfeld. The Mahindra driver once again was a FanBoost vote winner, as were Buemi and di Grassi, but used the additional power boost twice and picked up a penalty. Jerome D'Ambrosio was promoted to eighth for Dragon Racing while Mike Conway moved to ninth for Venturi, as his team-mate Stephane Sarrazin kept up his record of scoring in every race in 10th. At the scene of his title joy in 2015, NEXTEV's Nelson Piquet Jr had the consolation of collecting the two points for Visa Fastest Lap, but was left ruing the technical issue that meant he started from the back at what was the team's most competitive showing of the season.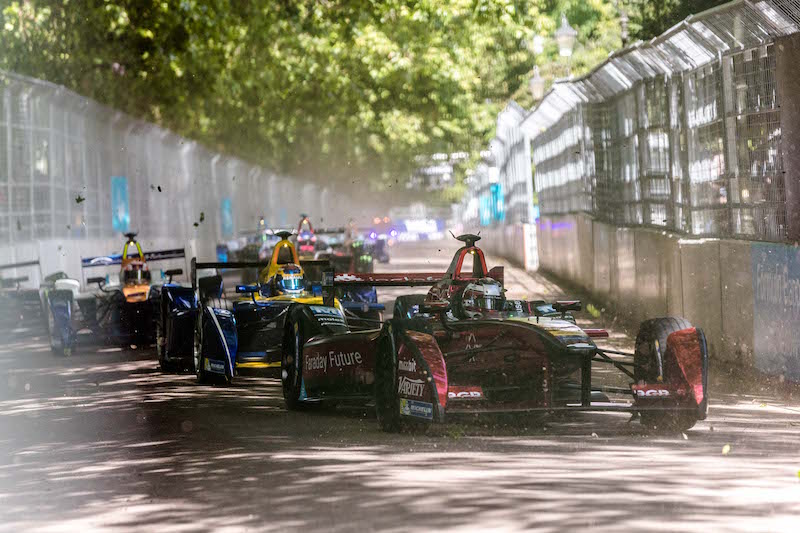 Race 2: Visa Fastest Lap ends up deciding the 2015/16 FIA Formula E Championship
Sebastien Buemi is the new FIA Formula E champion after clinching the title courtesy of setting the Visa Fastest Lap during the season-ending Visa London ePrix.
The final race of the 2015/16 season was a controversial affair, brought about by title rivals Buemi and Lucas di Grassi colliding on the opening lap of the race. Buemi made a slow start from pole, and was rear-ended by di Grassi under braking for Turn 3.
The incident took the rear wing off Buemi's Renault e.dams entry, while there was significant front end damage to the Abt Schaeffler car of di Grassi. Both drivers limped back to the pits so that they could switch to their second car.
https://youtu.be/7EVK0Q9ZP7M
With two points on offer for the Visa Fastest Lap and both drivers tied on points, the championship now boiled down to a fight over who could be quickest over a flying lap. Both drivers – and Stephane Sarrazin – were awarded FanBoost, but the rules state that this power boost cannot be used to claim the bonus points.
Waiting for a clear piece of track to emerge, the protagonists bided their time in the pits, waiting for the perfect time to get a clear lap. Di Grassi struck first, but Buemi's response was emphatic. Di Grassi gave everything in his response, but fell short, leaving the Swiss racer to succeed Nelson Piquet Jr as Formula E champion.
"The most important thing is that we won both championships," said Buemi. "I'm actually sad you know, to win it in that way, but also to see what Lucas did because I was very respectful of his driving, he's been amazing. Like he's said many times, his car is very bad and he is a very good driver, and if he was in my car he'd be at least half a second quicker!
"He's a great driver, he did 24 hours in Le Mans, he never touched a car. He went between Nico and the wall, and I could tell you there was maybe five centimetres and once he braked, I just saw on the camera, he has two options – either go to the right or nail the back of my car and he nailed it perfectly. But a little bit too strong because we both went out.
"I'm a bit sad to see this because I think that was his only opportunity. In the end we had the quickest car, we were the best team. If we could've come out of this corner in front of him, we would've been far quicker."
Lucas di Grassi, said: "Congratulations to Sebastien. He's a strong racing driver and no doubt a deserving Formula E champion. Still, we're leaving London with our heads held high. We were able to battle for the championship up to the last race – every one of our mechanics, our engineers, our fans and our partners should be proud of this, because so am I. Obviously, we're disappointed today. But we'll start thinking about the next season tomorrow or day after tomorrow. We're going to come back stronger than ever before."
Alain Prost, Senior Team Manager at Renault e.dams, said: "It was fantastic, we have improved the car a little bit and made it a little bit better for Nico's style in the last few races. Sebastien was stunning today, we wanted to be on Super Pole for the three points and we got it. We wanted to be champions, we could not expect much more because in these types of races, especially on a track like this, like here in London – it's tricky, with the weather. You can have a really different situation. It was the target and goal to be champion at the beginning of the year and we did it. It's not very often that you have a target and you achieve your objective."
With all the focus on the championship permutations, it was easy to ignore the stunning drive that Nico Prost put in to claim back-to-back wins around Battersea Park. His win ensured that Renault e.dams retained the teams' championship and secured him third overall in the drivers' points.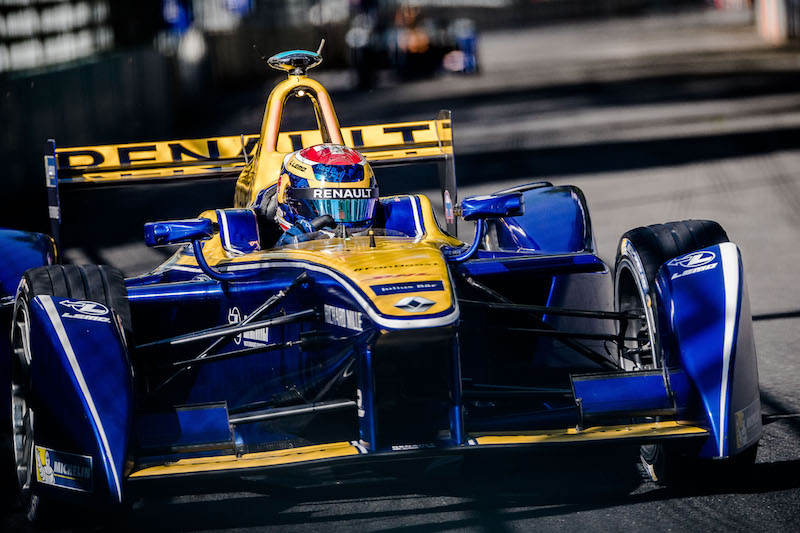 "I think di Grassi wanted to visit London so he went straight, but Seb was in the way! It didn't end well," he observed. "The safety cars were the main challenge, but the first car especially was flying so I could pull away quite easily every time. Then it's just a case of remaining focused and not making a mistake. The team gave me a fantastic car this weekend, they don't get much better than this to be honest."
There were three Qualcomm Safety Car periods during a stop-start race, and the drama continued after the flag fell with third-placed man Jean-Eric Vergne (DS Virgin), Nick Heidfeld (Mahindra) and Antonio Felix da Costa (Team Aguri) all being hit with time penalties for exceeding the permitted energy limit.
This promoted Jerome D'Ambrosio of Dragon Racing to third place, his team-mate Loic Duval into fourth and Stephane Sarrazin into fifth for Venturi. Bruno Senna claimed sixth for Mahindra ahead of team-mate Nick Heidfeld. Vergne's additional penalty for an unsafe release dropped him to eighth and the two NEXTEV TCR drivers picked up the final points positions.
The weekend was a great success with 42,000 fans piling into Battersea Park over the two races and enjoying a host of eSports action and live music acts, both presented by Visa.
Now the teams turn their attentions to developing their season three packages to ensure they're ready when the all-electric racing series sparks back into life on October 9 with the HKT Hong Kong ePrix.
Following an appeal from Dragon Racing regarding the Stewards decision relating to two penalties applied to Jean-Eric Vergne, the result of the race remains subject to the findings of the International Court of Appeal.