Caterpillar Yamaha's Daniel Falzon (YZF-R1) captured both race victories on Sunday to complete the trifecta and a perfect weekend at Phillip Island's opening round of the 2017 Yamaha Motor Finance Australian Superbike Championship presented by Motul Pirelli (ASBK) after starting from pole position.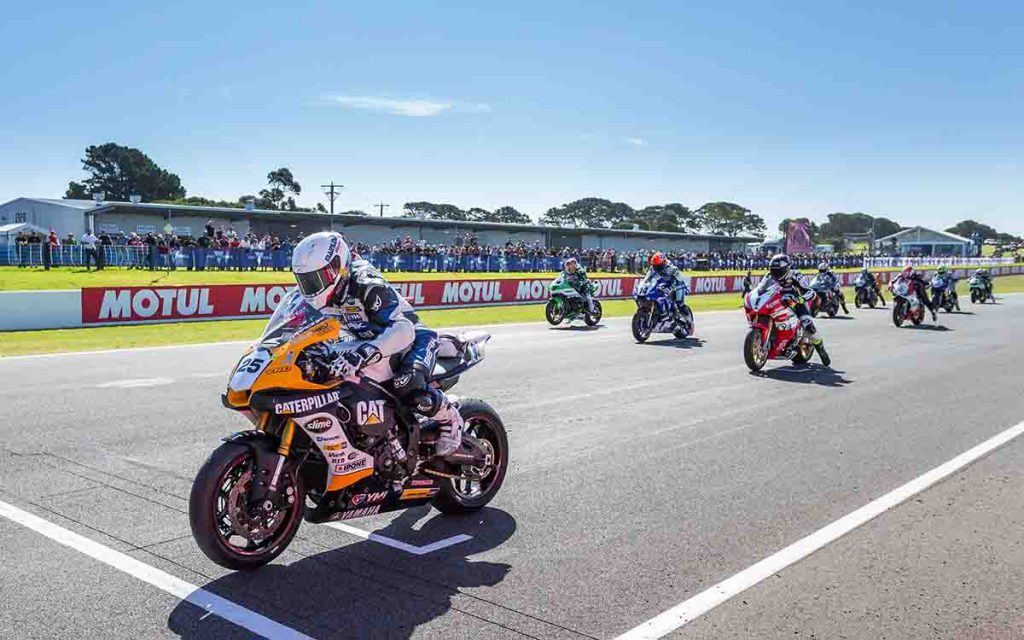 YMI Superbike Race 1
A minor delay before race-start saw an additional warm-up lap completed and the race reduced from 12 to 11 laps as a result, but once it did get underway the fight at the front was a fierce one. First casualty was Yamaha Racing Team's Wayne Maxwell; down at turn four on lap one on cold tyres. Maxwell managed to remount to claim 17th, after he clawed his way up the order.
At the front of the field, however, Falzon worked his way into the lead across the stripe on lap three and remained there for the duration. The 22-year-old South Australian withstood all kinds of pressure from three-time title-winner Glenn Allerton (Yamaha Racing Team YZF-R1), claiming the win by just 0.013s.
Falzon commented; "The race was nothing short of extremely difficult, but it was very sweet to come out with a victory like that. The racing was close. It's no secret that we are down on horse-power as we are 17kph slower than the top guys down the main straight, but we will make some changes and try to squeeze more out of the bike.
"I found a new line that really worked for me on the exit of Siberia through MG in qualifying yesterday, my tyres gripped really well. I was really trying to punch every apex, I knew I had the pace, I just had to be consistent. The monkey is off my back now and my nerves will settle down and my concentration will come back for the next race."
Allerton was satisfied with his result nonetheless, over coming fuelling issues to take vital championship points and besting Crankt Protein Honda Racing CBR1000RR SP-mounted teammates Bryan Staring and Troy Herfoss for position. Only 0.868s separated the top four across the finish-line.
Allerton shared; "The boys on the Yamaha team did a really great job on my bike, they put in a huge effort and it was a great start to the year. There's a thousand moving parts inside that bike and sometimes things can go a bit wrong but I hope to go one better next time. We are always learning in racing, we have two races left this weekend and we will move forward. I can't wait to get back out there!"
Bryan Staring said; "Now that the pre-season testing is out of the way and we have a race under our belt, we are going to make a couple of small changes to the settings of the Honda, but it's such a great machine as it is. I'm feeling really good on the bike now and I'm happy with managing third place on the opening race to gain a few championship points."
Meanwhile, 12.670s back in fifth was Robbie Bugden (Kawasaki BCperformance ZX-10R), who overcame a late charge from Cru Halliday (IPONE YZF-R1) and leading rookie Mitch Levy (ATR/Landbridge Transport YZF-R1).
The top 10 was completed by Alex Phillis (Race Dynamics RSV4), Beau Beaton (Racer's Edge Performance 1199 R) and Kyle Buckley (Kawasaki BCperformance ZX-10R). Reigning Australian Supersport champion Troy Guenther (Next Gen Motorsports S 1000 RR) claimed 11th.
Team Suzuki Ecstar's Josh Waters was right in the mix of the top five before encountering problems of his own aboard the brand new GSX-R1000R, dropping down the order between laps seven and eight. He pulled into pit-lane and exited the race soon afterwards. Matt Walters (Swann Insurance ZX-10R) also registered a DNF, crashing out after running as high as sixth.
Waters explained the situation on his Suzuki; "I've had less than an hour seat time on the new GSX-R and it was keeping up with the leading pack, no problems! The racing was that close, that when the Honda riders touched in front of me, one ran a little wide the on the straight, causing a stone to flick up and pierce a hole in my radiator, as well as smashing a few other things on the front of the bike. The main thing was the hole in the radiator resulting in the engine overheating." He finished.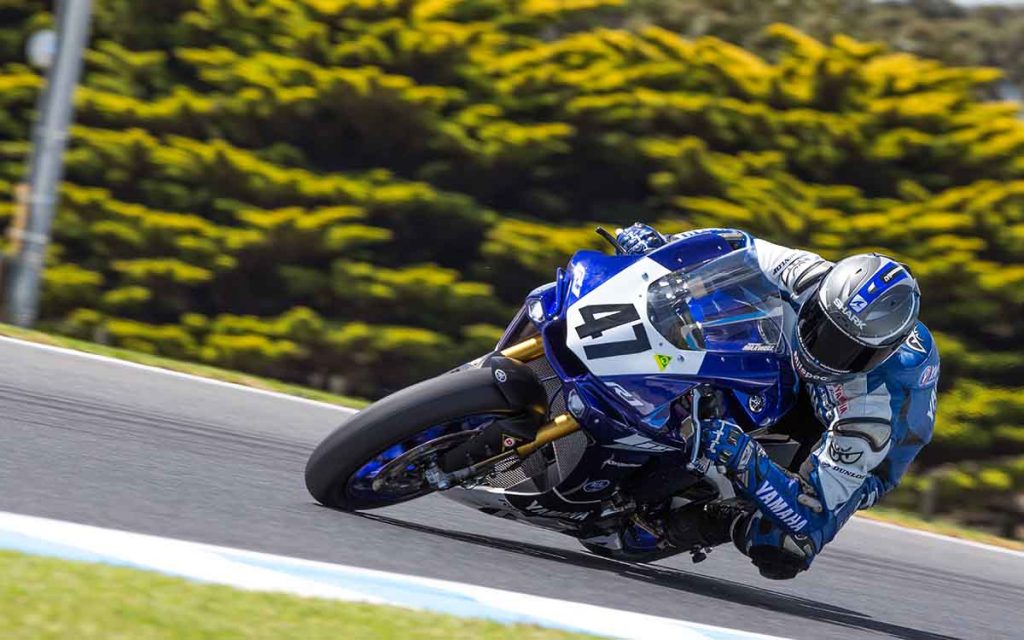 YMI Superbike Race 2
After winning the opening Yamaha Motorcycle Insurance Superbike encounter on Saturday, 22-year-old Falzon made it back-to-back wins against the big factory backed teams. If the opening affair was recognised as a race of attrition, race two was just as topical, Glenn Allerton (Yamaha Racing Team YZF-R1) going down in the ultra-fast turn one on the first lap, followed by Bryan Staring (Crankt Protein Honda Racing CBR1000RR SP) in turn 11 on lap four. Both were on the podium yesterday.
In contrast, after crashing on Saturday Wayne Maxwell (Yamaha Racing Team YZF-R1) bounced back to take second this morning, as did Josh Waters (Team Suzuki Ecstar GSX-R1000R) in fifth, after a holed radiator ruled him out of race one. Matt Walters (Swann Insurance ZX-10R) also rebounded from the same issue as Waters for P8.
At the front, however, there was no denying Falzon another race win. Maxwell applied all the pressure he could in the mid-stages, albeit struggling for rear grip and squeezing every inch out of his Dunlop. Meanwhile, Pirelli-equipped Falzon powered ahead at the front, clocking away consistent laps in an intriguing battle of the tyre brands.
In the end Falzon inched away to a 2.145s victory over Maxwell as they crossed the line and the returning Robbie Bugden (Kawasaki BCperformance ZX-10R) joined them on the box in third. He got the better of defending champion Troy Herfoss (Crankt Protein Honda Racing CBR1000RR SP) for position – that scrap being one of the closer ones in the final laps.
An incident on the 12th and final lap actually resulted in a red flag, taking the final results back to the end of lap 11, when Falzon crossed the stripe 0.919s ahead of Maxwell. It didn't affect any of the top 10's finishing order.
Waters was a comfortable fifth, trailed by a consistent Cru Halliday (IPONE YZF-R1), Michael Blair (Central Coast Car Museum YZF-R1) who exited yesterday with a mechanical on the warm-up lap, Walters, Beau Beaton (Racer's Edge Performance 1199 R) and Mitch Levy (ATR/Landbridge Transport YZF-R1).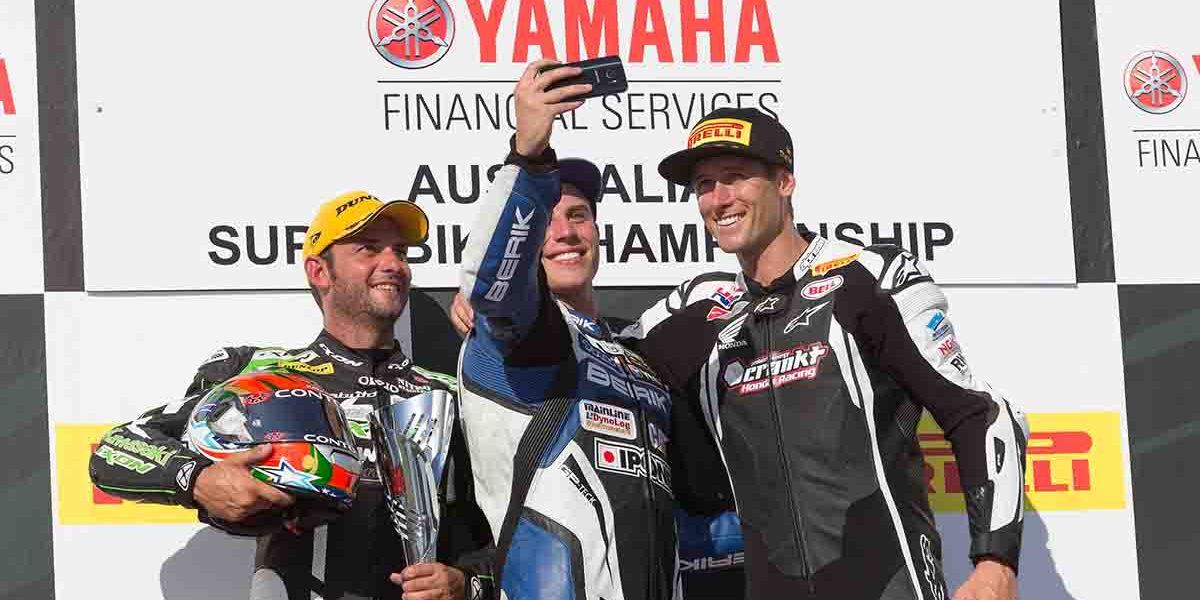 YMI Superbike Race 3
The YMI Superbike class saved its best for last in another action-packed affair eventually won, once again, by Falzon. In the opening few laps into the third and final race at Phillip Island, during the  World Superbike weekend, it appeared Falzon was going to sail off at the front for another dominant win.
However, a red flag flew after just three laps due to an incident at the Hayshed, causing a restart, with the domestic races to be determined by combining times of the two-part race. Once it did get back underway, fireworks erupted at the front.
This time Falzon had to fight his way forward from fifth, but had the comfort of a time advantage to his credit from part one. He crossed the finish-line in third, however that was enough to complete a perfect weekend on combined times.
Falzon was wrapped at the podium saying; "I just knew that Maxwell and Allerton weren't right up there in the first part of the race before the restart and I thought I had about one second on them. I knew that race would be tough from the start. It was a mentally challenging race. I couldn't brake concentration at all. Again, my bike was absolutely perfect throughout the day, my crew have done an amazing job in getting it right."
Reduced to 10 laps due to the delays, Maxwell led across the line at race's end in another strong performance, but was fourth on combined times. Instead, filling the race podium alongside Falzon was Bugden and Staring. Waters came fifth, sixth was Allerton despite crossing the stripe second, and the top 10 was completed by Halliday, Herfoss, Levy and Blair.
Green machine mounted Bugden shared his comments on the second place score; "It was great racing today and all the boys were pushing so hard. I tried to make a brake for it in the pack but the guys were right there with me. Me and Wayne had a tussle and I came off second best, losing a few places but managed to hook them back. It's great getting the first round under my belt and can't thank Kawasaki BCperformance enough for the prep on the ZX-10 – it makes awesome power and is a nice easy bike to ride too. Bring on round two!"
Staring was surprised by his final podium placing; "I didn't do that well in the group, but I did as well as I could and managed to push the well prepared Crankt Protein Honda CBR 1000 through to a lucky third place podium given that it was aggregate times and the first part of the race was okay. That means that I've taken two podiums for the weekend.
Defending champion Herfoss led his share of the final bout, but was forced to slow on lap three of the restart when he had problems with the on-board camera attached to his factory supported Fireblade.
Overall it was South Australian Falzon (76pts) with the stunning clean-sweep, leading the ASBK championship after one round, 22pts clear of Bugden (54pts)and a further seven ahead of Herfoss (47pts) after many of the title-contenders experienced issues or DNFs across the three races at some point. Still, there was no denying Falzon of the victory in this given round.
The 2017 Yamaha Motor Finance Australian Superbike Championship presented by Motul Pirelli (ASBK) will now head to Wakefield Park in New South Wales for round two on 17-19 March.