Optimum's Haigh becomes first woman to win British GT race outright as Track-Club claim GT4 spoils in Oulton Park opener
Flick Haigh, ably supported by Optimum Motorsport co-driver Jonny Adam, became the first woman to win a British GT race outright in the championship's 26-year history at Oulton Park earlier today. The pair won by 28.2s from series returnees Beechdean AMR, while debutants ERC Sport were third.
In GT4, Adam Balon and Ben Barnicoat repeated Track-Club's win from 12 months ago by beating Century Motorsport's Ben Tuck and Ben Green by 7.5s. However, a short pitstop and resulting 30s post-race penalty dropped the pair to sixth in the final result behind Tolman Motorsport's Michael O'Brien and Charlie Fagg, and Century Motorsport's Jack Mitchell and Ricky Collard, who completed the podium.
GT3: FLICK MAKES HAIGH WHILE SUN DOESN'T SHINE
After becoming the first woman ever to claim an outright British GT pole on Saturday, Flick Haigh wrote another chapter in series history on Easter Monday by achieving the same feat in Race 1 at Oulton Park alongside Optimum Motorsport co-driver Jonny Adam, who extended his all-time GT3 wins record to 13.
Heavy rain before the start saw the opening laps completed behind the Safety Car, but when racing began in earnest Haigh was able to pull clear while Jon Minshaw – starting seventh for Barwell – carved his way through to second.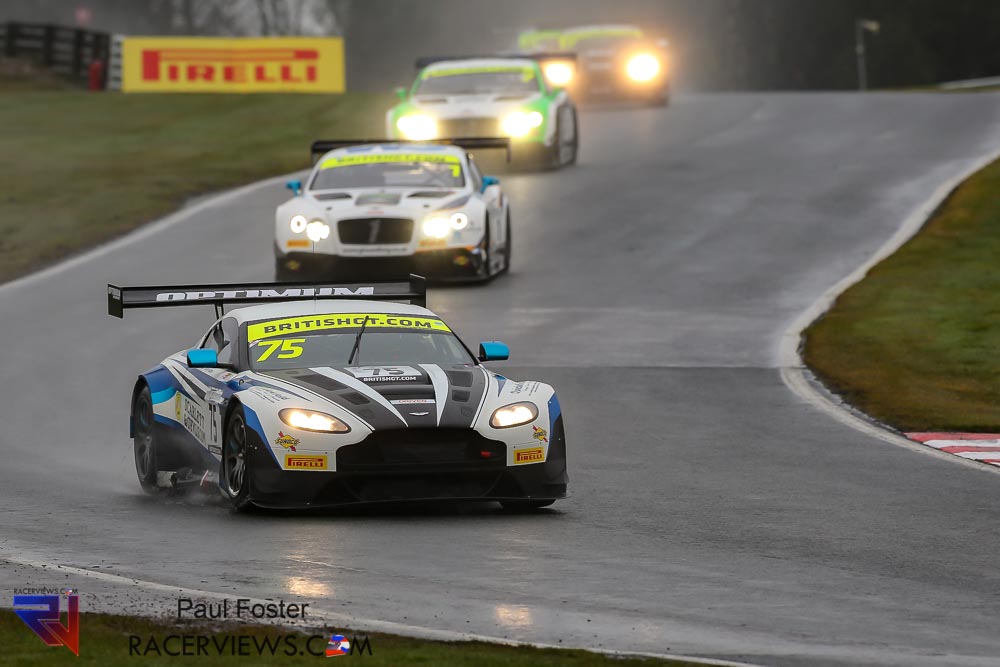 Haigh's advantage was initially 6.7s, but the chasing Lamborghini was relentless in its pursuit and had halved the gap by the time Optimum's Aston Martin dived in for its mandatory driver change after 25 minutes. Minshaw continued for another lap before stopping, and by the time his co-driver – Phil Keen – was aboard, the gap was down to just over a second.
British GT stalwarts Adam and Keen were soon running nose-to-tail but, when the pair came up to lap traffic, contact with Team HARD. Racing's #34 Ginetta resulted in the Lamborghini sustaining a broken wheel.
Flick Haigh, #75 Optimum Motorsport Aston Martin V12 Vantage GT3: "It feels amazing! I'm shocked, to be honest. When Jonny got in he had a real fight on his hands – I was fortunate enough to get a lead early on so he had the hard job, really! The conditions were tough: it's a balancing act to push hard enough but without making any mistakes. The second race? You never know! Jonny's starting P2 but we have the full 10s success penalty."
Adam therefore enjoyed a hassle-free run to the chequered flag while, behind, Beechdean AMR's Darren Turner and ERC Sport's Yelmer Buurman went toe-to-toe for the final podium place. Their Am co-drivers Andrew Howard and Lee Mowle – the latter having started ninth – both made progress during the opening stint to set up a grandstand finish between the two factory drivers, which Turner ultimately won by just 0.251s.
Keen's pace was such that he finished less than two seconds shy of the podium and 15s clear of Barwell's other two Huracans driven by Leo Machitski/Patrick Kujala and Sam de Haan/Jonny Cocker who were never far apart throughout the hour-long race.
Ian Loggie and Callum Macleod were the best of Team Parker Racing's Bentleys in seventh, while Shaun Balfe and Rob Bell recovered from a blown turbo in qualifying to finish eighth.
Derek Johnston's lap one excursion saw the first of TF Sport's Aston Martins – also driven by Marco Sorensen – come home ninth, and Graham Davidson and Maxime Martin complete the top-10 on Jetstream's British GT debut.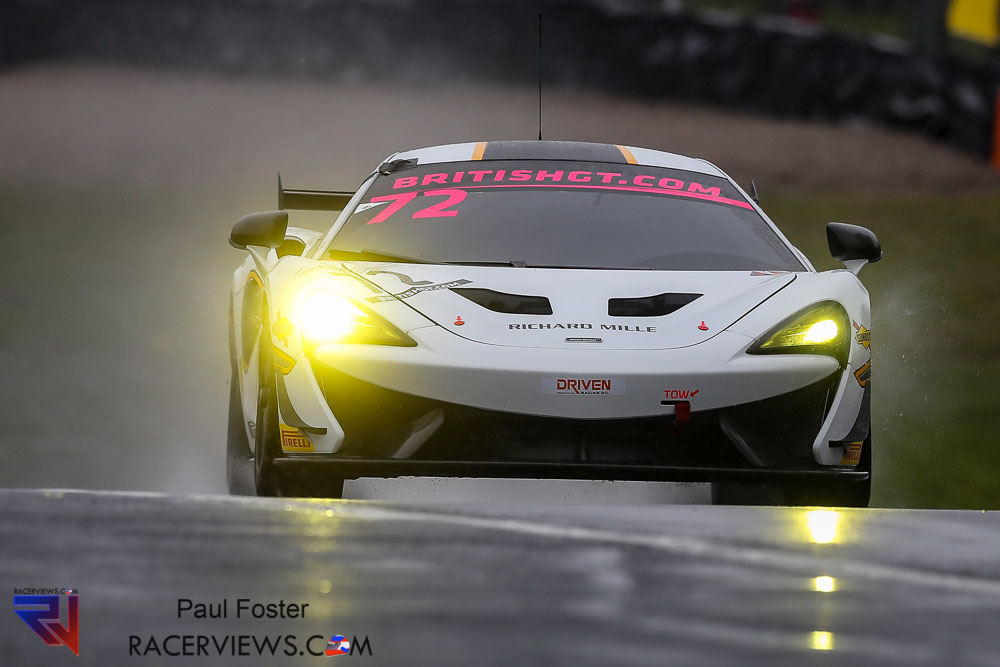 GT4: TRACK-CLUB LEADS McLAREN ONE-TWO
Adam Balon and British GT debutant Ben Barnicoat claimed GT4 victory in the opening race of the day at Ouulton Park, while a short pitstop and resulting post-race penalty dropped Century Motorsport's Ben Tuck and Ben Green from second to sixth.
Class pole-sitter Callum Pointon led the opening stint for HHC Motorsport but remained under constant pressure from O'Brien, Collard and Tuck.
Balon was first of the Pro/Am entries in seventh and remained sufficiently close to the Silver Cup pairings ahead to benefit from their extra 12s minimum pitstop time. Stopping at the first opportunity also ensured that McLaren factory ace Barnicoat was given longer to reduce the gap further.
Indeed, the Silver Cup crews pitted much later in the 10-minute window, and when the stops shook out it was the Track-Club McLaren 570S that enjoyed a healthy lead. Barnicoat duly stroked it home to initially win by 7.5s from Ben Green, whose subsequent pitstop penalty gifted Tolman's O'Brien and Fagg second in class and first of the Silver Cup contingent.
Century's misfortune on one side of the garage helped its second BMW M4 driven by Collard and Mitchell take third ahead of Balfe Motorsport's McLaren driven by reigning Pro/Am champions Graham Johnson and Mike Robinson.
Tolman's other two McLarens – the Pro/Am example driven by David Pattison and Joe Osborne, and Silver Cup entry piloted by Jordan Albert and Lewis Proctor – were fifth and sixth ahead of Century's demoted BMW, while Fox Motorsport's Mark Murfitt and Michael Broadhurst completed the top-eight on debut aboard their Mercedes-AMG.
HHC's Patrik Matthiesen and Pointon – who led the first stint – dropped to ninth in the final reckoning but finished ahead of the recovering Tom Wood and Jan Jonck whose Academy Motorsport Aston Martin span out of fifth before the pitstops.