Emil Lindholm is back on fast gravel roads for Team MRF Tyres. He lives about 600 km from Rally Liepaja and is a fan of fast gravel roads. He is in Latvia with his Skoda Fabia R5 evo2 with MRF Tyres We took some time to talk with Emil coming up the weekend's action.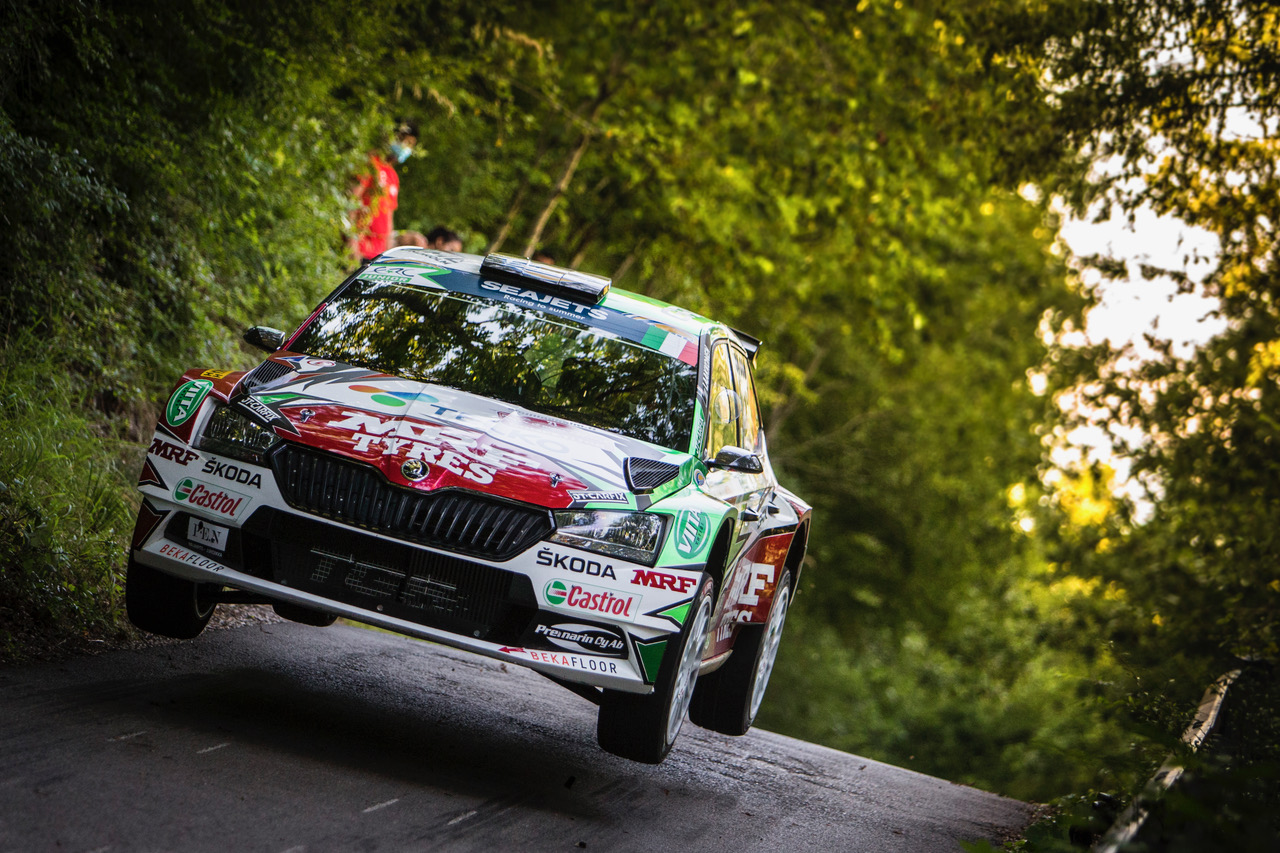 Q. Coming into Rally Liepaja, we have a gravel rally on fast roads, are you looking forward to getting back on gravel for Team MRF Tyres?
Emil Lindholm: I am looking forward to this rally. The roads are similar to those roads we have in Finland. Though I have not been in this car on gravel. I think it has been 10 months, though I was in a different car last week, so it is not such a big step. I am confident of a good weekend for Team MRF Tyres.
Q. You had a great rally at the Rally Citta di Arezzo between Roma and now. You were in the lead, winning five of the six stages you completed before retiring before the final one. What was it all like for you?
Emil Lindholm: For the most part, tt was absolutely beautiful and I was really happy with the performance and durability. We have temperatures of over 35 degrees and it was really good to see how well the tyres lasted in those temperatures. It was super-disappointing for me, the team and MRF Tyres to retire from the lead with mechanical issues before the last stage. It was devastating but we had good pace.
Q. How do you take the pace you had for Team MRF Tyres forward to this rally?
Emil Lindholm: It is a testament to the tyre we used on gravel. We weren't relaxed but we weren't at the absolute limit, so there was more to go, which is very encouraging for the MRF Tyre. It certainly gives us confidence for Rally Liepaja. The profile of the roads here are similar but the roads are faster. So that is good for us.
Q. What are the secrets to a good result here in Latvia?
Emil Lindholm: Lets see. We have to start first of all by getting the recce right. Accurate pace notes are crucial. Only if you trust the pace notes you can push in the fast corners and fast sections and that is where you make the time up in this rally. But let's see. We have attack immediately on Friday, if you can do that, it is crucial. But it is almost 200 km so then it is strategy so let's see how it goes.
Q. What would you call a successful weekend at Rally Liepaja?
Emil Lindholm: It is tricky. The competition is big. There are so many fast drivers in this rally. If everything we could be on the podium which is where I am aiming. But it is important to concentrate on getting more information for the development of the next generation of MRF Tyres.