Team Parker Racing's Nick Jones and Scott Malvern claimed a popular maiden GT3 victory in the second of today's two Intelligent Money British GT Championship races at Donington Park after gambling to start the 60-minute sprint on slick tyres.
The GT4 graduates – competing in only their third GT3 race – mastered tricky conditions to come home 13s clear of Barwell Motorsport's Adam Balon and Phil Keen, who also assumed the Drivers' Championship lead, while Jordan Witt and Jack Mitchell completed the podium for 2 Seas Motorsport.
GT4 went down to the wire thanks to Chris Wesemael who relieved Mia Flewitt of the lead with just over five minutes remaining. The HHC Motorsport McLaren he shares with Gus Bowers claimed its first win of the season ahead of Balfe Motorsport's 570S which dominated the opening stint thanks to a slick-shod Euan Hankey, while Patrik Matthiesen and Jordan Collard added a second podium to HHC's Race 2 haul.
GT3
The decision to start on slicks or wet weather tyres played a large part in the outcome of today's second race, which began in damp but drying conditions.
Opting for dry Pirelli rubber initially looked like a questionable choice for Joe Osborne and Scott Malvern who dropped back to fourth and fifth after sharing the front row. Instead, Jack Mitchell's banzai start catapulted 2 Seas Motorsport's #10 McLaren from seventh to first after a frantic opening two laps.
But the grooved tyre's initial advantage didn't last long. Instead, Malvern and Osborne worked in tandem to re-pass Sandy Mitchell (Barwell Motorsport), Yelmer Buurman (RAM racing) and Jack Mitchell before disappearing into the distance. The pair were 16s up the road when Phil Keen's slick-shod Lamborghini also cleared the cars that had started on wets.
The chasing pack was briefly headed by ABBA's Sam Neary who once again underlined his natural feel for tricky conditions by running fourth for a time before Andrea Caldarelli slipped past in his Lamborghini, which had also taken time to warm up its slick rubber.
The pitstop window opened after 22 minutes but, as is customary for the Pro/Am crews, Malvern and Osborne – now nose-to-tail through the GT4 traffic – waited until the last possible moment before swapping with Nick Jones and Stewart Proctor, respectively. The bronze-graded duo emerged six seconds apart but, crucially, comfortably clear of their Silver Cup pursuers.
Instead, Jones busied himself edging clear of GT3 debutant Proctor whose attention soon shifted to the advancing Adam Balon who was now aboard Barwell's #72 Lamborghini. And the latter's experience ultimately proved decisive in dispatching Balfe's McLaren at Coppice with 10 minutes remaining.
Further back, Caldarelli's early pace helped WPI Motorsport negate much of their 10s Success Penalty for winning the day's earlier race, so much so that Michael Igoe emerged in fourth. But any hopes of making it back-to-back podiums were lost with a spin at the Foggarty Esses that also forced Richard Neary into drastic avoiding action.
That left the way clear for 2 Seas and Optimum's Silver Cup entries to hound Proctor whose valiant defence of third was ultimately broken by Jordan Witt – now aboard the #10 McLaren – and Proctor's son, Lewis. Optimum's 720S – started by Ollie Wilkinson – had lined up 13th but also benefitted from the gamble to fit slicks.
Proctor Snr completed the top-five on his debut GT3 weekend by finishing just ahead of Barwell's second Huracan shared by Rob Collard and Sandy Mitchell. Igoe recovered to seventh, one place ahead of the Patrick Kujala/Sam De Haan RAM Racing Mercedes-AMG that doggedly resisted Michael O'Brien's late advances.
Jenson Team Rocket RJN's McLaren might have finished higher up the order without incurring a two-second stop-go penalty for a short pitstop, which inadvertently led to another 30s post-race penalty for padding out the total pitstop time.
But there was no denying Nick Jones who completed an inch-perfect stint to give Team Parker, Bentley and Scott Malvern victory, while the latter also picked up this weekend's Sunoco Fastest Lap Award.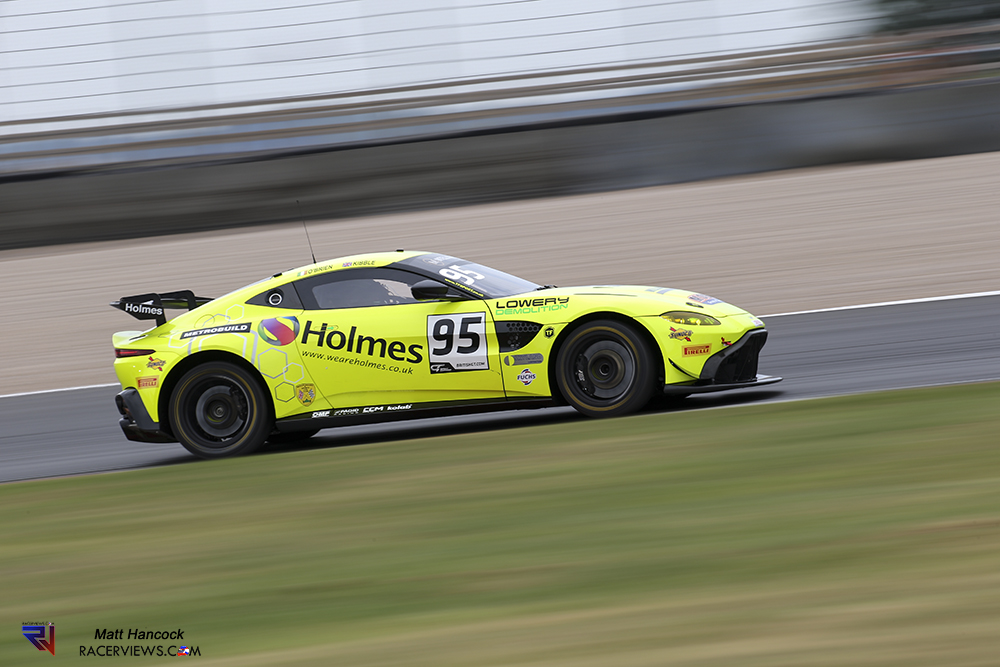 GT4
Slick tyres turned out to be the best birthday present Chris Wesemael never knew he wanted. But a gamble on dry-weather rubber in mixed conditions helped both he and HHC McLaren team-mate Gus Bowers to a maiden GT4 victory in Donington's sprint race.
On the day he celebrated his 25th birthday, the combination of a tactical gamble from the team, a controlled first stint from Bowers and a superb late charge ensured Wesemael got to mark his day with a dose of champagne.
Tyre choice became critical when teams were met with a damp-but-drying track, and some left it far later than others to make the call on whether to fit wet Pirellis or slicks. Of all the GT4 runners, only two opted to fit dry tyres for the start with both the HHC McLaren of Bowers and Balfe Motorsport's Euan Hankey choosing to sacrifice their grid slots in favour of a pitlane start on what would hopefully become the grippier rubber.
Of those starting on wets it was Sam Smelt who made the early running, nipping past Jordan Collard's pole-sitting HHC McLaren to lead in the Speedworks Toyota and leaving Collard to deal with a hounding from the twin TF Sport Aston Martins as both Connor O'Brien and Dan Vaughan pushed hard.
However, things began to change after a handful of laps when a dry line began to emerge and Hankey, in particular, began to fly. From the back of the grid Balfe's 570S hacked chunks of time out of its rivals as the sole Pro driver in the session made the most of his slicks coming to life.
Lapping seconds faster than anyone else, Hankey was soon into third before making his dive for the lead count on lap seven. From then on he never looked back and charged into a huge class lead, getting into the mix with the wet-shod GT3 cars and running as high as seventh overall at one point.
Bowers was also making progress, albeit more steadily than the runaway Hankey. He picked his moments perfectly to slot his McLaren into second by the ninth tour, deposing Smelt with a neat move at the Melbourne Hairpin.
With a McLaren one-two established and the conditions very much favouring the slicks, both cars were around 30s clear of the rest of the pack by the time the pit window opened after 28 minutes.
Hankey, who had forged his own 30s lead at the front, stopped last of all the GT4 runners, handing Mia Flewitt a useful margin when she re-joined for the final 20 minutes.
Things looked settled, but Wesemael had other ideas. When he took over from Bowers HHC's #57 McLaren emerged 35s in arrears of Flewitt, but put in the drive of his life to haul the leader back in and set-up a passing opportunity with just minutes remaining.
Wesemael timed his move to perfection, snatching top spot on the brakes into Melbourne on lap 30. From then on, he only had four laps to cruise to the flag and a breakthrough victory.
Flewitt celebrated a fine second and the Pro/Am class victory, finishing comfortably clear of Patrik Matthiesen, who put in a great stint on slicks after taking the McLaren over from the wet-limited Collard. James Kell capped a strong weekend for the Speedworks Toyota GR Supra with fourth, building on Smelt's excellent work to keep the car as the leading wet-tyred runner by the pit window and negating much of its five-second Success Penalty.
Jamie Caroline brought the #97 TF Sport Aston home in fourth having deposed Matt Cowley and Jordan Albert's Academy Motorsport Ford Mustang late on and just held off a retaliation at the line by 0.195s to hold the spot.
With a full 10 seconds of Success Penalty to serve in the second race after victory this morning, seventh was the limit of what Patrick Kibble and O'Brien could achieve in TF's second Aston. The Century Motorsport BMW M4 of Ben Hurst and Andrew Gordon-Colebrooke rounded out its weekend in eighth, while Hankey's slick-shod heroics netted him the Sunoco Fastest Lap Award.
British GT returns to its single two-hour endurance race format at Brands Hatch on August 15/16.