As soon as the rally started, a humanitarian convoy provided by the Silk Way Rally Association, which is an organizing entity of the race, has taken off from Moscow towards the border between Russia and Mongolia. Onboard the vehicles carry dedicated medical equipment for the Mongolian people, carrying protective gear, medicines, laboratory devices and supplies.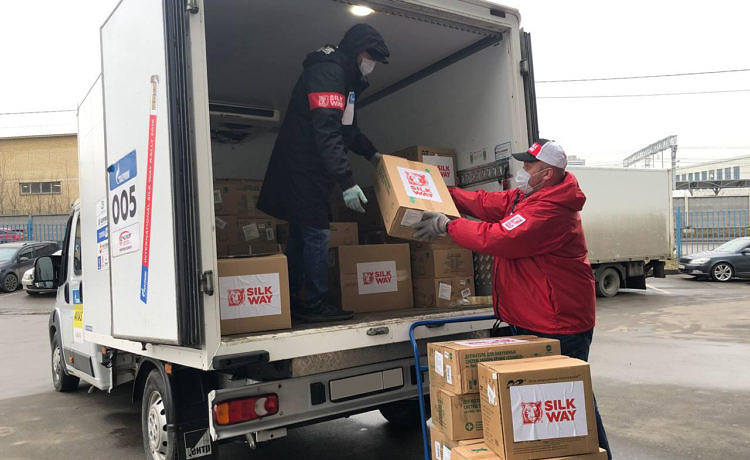 Earlier, in the end of April, the Silk Way Rally Association had successfully managed the logistics and delivered vaccines and PPEs from Russia to Mongolia.
In 2021, the 11th edition of the Silk Way Rally is hosted by two countries – Russia and Mongolia. The organizers make every effort to protect the health of both competitors and organization team.
In Omsk and Novosibirsk, where the first two legs took place, all competitors and organization staff took compulsory PCR tests, and as the results indicated, not a single person tested positive. In total, 2830 samples were collected for PCR testing.
During the Omsk Start Ceremony of the Silk Way Rally volunteers delivered 10 thousand protective masks to the local citizens and guests.
The third city along the rally route was the Gornoaltaisk. There the Silk Way Rally Association provided assistance to the Akutikha General Middle School. Previously the school director Mr. Nikolay Ilyasov had brought valuable help and support to the reccies team during the route exploration in Altay region. To return such a big favor, today the Association provided the school with five advanced portable computers and multifunctional devices.
The Association has been already carrying out the humanitarian activities with a view to prevent and fight the coronavirus pandemic for one and a half year. Since April 2020, it has put a lot of efforts and skills into arranging all relevant organizational and logistics issues.
The mission started with the delivery of express tests and PPE kits from China – this equipment was provided to the Ministry of Defence of the Russian Federation. Then the Association supplied the Republic of Ingushetia and the Republic of South Ossetia with COVID tests, test tubes, needles, holders and laboratory centrifuges as a charity.
The executives of the Silk Way Rally Association realize the uncertainty of pandemic situation and express their gratitude for the warmest welcome, given by the local people to this large-scale sporting event.