The final flags fell on testing in Bahrain as Max Verstappen cleared the field by 6/10ths of a second over Charles LeClerc and Alpine's Fernando Alonso.
Red Bull the class of the field?
The Dutch World Champion clocked a 1'31.720 on the C5 (softest) compound that was brought to Bahrain during the afternoon session as the sun set Saturday evening. This time was not only the fastest time of the day, it was the fastest time for any competitor for the entire final test. Additionally, Verstappen led teammate Sergio Perez on the final day with laps run (53 to 43) and was 1.385 seconds faster than Perez's lap set in the morning session.
Is this a sign of how Red Bull will fair in one-weeks time? That remains to be seen. After Friday's running, Head of Engineering Guillaume Rocquelin hinted at their pace and strength:
'I'm quite happy with what we found out, we are progressing in different directions and it's all very positive. We were reasonably competitive at the end without even trying'
What's wrong with Mercedes?
The defending Constructors Champions look less like themselves and more like a midfielder with more questions than answers at the end of the final test. George Russell set the days 4th fastest time, while teammate Lewis Hamilton managed to put his name only 17th fastest out of 18 drivers.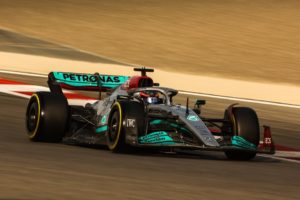 According to Russell, Mercedes are still searching for how they can best unlock the potential of their package. Earlier in the week Hamilton stated that it was clear Mercedes are in no place to contend for pole position or for wins as of right now. After Saturday's running, Russell echoed Hamilton:
'I think we're probably not as competitive as we would like, to be honest…I think the Ferrari and the Red Bull are in the sort of natural position, and I think we're just a step [behind].'
Hamilton and Russel completed a total 385 laps in Bahrain with the radical "zero-pod" designed sidepods but appeared to struggle much more with porpoising than before. So is this the true form of Mercedes, or like 2021 when they ended the preseason test in poor form, will Mercedes prove to be a monster on race day? We'll know next week.
2022 F1 pre-season test times:
| | | | | | |
| --- | --- | --- | --- | --- | --- |
| Pos. | Driver | Team | Best time | Gap | Laps |
| 1 | Max Verstappen | Red Bull | 1'31.720 | | 53 |
| 2 | Charles Leclerc | Ferrari | 1'32.415 | 0.695 | 51 |
| 3 | Fernando Alonso | Alpine | 1'32.698 | 0.978 | 122 |
| 4 | George Russell | Mercedes | 1'32.759 | 1.039 | 71 |
| 5 | Valtteri Bottas | Alfa Romeo | 1'32.985 | 1.265 | 68 |
| 6 | Yuki Tsunoda | AlphaTauri | 1'33.002 | 1.282 | 57 |
| 7 | Sergio Perez | Red Bull | 1'33.105 | 1.385 | 43 |
| 8 | Mick Schumacher | Haas | 1'33.151 | 1.431 | 61 |
| 9 | Lando Norris | McLaren | 1'33.191 | 1.471 | 90 |
| 10 | Sebastian Vettel | Aston Martin | 1'33.821 | 2.101 | 81 |
| 11 | Guanyu Zhou | Alfa Romeo | 1'33.959 | 2.239 | 82 |
| 12 | Pierre Gasly | AlphaTauri | 1'34.865 | 3.145 | 91 |
| 13 | Carlos Sainz Jnr | Ferrari | 1'34.905 | 3.185 | 68 |
| 14 | Alexander Albon | Williams | 1'35.171 | 3.451 | 18 |
| 15 | Nicholas Latifi | Williams | 1'35.634 | 3.914 | 124 |
| 16 | Lance Stroll | Aston Martin | 1'36.029 | 4.309 | 53 |
| 17 | Lewis Hamilton | Mercedes | 1'36.217 | 4.497 | 78 |
| 18 | Kevin Magnussen | Haas | 1'38.616 | 6.896 | 38 |