It was the exact ending to the day that sports fans dream about, the come-behind victory after a hard fought battle. After the smoke cleared it was Trackhouse Racing's Ross Chastain claiming his first ever victory in the NASCAR Cup Series; making him the sixth different driver to visit victory lane this season. Leading 31 of the 69 laps in route to his victory, Chastain was finally able to capitalize after finishing runner-up in the previous two events.
The final lap
A late restart with 2 laps to go set off a frantic sprint to the finish that saw 4 lead changes, with the winning pass in turn 19 on the final lap as Chastain pushed veteran and road course expert AJ Allmendinger – Saturday's Xfinity race winner – into the 48 of Alex Bowman, sending Allmendinger into the gravel trap and out of contention.
Bowman would go on to finish 1.331 seconds behind Chastain, ahead of Joe Gibbs Racing's Christopher Bell, fellow Hendrick driver Chase Elliott – the 2020 winner at this event – and RCR's Tyler Reddick. Rounding out the Top 10 was pole sitter Ryan Blaney, Martin Truex Jr., Austin Cindric, Erik Jones, and Austin Dillion.
UNBELIEVABLE pic.twitter.com/E8pdMIOSSC

— NASCAR (@NASCAR) March 27, 2022
Chastain capped his victory celebration with his trademark watermelon smash, a tribute to his family's history as watermelon farmers in Alva, Florida. Standing on his winning ride, he smashed a melon on the front stretch of COTA to the roar of the crowd.
'It's insane to go up against some of the best and I know he's (Allmendinger) going to be upset with me, but we race hard, both of us…but when it comes to this Cup win, I can't let that go down without a fight.'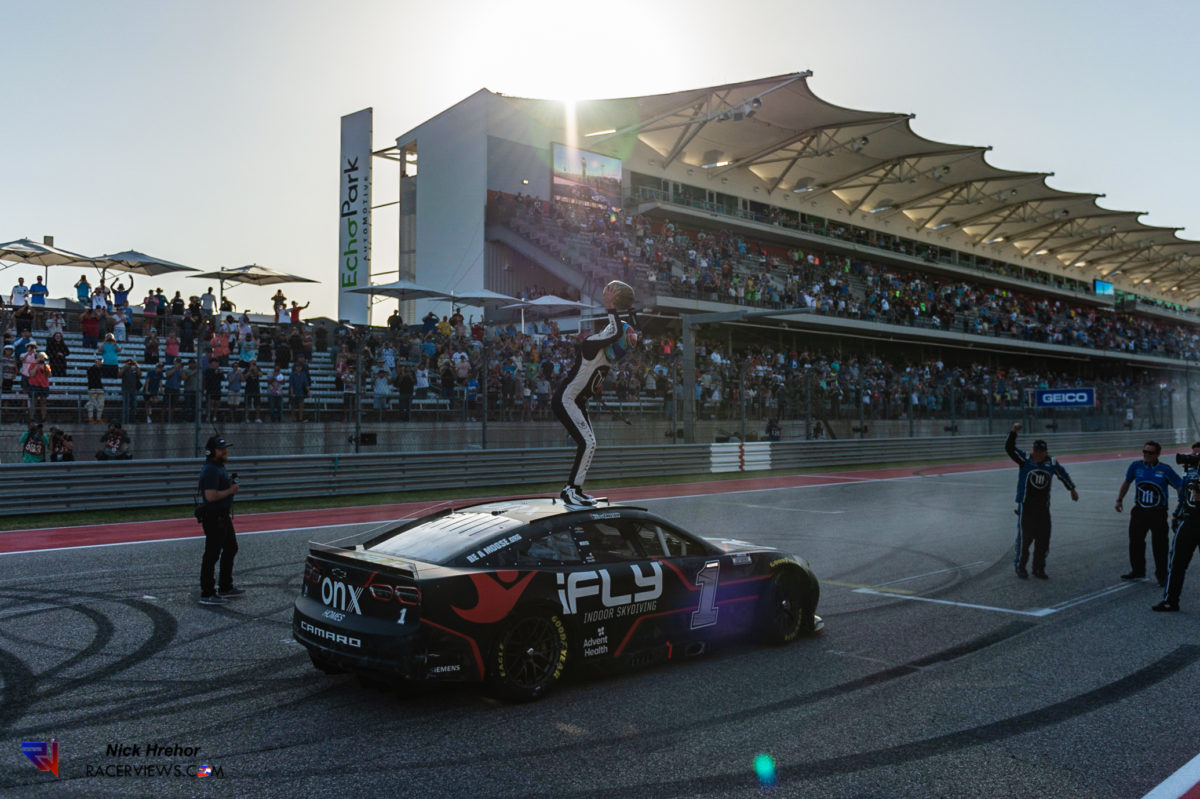 Mission Maiden Victory: Success
Team owner Justin Marks was on hand for the win, jumping into his teams arms as this represented his first win as a team owner. Marks began building Trackhouse Racing from nothing but an idea prior to the 2021 season, and with the help of co-owner and international superstar Armando Pérez – better known as rapper 'Pit Bull' – their investment into STEM education coinciding with racing took off in 2021 with Mexican-born driver Daniel Suárez  at the helm of the 99 car. In late 2021 Trackhouse racing acquired Chip Ganassi's NASCAR team in full, providing Marks with a full Chevrolet backing and allowed for the expansion to two cars. Ross Chastain, the driver of the #42 with Chip Ganassi, was retained to driver alongside Suárez  in 2022, this time at the helm of the #1 car formerly occupied by Kurt Busch.
In the media center following the win, Marks has this to say about the win:
'It seemed like a real tall order when I dreamt this thing up., but every man and woman that's trusted the vision and committed to Trackhouse and worked so hard owns a piece of this victory. I'm so happy for everybody. Everybody believed in this, and I can't wait for next week.'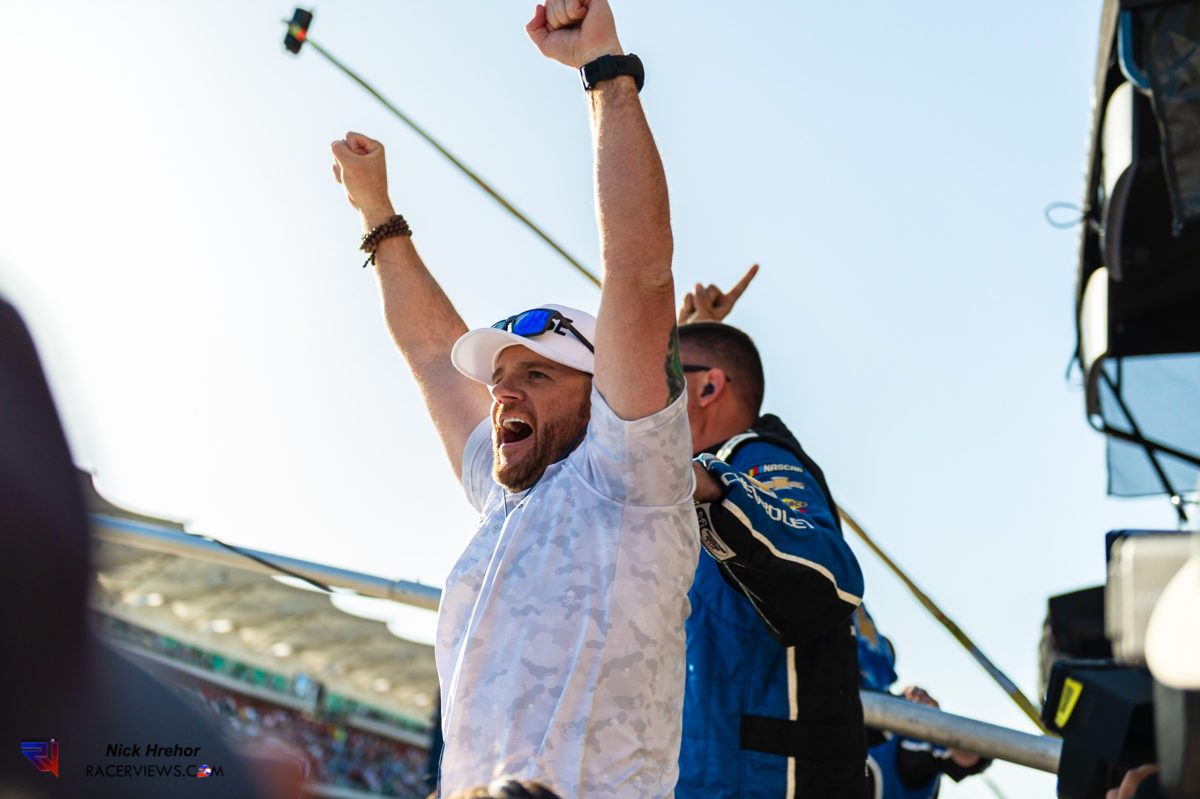 On to Richmond
After a thrilling weekend of left-and-right turns, NASCAR heads back east to their left-turn roots for the Toyota Owners 400 at the Richmond Raceway, a 0.75 mile D-shaped short track that has provided many thrilling races in the past. Heading into the weekend, 2020 Champion Chase Elliott still holds a lead in the drivers points standings by a narrow margin of 13 points to second place Ryan Blaney – who was the pole sitter to today's race.
Both drivers have yet to clinch victory in the first 6 races of the year, however, so look for both of them to be chomping at the bit to secure their spot at the top of the standings.
The action starts next  Sunday, April 3rd at 3:30pm ET (USA).