Scoring his first ever Grand Slam in Formula 1, Ferrari and Charles LeClerc dominated the first race back in Australia since the 2019 season opener, gaining total control of both the drivers and constructors championships ahead of the struggling – and extremely lucky – Mercedes team. Echoing the season opener, LeClerc won pole over Max Verstappen by nearly three tenths of a second with the weekends fasted lap time of 1:17.868 and proceeded to lead every lap of the race on Sunday.
Despite multiple safety car restarts – including one that left LeClerc on colder-than-expected tires due to a slow safety car – Verstappen was unable to mount a significant charge for the lead and later retired after the 3rd safety car with a mechanical issue, leaving him with two DNF's for the season and dropping him to 6th place in the drivers championship. After the race, LeClerc was thrilled with his performance in his 4th career victory:
'Honestly, what a car today. I did a good job all weekend but it was not possible without the car. And this weekend especially in the race pace we were extremely strong. The tyres felt great from the first lap to the last lap we were managing the tyres extremely well and I'm just so happy.'
Our first trip to 'Straya in three years was one to remember, check out the best bits! 🎥#AusGP #F1

— Formula 1 (@F1) April 10, 2022
Elsewhere, Carlos Sainz had a weekend to forget. On Saturday, thanks to a red flag caused by the stopped car of Fernando Alonso in Q3, Sainz lost out on a potential front row start and was relegated down to 9th place. From there, his race didn't fair much better as he dropped from 9th to 14th place on the opening lap and ended his day early after he beached the Ferrari in the gravel trap in Turn 9/10 chicane attempting an aggressive overtake on Mick Schumacher. Heading to Italy, Sainz is still looking for his first win in Formula 1 and hopes to show his typical strong form for the home fans.
Taking advantage of Verstappen's luck, Sergio Perez took his Red Bull home in 2nd place for his 2nd podium of the season, cementing him in 3rd place in the standings. The Mexican kept his car clean all weekend and put in solid lap times to keep himself clear of surprise 3rd place finisher, Mercedes' George Russell. Russell, facing similar issues to Lewis Hamilton throughout the weekend managed to stay ahead of his semi-compromised teammate as the latter dealt with an overheating issue that prevented him from challenging for the final podium place. Mercedes, the beneficiary of Red Bull's bad luck for the 2nd weekend this year, is now second in the constructors title and George Russell now sits second on the drivers placement, 34 points behind Charles LeClerc.
Double points for the Honey badger, McLaren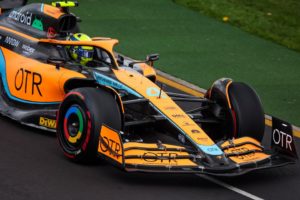 Hometown hero Daniel Ricciardo may not have been on the podium, but his first points of the year and a double points finish with teammate Lando Norris with 5th and 6th place finishes pushed McLaren to 4th overall in the constructors championship – a major victory for the struggling Woking squad. Australia seemed to be a turning point for the team, with Norris putting his Papaya Rocket 4th on the grid for race day, however, Norris cautiously told reporters that the pace of the car was not a newfound fix, but rather the car adapting to the Albert Park Circuit and the tire compounds available.
'We have to be honest, right, a lot of it is track. Tarmac as well as can play a big difference and the type of tyre we use can make a big difference. Everyone's working very hard to make some progress and maximise everything and I think that's showing in the steps forward that we're making. But when I say a step forward, it's one tenth maybe two tenths, three tenths maximum. The rest of it, one second or so, is just this track suits the car much better.'
McLaren is hoping that the form in Australia can transfer to Imola…but where Albert Park was recently renovated and had a wonderfully smooth surface, Imola is a historic circuit that was last renovated in 2006-2008 when the facility underwent a complete transformation with the paddock facilities. While the surface is still in excellent shape for motor racing…the instability of the McLaren as less-than-perfect surfaces will prove to be a difficult task to overcome.
The 'Tyre Whisperer'
Williams driver Alex Albon gained a new name this weekend, completing 57 laps on the hard compound tire and pitting on the final lap to take home his first points of the year, finishing 10th in a car that admittedly shouldn't be finishing as high as it is. The 'Tyre Whisperer', as social media has come to call him, started dead last on Sunday after being unable to provide a fuel sample post-qualifying. Williams, with arguably the craziest strategy of any car, turned a 20th place start around on race day to the delight and surprise of fans and peers. Albon technically could have finished the race without the pit stop, but uncertainty over severity of the penalty they may receive for only using a single compound prevented them from taking the risk on losing what was set to be a 7th place finish up to that point. Regardless, 57 laps in race conditions with a compound that was designed to last only 40 laps completely flipped the script for race strategists as they try to understand how Williams have managed to pull it off.
Just call him the tyre whisperer. ✌️ pic.twitter.com/iXmda44xox

— Williams Racing (@WilliamsRacing) April 10, 2022
G'day Australia, Buongiorno Italia!
The Formula 1 circus makes its way back to Italy for the 4th race of the season at the famous Imola Circuit. Long known for the tragic accidents that took the lives of Roland Ratzenberger and Ayrton Senna, Imola lost it's place on the calendar for a number of years before returning partially out of necessity and partially because it was available in 2020 during the height of the COVID-19 Pandemic. Formula 1 signed the track to a longer term contract and 2022 marked it's 3rd year back as a staple of the F1 calendar after providing thrilling racing over the previous two years.
Free Practice 1 begins on Friday, April 22nd with the race on Sunday, April 24th.