In one of the most exciting final stints in recent memory, Josef Newgarden battled it out against Romain Grosjean and defending NTT IndyCar champion Alex Palou in the closing laps, surviving a late-race caution restart to emerge victorious under the California sun. Victorious for the second week in a row, the Penske driver took over the points standings from teammate Scott McLaughlin and gave Chevrolet its 3rd win on the season, denying Honda a victory at the Acura Long Beach Grand Prix and leaving them winless in 2022.
RETWEET to congratulate @josefnewgarden!

He is a @GPLongBeach WINNER! #INDYCAR pic.twitter.com/vpSpv1H5rG

— IndyCar on NBC (@IndyCaronNBC) April 10, 2022
Newgarden took control of the race on lap 55 as Alex Palou who was pitted for the final time; two laps later the Penske driver would pit as well, leading to the two champions having a drag race down Shoreline drive into the first corner, ultimately leading to Newgarden emerging out front.
'This was a fight today. this was not an easy race to win. I was working my butt off with Grosjean at the end there on the used reds (Firestone alternate tires). This Hitachi car was on it. I've been trying to win a race here for 11 years, so I'm so happy to get it done.'
🍾 LONG BEACH GRAND PRIX WINNERS! 🍾

Heck of a fight for the win with @RGrosjean. Hope the fans enjoyed the show. Incredible job by the #2 crew all weekend, best in the business… now… on to @barbermotorpark 😁@Hitachi_US // @team_penske // @teamchevy // @indycar pic.twitter.com/EgzNnw1wGj

— Josef Newgarden (@josefnewgarden) April 10, 2022
Bridesmaid, not bride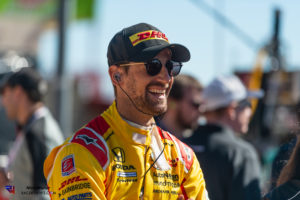 Romain Grosjean, driver of the #28 DHL Honda for Michael Andretti, was the highest placing Honda in yet another runner-up finish for the Frenchman who is still seeking his first victory in the series since joining in 2021. Said Grosjean after the race:
'Very close, but not close enough. That was fun. With the right tire strategy and with the last caution, I thought it was going to be great. He (Newgarden) did one mistake, but I just couldn't use it.'
Grosjean lead the assault on Newgarden in the final laps, running an alternate strategy that put him on sticker-red tires for the final stint of the race. Thanks to several caution periods, he was able to stretch them longer than most, but with no push-to-pass and Newgarden on the more-durable black-compound tires , he wasn't able to drive off the corners in the longer stint as his tires wore down, relegating him to 2nd ahead of Alex Palou. All was not lost however, this 2nd place finish made up for the non-finish in Texas 3 weeks prior and cements him in 6th place in the overall drivers standings.
Will Power added to his strong run in 2022 with a solid 4th place finish ahead of Pato O'Ward. Penske has now had at least 2 drivers in the top-4 finishing positions in all 3 races this year, a first for the team since 2012.
Sunday struggles
While Romain Grosjean lead the charge, the struggles of 2022 continue to plague Michael Andretti's team. Pole Sitter Colton Herta, son of former IndyCar driver Bryan Herta and 2021 Long Beach Grand Prix winner set a blistering pace during qualifying for a new track record, firmly planting himself as a favorite for the win. However, on lap 56 he ran wide out of turn 9 while running 3rd and crushed the left front of his Gainbridge Honda, ending his day early.
Rookie Delvin Defrancesco also met his race end in turn 9, the young Canadian tapping the left rear of his car into the wall that would later claim Herta, ending his day before the midway point of the race.
Finally, Alexander Rossi qualified strong with a top-5 starting spot, but traffic and strategy pushed him back to 8th, continuing a trend of sub-standard finishes that the California-Native has been known for. Prior to Sunday's race, Rossi and the Andretti team put on a strong showing at the next stop on the NTT IndyCar Calendar, Barber Motorsports Park, so while the season has not gone to plan, Andretti looks poised to strike at the roller coaster that is Barber.
Update from Long Beach pic.twitter.com/pRGO2jPLmm

— Jimmie Johnson (@JimmieJohnson) April 9, 2022
Elsewhere, Jimmie Johnson had a weekend to forget after a stellar showing in Texas. On Friday, the 48 driver made contact with a tire barrier head on leading to a broken hand as a result, putting his weekend in jeopardy. after a hospital visit and a custom-made carbon fiber splint, the Californian drove to a 20th pace finish after making contact with another barrier, collecting David Malukas and ending his day early.
Sweet home Alabama
The series heads back east for the 2nd home race for Honda, with the Honda Indy Grand Prix of Alabama at Barber Motorsports Park. With the roller-coaster turns and faced paced laps, this track is demanding for both car and driver; punishing necks and over-cooking tires. Last year the carnage started early with multiple drivers fighting for position on the narrow track surface, leading to multiple wrecks before the field even got up to speed. Since the resurfacing in 2020, the track has quickly become a favorite for both drivers and fans, offering a unique experience at a track that has upwards of 80-ft in elevation changes.
Andretti Autosport looks primed to be strong, as does the Ganassi team, both organizations looking for their first wins in 2022. Past winner Takuma Sato, now driving for Dale Coyne Racing, is always primed for a resurgence here, the Japanese Driver historically strong at these circuits.
The action begins on Sunday, May 1st at 1:05pm ET on NBC Sports (US) or on the Peacock streaming service.