The 38th Rally of Wallonia, the fourth round of the Kroon-Oil Belgian Rally Championship, was dominated this weekend in Namur by Stéphane Lefebvre. The Frenchman, navigated by our compatriot Xavier Portier, was in the lead from start to finish.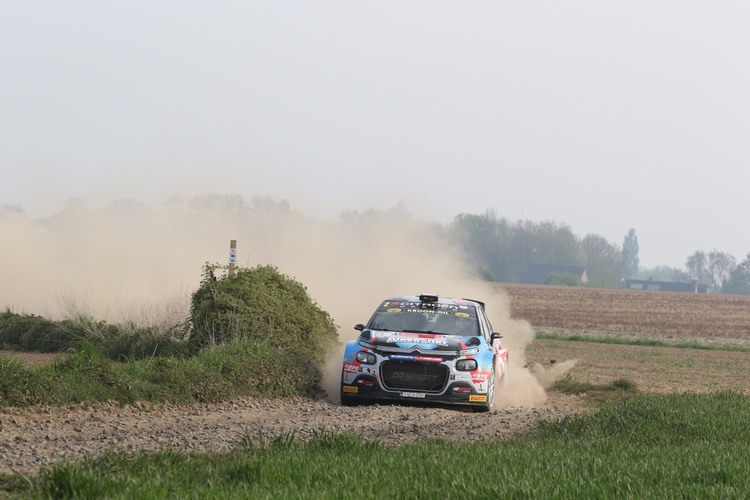 With his third win of the season, the Frenchman consolidates his leading position in the Belgian rally championship. The Citroën driver struck a small 15″ gap on Saturday's special stages and then checked his lead over closest pursuer and two-time Belgian champion Adrian Fernémont. After 200km at speed and 20 special stages, the 2014 Junior World Champion had 21″4 head start.
"I knew I had to make a difference on Saturday, so I was very well prepared for those stages, because in Sunday's stages it was difficult to make a difference," said the 30-year-old winner. "We attacked really hard at the beginning of the race to take a small lead. After that I was able to control the race. Especially on the unpaved in Fernelmont I drove carefully to be sure not to get a puncture. On the last test, the Pirelli Powerstage, I did attack to get the 5 bonus points."
Adrian Fernémont was of course disappointed, but with a second place he was once again the fastest Belgian. "We know that Stéphane is world-class and what's more, his Citroën at 196 km/h had a higher top speed than our Skoda, which reaches 184 km/h," said Fernémont, who drove for home crowd. "I am satisfied with our times compared to the other Belgians. We knew that Stéphane would be difficult to beat."
Despite a high speed slide in the very last corner of the race, Gino Bux finished in third place (+47 "1) with his Skoda Fabia Rally2. "We kept it exciting," laughed Bux, who made the switch to a top car this season. "As a result, I lacked some experience and confidence to immediately go full on these super fast tests. In the second half of the game I took an extra step and took more risks. On the last test I attacked the fastest time, but that last corner clearly didn't go full throttle… Fortunately we didn't lose any time, because we pushed backwards over the finish."
After a very exciting duel, Vincent Verschueren, recent winner of the TAC Rally, took fourth place at 59″6. "On Saturday the suspension setup was a bit too lenient, so I didn't have full confidence in the fast corners. Sunday went better. We've made a big step forward with the Polo in recent months. I was there after the race in Tielt I wonder where we would be and I am satisfied. We are in good shape again," said the Belgian champion of 2017.
Ghislain de Mevius ended up in fifth place at just 2″7 from Verschueren, after he mainly looked for was to the correct setup of his Skoda: "We lost a lot of time in the first half of the race. The car was not stable on bumpy lanes, so I had to get off the gas. Sunday went much better, but after a mistake in Vedrin I had to give in to Vincent Verschueren.
Sixth place went to Kris Princen with his Citroën DS3 WRC, the only WRC on the grid. The Limburger, who celebrated his 48th birthday on Saturday, finished in 1'49″6, after losing just under half a minute due to a problem with the petrol pump.
Cédric Cherain was one of the trendsetters of the competition. His impressive Porsche 997 GT3 drove He set the fastest time in Crupet on Saturday, after which he repeated that stunt again on Sunday in Crupet "What a mighty car, this Porsche," laughed Cédric Cherain, seventh at 2'28″1. "The course had a few unpaved sections, including the many unpaved ones on the Esplanade of the Citadel. We lost too much time there to compete for the podium. In the other stages we gave the top drivers a chance."
The top 10 was completed by Niels Reynvoet, Pieter-Jan Michiel Cracco and Maxime Potty, who could have aimed higher without two time-consuming punctures. In the Junior BRC there was no match for Gilles Pyck, convincing winner with his Renault Clio Rally4, after Tom Rensonnet's retirement.
Benoit Verlinde dominated the battle in the Clio Trophy Belgium and the overall victory in Historic went surprisingly to Michel Vandergeeten in his Lancia Delta Integrale.
Jourdan Serderidis, 13th overall, was the winner in the BRC Master Cup. Of course there were also a number of withdrawals, including those of Cédric De Cecco (engine SS11), Johnny Poelmans (ill codriver), Steve Becaert (motor) and Henri Schmelcher (link). Jimmy D'hondt (crash) and Sébastien Bedoret (turbo) did make it to the finish, but only after a restart after they had to retire early on Saturday.