Winless on an oval since his championship clinching victory in 2020 at Phoenix, Chase Elliott's number 9 machine finally found its way to victory lane on Monday, after rain postponed the finish to the DuraMax Drydene 400 at Dover Motor Speedway. In what became a day of historic numbers for the Hendrick Motorsports organization, Elliott led the final 53 laps pulling away from second place finisher Ricky Stenhouse Jr. to take his 14th career Cup Series win.
Eleven races into the 2022 season, Hendrick lays claim to 5 victories with all 4 drivers, making it the first time in NASCAR history that an organization has had all drivers win a race in the first eleven of the season. Flashing back to 2021, Hendrick Motorsports made history as all 4 drivers finished in the top 4 positions, a feat that had never before been achieved.
Winless since Road Atlanta in 2021, Elliott and the 9 crew have been on rough times and finally had the chance to capitalize on a victory:
'Just had some good circumstances finally, just really appreciate [crew chief] Alan [Gustafson] and our entire team for just sticking with it. We had some tough races over the last four or five months and just great to get NAPA back to Victory Lane and great to get Hendrick Motorsports in Victory Lane. So proud. This means a lot in a lot of different ways. Just appreciate all the effort.'
Talladega winner Ross Chastain brought his number 1 Chevy home for 3rd position, highlighting a strong run of finishes for the Trackhouse organization. Teammate Daniel Suarez was victim to a late spin and brought his 99 machine to a top-15 finish in 14th. Joe Gibbs Racing's Christopher Bell piloted his number 20 Toyota to "best of the rest" finish in 4th place, with teammate Kyle Buch in 7th. Martin Truex Jr, the final Gibbs driver, was on track for a solid top 4 finish when he and Chastain made contact on the final lap, leading Truex to spin and recover for a 12th place finish. He and Chastain ended up in a minor confrontation after the race with Chastain commenting that 'We were talking about where we're going fishing next week."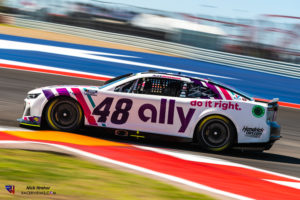 Hendrick teammates Alex Bowman and Kyle Larson finished 5th and 6th. Bowman, who was running in 1st towards the end of the race with Kyle Busch on his heels, was the victim of in untimely caution that put both he and Buch back in 15th and 16th position on the restart, all but ending their chance for the victory. Larson also had a turnaround, literally, as he spun early in the race and fell back to a lap down to the leaders. Both drivers made respectable recoveries and results for solid points.
The Ford's of pole-sitter Chris Buescher and Kevin Harvick finished the day in 8th and 9th, and Erik Jones, the near-winning in Alabama last week, brought his 43 machine home in 10th.
Clash of the Titans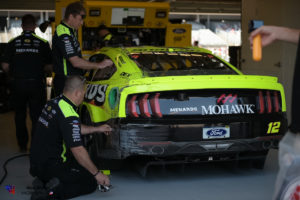 2022 initially started the year as a Ford-dominated affair, but as the season has progressed it's becoming more clear that the Ford camp should worry. Like the Toyota organization, Ford only has 2 wins on the year, however both wins happened early in the season at Daytona and Phoenix, meaning Ford hasn't stood on the top step since March 13th. The primary organization, Team Penske, only accounts for one win – the Daytona 500 – and at Dover their highest finishing driver, if only by affiliation, was Harrison Burton in 24th.
With Roger Penske's knack for demanding the most out of his teams and drivers, it would be a surprise to not see that organization swinging for the fences at the next race in Darlington for the annual "Throwback Weekend". Like it or not, Ford needs a win…and so does Penske.
Much could also be said about Toyota, with the two wins on their season coming from veterans Kyle Busch and Denny Hamlin of the Joe Gibbs stable. 23XI drivers Bubba Wallace and Kurt Busch, while putting on good runs, have been the victims of bad luck throughout the entire season with the former being involved in multiple last-lap melee's that have left him battered and worn. Like Ford, Toyota needs victories with this Next-Gen platform and they need them now, before the Chevrolet teams walk away with the remainder of the season.
Throwback Weekend
NASCAR turns back to its roots and heads to the annual "Throwback Weekend" at the "Lady in Black", as Darlington is so affectionately know. this egg-shaped track has been come to some of the most exciting finishes in NASCAR history, most notably in 2003 when Ricky Craven edged Kurt Busch at the line.
Many teams will be running vintage-inspired liveries that pay homage to the greats, leading to some amazing visuals as we get to see Mark Martin's famous Valvoline paint scheme on the 48 of Alex Bowman's ride. Trackhouse Racing has their cars decked out like Dale Earnhardt Sr. and Jr. with their Coca-Cola liveries that ran in Suzuka, Japan in 1998. Harrison Burton will be running a scheme made famous by his father, Jeff Burton, and several drivers in all series will be running homage schemes seen on the great Jeff Gordon's cars throughout the years.
With vintage rides, a vintage track, and some vintage announcing, Darlington will likely be another popular event for the ages.
Action starts on Sunday, May 8th at 3:30pm ET on FOX (US).