The 2022 Motorsport UK British Rallycross Championship 5 Nations Trophy moved to South Wales and the Pembrey Circuit at the weekend for rounds three and four. Competitors experienced a new loose-surface and revised layout at Pembrey, with the added twist of racing in different directions across the weekend. On Saturday during round three, the circuit was navigated in an anti-clockwise layout and then on Sunday during round 4 the circuit was switched to a Clockwise route.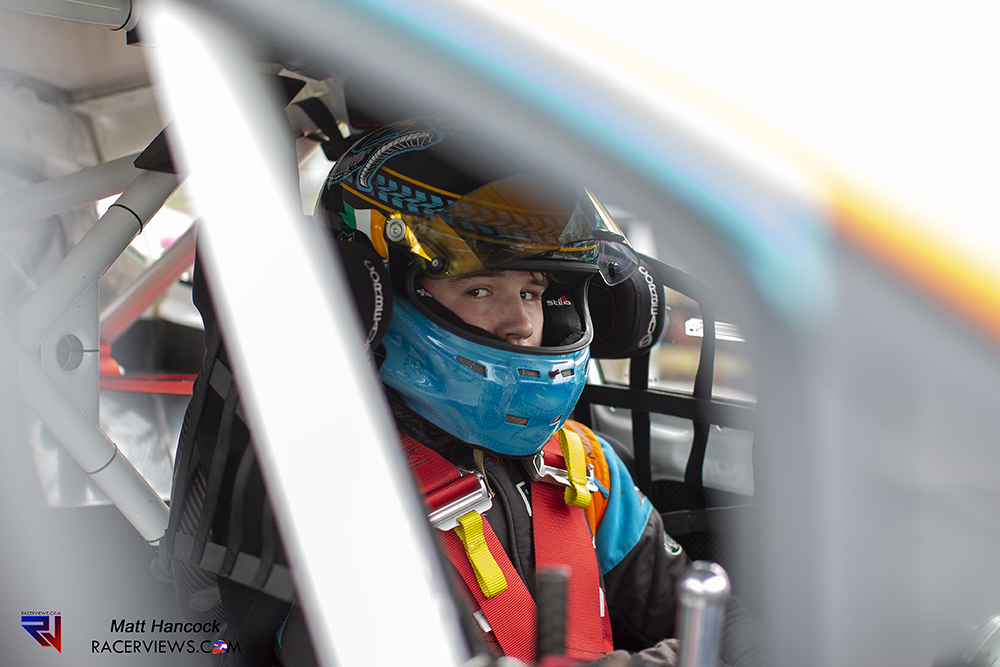 18 year old Patrick O'Donovan in his Ford Fiesta took his first 5 Nations Supercars BRX win on the Saturday and then replicated this again on Sunday and scored maximum points at just his second Supercar event. Derek Tohill  whom is challenging to keep his 2021 crown and also in a Ford Fiesta took second place on Saturday but ended up as DNF on the Sunday.
Third on Saturday was Tristan Ovenden in the Citroen DS3 who pursued Tohill with vigour. Julian Godfrey in his Ford Fiesta was fourth despite mechanical woes hindering his efforts earlier in the day.
Patrick O'Donovan has now moved into the lead of the Motorsport UK British Rallycross Championship 5 Nations Trophy presented by Cooper Tires points standings with a second win in two days at Pembrey Circuit in South Wales.
On the Sunday Steve Hill in his Mitsubishi Evo excelled in a dramatic encounter to finish second, the experienced racer overtaking six-time champion Julian Godfrey in his Ford Fiesta at the final corner to snatch the position, Godfrey struggling with broken right-rear suspension, following contact with Derek Tohill (Ford Fiesta) as the reigning Supercar champion exited the joker lap.
The incident put Tohill out of the race, and it was Ollie O'Donovan (Ford Focus) who finished fourth, the London-based Irishman having switched to Team RX Racing's Ford Focus for round four. Bradley Westgarth scored a career-best result in fifth, driving Milldown Racing's Mitsubishi Evo, while Tristan Ovenden (Citroen DS3) lost time on the opening lap but recovered to finish sixth.
Motorsport UK Supernational Rallycross Championship
Round 3 Saturday
Jason Bleasdale seemed unchallengeable, but Paige Bellerby took the lead at the start of the final. Jason jokered, leaving Darren Bleasdale to pressure Bellerby, overtaking on lap three for the lead pre-joker which translated into second behind brother Jason at the flag with Bellerby third.
Round 4 Sunday
Vauxhall VX220 driver Jason Bleasdale (Vauxhall VX220) continued an unbeaten run through the 2022 Supernational season by winning round four at Pembrey. He was challenged through the final by both Paige Bellerby (Lotus Exige) and brother Darren Bleasdale (VX220), who eventually finished second and third respectively.
Motorsport UK Junior Rallycross Championship
Round 3 Saturday
Owen Robbins was the star of the Juniors' race, wrestling the lead from Max Langmaid. Langmaid finished ahead of Will Ovenden who was unable to gain enough advantage from his early joker take one of the two top-spots.
Round 4 Sunday
Max Watt stormed to a maiden Junior RX victory. With a pair of fastest times, in Q1 and Q3, he secured pole position for the final, then led the race from the front at the start. He took his joker on lap two to cover off reinging champion Max Langmaid, who had jokered on lap one, to maintain track position, then moved back into the lead when both Will Ovenden and Owen Robbins took their own joker laps. Langmaid finished second with points-leader Robbins in third.
Swift Rallycross Championship
Round 3 Saturday
Max Weatherley continued to exert his authority on the championship with a win, finishing ahead of Luke Constantine and James Constantine. Luke had taken two of the three heat wins signalling that the Swifts will see one of the closest championship fights and Weatherley may not have it all his own way.
Round 4 Sunday
James Constantine led the Swift Sport final in the opening stages from reigning champion Max Weatherley, before the pair later swapped positions, Constantine applying pressure to Weatherley until the end of the race, the pair separated by 1.5 seconds. Chris O'Hara finished third, while Luke Constantine dropped out of the podium battle on the opening lap and later retired.
Super Retro and Retro Rallycross Championships
Round 3 Saturday
John Cross led the race, continuing his strong form from qualifying and claiming the win. Ray Morgan made a strong challenge on the penultimate lap driving round the outside of the Lancia in an attempt to take the lead. Morgan failed, losing out and nearly dropping to third but prevailing over Vince Bristow.
A depleted Retro grid saw just three survivors. Tony Lynch took the early lead with Rob Buckmaster moving into second and Paul Smith in third.
Round 4 Sunday
Ray Morgan (Ford Escort) overtook early leader John Cross (Lancia Stratos) to drive to victory in the Super Retro final, ahead of Cross and Jamie McBain (Peugeot 205) on his maiden Retro Rallycross weekend. As the cars ran bunched together for much of the final, McBain found a way to overtake Vince Bristow (BMW E36) and snatch the last podium place.
Tony Lynch (Toyota MR2) dominated the Retro Rallycross category, winning every qualifying race, then leading the final throughout to claim the win. Simon Hart (Ford Escort) finished second, with Paul Smith (Volkswagen Polo).
BMW MINI Rallycross Championships
Round 3 Saturday
The mighty Minis had the closest battle of the day with the top four finalists crossing the line under 1.5 seconds apart.
Victor Andy Hawkes led at the start, then endured pressure from Craig Lomax, but Hawkes held his nerve and took his first 5NationsBRX win. Lomax claimed second with Bradley Turner in third.
David Bell and Martin Hawkes dualled for All4 honours with David Bell emerging as victor.
Round 4 Sunday
Bradley Turner qualified on pole position and led throughout the final to claim victory. He was chased early on by Dave Bellerby, the latter missing out on a chance of victory by taking his joker earlier in the race, and losing time behind another car, meaning he hadn't done quite enough to catch Turner when the leader took his joker. Ben Sayer used an early joker lap strategy from third position on lap one to climb his way back through the field to secure the final spot.
Martin Hawkes claimed the spoils in the All4 Mini category, but was the only finisher after David Bell pulled off mid-final with mechanical troubles.
RX150 Championship
Round 3 Saturday
Nick Priddy led from the lights with a great battle ensuing but ultimately claiming points for the win. World RX racer Krisztian Szabo got into his RX stride and move through the order to take second with British Rally Championship's Ruairi Bell taking third, both stars being non-points scoring guests. Regular Billy Alexander finished fourth on the road but second in the championship points.
Round 4 Sunday
Hungarian driver Krisztian Szabo dominated round four of the RX150 Championship, winning every session to claim his maiden RX150 victory on his first weekend of 5 Nations BRX competition. British Rally Championship driver Ruairi Bell also went one better than his result in round three to finish second, while Ben Hardy claimed his second career podium, with third.
The RacerViews info
By Matt Hancock
We are passionate, dedicated motorsport professionals.
In 2022 you will see us trackside and stage side with exclusive coverage of
The World Endurance Championship
The World Rally Championship
Belgian Rally Championship
and more!
We aim to bring you interviews and photos you won't see anywhere else. We don't aim to break the news, rather we aim to bring the voices of the racers to you and the atmosphere of the event to you at home. Our social media presence on Facebook, Twitter and YouTube bring you more, a holistic experience. We partner with racers and professionals in the industry and give back where we can. If we can help you or you have a story to share, please contact us.