In a shock announcement this morning, 4-time Formula 1 World Champion Sebastian Vettel has stated his intent to retire at the end of the 2022 Formula 1 season. Vettel, in the final year of his initial 2-year agreement with the Aston Martin team, had hinted as possibly extending his contract for additional time, something that both he and the team were interested in. However, with Vettel's personal statement in a video released on his newly created Instagram page (which was reposted by the team on their team YouTube page, it is clear that Vettel's personal agenda is something that is more important than racing.
Twitter was ablaze after the announcement, with many offering their words of encouragement at Vettel's new foray while reminiscing on the past:
I've long held Seb to be one of the most morally guided people I've ever met in racing. His retirement announcement is as genuine and principled as the man himself. Thank you for all the incredible memories Seb, and good luck in the race ahead of you. https://t.co/ohOVpdNY3m

— Will Buxton (@wbuxtonofficial) July 28, 2022
Incredible to think that after so many years racing together #SebastianVettel will not longer be on the grid with us.
Happy retirement! I'm very proud of you and proud of everything you achieved in the sport.
It's now time to enjoy family and life!#FroheWeihnachten 😬 pic.twitter.com/SiCe8HVyvp

— Sergio Pérez (@SChecoPerez) July 28, 2022
I'm so sad that you're leaving, but at the same time excited for you and this new chapter of your life. You've been and still are such an important person to me and I'm thankful for our friendship. pic.twitter.com/1iFmlxxgyQ

— Mick Schumacher (@SchumacherMick) July 28, 2022
Seb, it's been an honour to call you a competitor and an ever greater honour to call you my friend. Leaving this sport better than you found it is always the goal. I have no doubt that whatever comes next for you will be exciting, meaningful, and rewarding. Love you, man. pic.twitter.com/eHVmOpov2m

— Lewis Hamilton (@LewisHamilton) July 28, 2022
Congratulations on an amazing career, my friend. I hope you're more successful at retiring than I am. #ThankYouSeb pic.twitter.com/vNc6oVGN4o

— Jimmie Johnson (@JimmieJohnson) July 28, 2022
We will miss you, Seb 🥹#F1 #ThankYouSeb pic.twitter.com/eEJ8zE6aih

— Formula 1 (@F1) July 28, 2022
Filling the gap
With the announcement this morning, Aston Martin is in a bit of a quandary on how they will replace the retiring Vettel. Lance Stroll, son of team owner Lawrence Stroll, will be set to stay in place as the likely leader of the team while a replacement is brought in for 2023. However, Stroll's performance since Vettel has joined the team has been less than stellar as his consistency has come into question, leading many to ask if he would be a candidate as a number one driver within the team.
So what are the options?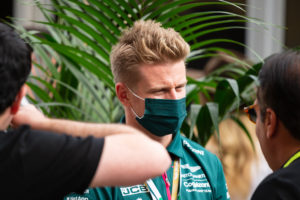 Aston Martin still holds a strong relationship with Nico Hulkenberg, the ever popular German who drove for Aston Martin when it was branded as Force India in 2011-12, and then 2014-16, has been the reserve driver for the team since 2020, filling in for Sergio Perez  in 2020 and Sebastian Vettel in 2022 while both drivers recovered from the coronavirus. Hulk's consistency has long been impressive, managing to score points weekly, butt he has not held a full-time seat since 2019 and has had little seat time in the new cars. Putting him in the car would be a safe and consistent choice, but will Aston want safe, or will they want a true number 1 who can lead the team to the next level?
Then there are the drivers without a contract for 2023. the Williams pair, Albon and Latifi, are only guaranteed a seat through the end of this season. Of the two, Albon could be the most likely candidate for a spot replacing Vettel. He's driven for a top team, he has plenty of experience and has podiumed, and brings personal sponsorship money from Red Bull. With his Williams agreement, he relinquished being a Red Bull Team Driver in favor of maintaining his personal relationship with the drinks company itself. Albon, whlile young, has shown he can rebuild himself in the face of adversity and would have no problems delivering consistent results without the pressure of a Max Verstappen or Lewis Hamilton alongside him.
Fernando Alonso is also a consideration. The Spaniard has no intentions of slowing down anytime soon and would be a good fit for the British squad, however, his relationship and role within the Alpine team makes him valuable to the French organization to maintain the trajectory they are on. If Alonso were to leave, that would elevate teammate Esteban Ocon to the number one driver slot and would allow Alpine to retain Oscar Piastri, the young Australian who lost out to the drive to Alonso at the start oif this year. Piastri too, could be a good fit for Aston Martin. The young driver currently serves as Alpine's reserve driver, but has been linked to McLaren and Williams for a 2023 drive, could Vettel's spot be a good place for the former F3 and F2 World Champion?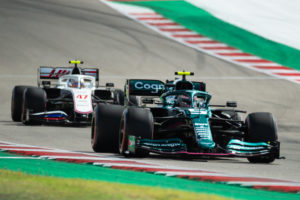 Yuki Tsunoda, Zhou Guanyu, and Mick Schumacher all have their contracts ending in 2022 as well, the latter making the most sense as a successor for Vettel. Mick's long term relationship with Vettel, once that echo's Vettel's relationship with Mick's father – Michael Schumacher – would give the Aston Martin team some promise that they would have a future talent on their hands, however his ties to Ferrari within the Ferrari/Haas partnership could prevent those plans from unfolding.
Vettel's Legacy
While the final few years of Vettel's career fizzled out after a failed championship attempt at Ferrari and a lackluster car in 2019, Vettel will always be known for his absolutely ruthless years of winning with Red Bull.
From 2009 to 2014, the "finger wagging" German was unstoppable, winning 38 races, capturing 44 pole positions, standing on the podium 78 times, and winning 4 World Championships in a row from 2010 to 2014. Key to Vettel's success was the Adrian Newey designed cars, especially in from 2011-2012 during the blown diffuser era, but even after Vettel continued to dominate, capping his successes in 2013 with 13 wins out of 19 races, including winning the last 9 in a row to capture his final world title.
Dubbed "Baby Schumi" for his nationality and his driving style, Vettel's concentration and behind the scenes work ethic was legendary within the paddock, often being known to hold driver's briefings hours into the evening as he attempted to maximize every opportunity on track. Often compared to Michael, Vettel was seen as the apprentice and echoed much of Schumacher's involvement in the sport, something he has been passing down to Michael's son Mick in recent years.
Outside of the paddock, Vettel has become know for his increased involvement in social and environment activist movements, often sporting helmets with causes highlighted or wearing clothing to highlight a specific awareness. Most recently Vettel led the protest against a Russian Grand Prix after the invasion of Ukraine, stating he intended to boycott if the series did not act. Along with his fellow drivers, Vettel's call to action for a variety of causes has made national news, most recently in Canada where he wore a helmet and shirt highlighting his denouncement of Canada's mining of the Alberta oil sands, calling it "Canada's climate crime".
His wins, podiums, successes – they will continue to play for years to come as his indelible mark on the sport turns from memories to lore. However, much like Ayrton Senna during his era, Vettel's legacy will extend far beyond the race track. His activism, family involvement, and global platform will give voice to change for years to come as Vettel searches for his last race to be won.
While his time on track comes to an end this year there is no doubt that his involvement on the worlds stage will be seen by this generation, and the next.
In closing, thank you Seb. Thank you.