At 19:00, Loïc Duval in the #94 Peugeot 9X8 led the 2023 24 Hours of Le Mans field out of the pit lane for a one-hour dash to clock a reference time fast enough to qualify for Hyperpole. The two casualties of the collision that halted FP1 for 30 minutes earlier today – #777 Aston Martin Vantage of D'Station Racing and #24 Oreca 07 of Tower Motorsports – were unfit to join in the action.
A blistering start to the session saw no fewer than seven Hypercars go under 3:28 on their first flying lap. Kamui Kobayashi in the #7 Toyota GR010-Hybrid was the fastest of them all, going round in 3:25.485. Just 24 cars managed to record a time before the session was hit by a series of yellow and red flags that interrupted the momentum until around a third of the session had elapsed.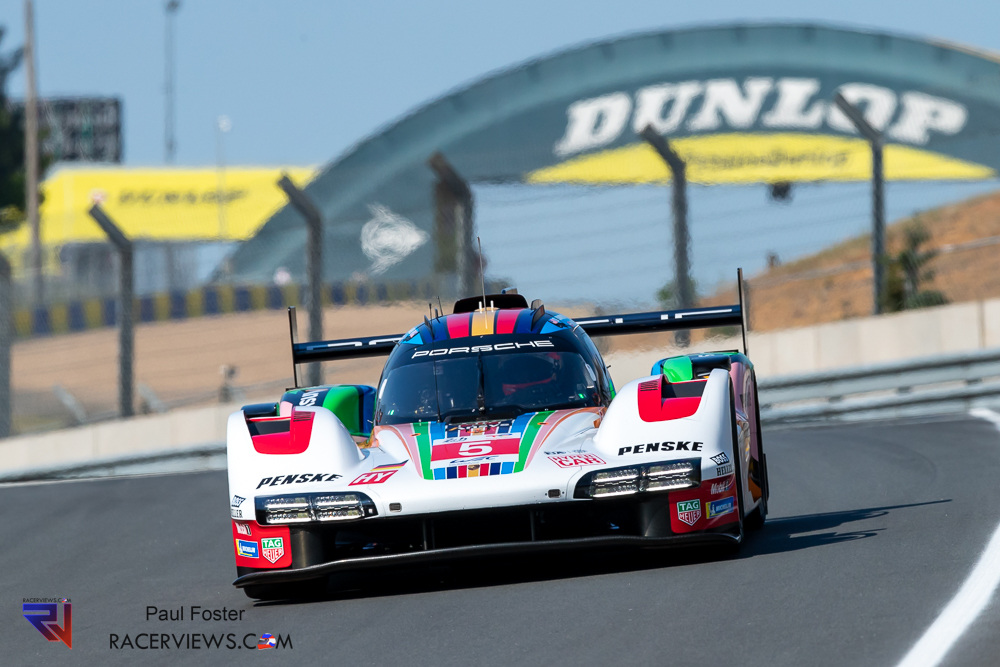 HYPERCAR
Frédéric Makowiecki in the #5 Porsche 963 and Earl Bamber in the #2 Cadillac set off after Kobayashi's benchmark when the serious stuff resumed, moving up to P2 and P3 in the standings. Brendon Hartley took over the wheel of the #8 Toyota and soon showed he was on form, going round in 3:25.749, just behind the #7 sister car's reference time. On lap 9, Sébastien Bourdais in the #3 Cadillac edged ahead of Bamber into P4, before Felipe Nasr in the #75 Porsche 963 took the spot. With 20 minutes to go, Antonio Fuoco jumped ahead of the entire Hypercar field, eclipsing the #7 Toyota by six-hundredths of a second. The two Ferraris then swapped the lead as Pier Guidi took control in the #51 Ferrari before Fuoco fought back in the #50 sister car literally seconds later.
Less than a second separated all eight qualifiers for Hyperpole.
LMP2
Mirko Bortolotti was fastest on the first flying lap in the Prema Racing #63 Oreca 07-Gibson,  but fell down the standings after the series of interruptions. Pietro Fittipaldi in the JOTA #28 Oreca 07 moved to the top with a time of 3:34.751, followed by the #41 Team WRT contender.
LMGTE AM
Owing to the series of incidents, no meaningful time was recorded in this class until more than a third of the session had elapsed. Ulysse de Pauw in the AF Corse #21 Ferrari 488 GTE EVO taking control of proceedings (3:52.968) until Charlie Eastwood for ORT by TF went half a second quicker in the #25 Aston Martin Vantage AMR. In the closing stages, Nicky Catsburg in the #33 Corvette took the lead before Davide Rigon in the AF Corse #54 Ferrari 488 GTE EVO stole his thunder at the close.
The 8 Hyperpole qualifiers in the Hypercar class
1. Ferrari 499P #50 Ferrari AF Corse – Antonio Fuoco / Miguel Molina / Nicklas Nielsen
2. Ferrari 499P #51 Ferrari AF Corse – Alessandro Pier Guidi / James Calado / Antonio Giovinazzi
3. Toyota GR010 Hybrid #7 Toyota Gazoo Racing – Mike Conway / Kamui Kobayashi / José María López
4. Toyota GR010 Hybrid #8 Toyota Gazoo Racing – Sébastien Buemi / Brendon Hartley / Ryō Hirakawa
5. Porsche 963 #5 Porsche Penske Motorsport – Dane Cameron / Michael Christensen / Frédéric Makowiecki
6. Porsche 963 #75 Porsche Penske Motorsport – Felipe Nasr / Mathieu Jaminet / Nick Tandy
7. Cadillac V-Series.R #3 Cadillac Racing – Sébastien Bourdais / Renger Van Der Zande / Scott Dixon
8. Cadillac V-Series.R #2 Cadillac Racing – Earl Bamber / Alex Lynn / Richard Westbrook
The 8 Hyperpole qualifiers in LMP2
1. Oreca 07-Gibson #28 JOTA – David Heinemeier-Hansson / Oliver Rasmussen / Pietro Fittipaldi
2. Oreca 07-Gibson #41 Team WRT – Rui Andrade / Robert Kubica / Louis Delétraz
3. Oreca 07-Gibson #63 Prema Racing – Doriane Pin / Daniil Kvyat / Mirko Bortolotti
4. Oreca 07-Gibson #48 Idec Sport – Paul Lafargue / Paul-Loup Chatin / Laurents Hörr
5. Oreca 07-Gibson #10 Vector Sport – Ryan Cullen / Gabriel Aubry / Matthias Kaiser
6. Oreca 07-Gibson #47 Cool Racing – Reshad de Gérus / Vladislav Lomko / Simon Pagenaud
7. Oreca 07-Gibson #923 Racing Team Turkey – Salih Yoluc / Tom Gamble / Dries Vanthoor
8. Oreca 07-Gibson #9 Prema Racing – Bent Viscaal / Juan Manuel Correa / Filip Ugran
The 8 Hyperpole qualifiers in LMGTE Am
1. Ferrari 488 GTE Evo #83 Richard Mille AF Corse – Luís Pérez Companc / Alessio Rovera / Lilou Wadoux
2. Ferrari 488 GTE Evo #54 AF Corse – Thomas Flohr / Francesco Castellacci / Davide Rigon
3. Chevrolet Corvette C8.R #33 Corvette Racing – Nicky Catsburg / Ben Keating / Nicolas Varrone
4. Aston Martin Vantage AMR #25 ORT by TF – Ahmad Al Harthy / Michael Dinan / Charlie Eastwood
5. Ferrari 488 GTE Evo #57 Kessel Racing – Takeshi Kimura / Scott Huffaker / Daniel Serra
6. Aston Martin Vantage AMR #55 GMB Motorsport – Gustav Dahlmann Birch / Marco Sørensen / Jens Reno Møller
7. Ferrari 488 GTE Evo #21 AF Corse – Simon Mann / Julien Piguet / Ulysse de Pauw
8. Ferrari 488 GTE Evo #74 Kessel Racing – Kei Cozzolino / Yorikatsu Tsujiko / Naoki Yokomizo