The one thing about the Ardeca Ypres Rally – there are always chances of late twists and turns! Anything can still happen…
That can also come in the form of bad news for the local fans with news about 'Mr Ypres' – Freddy Loix and Pieter Tsjoen (Škoda Fabia RS Rally2), who suffered from a puncture. Incredibly it was before the start on Dikkebus. They were already engaged in the start zone, and as such, they could no longer act and had to start in this state, before being forced to stop to change the wheel in the special. It cost them 2:30, scuppering any chance they had of a fairy-tale podium. The crew of the Škoda n°11 remains just inside the top 10 and then took the stage win on Hollebeke, almost out of spite.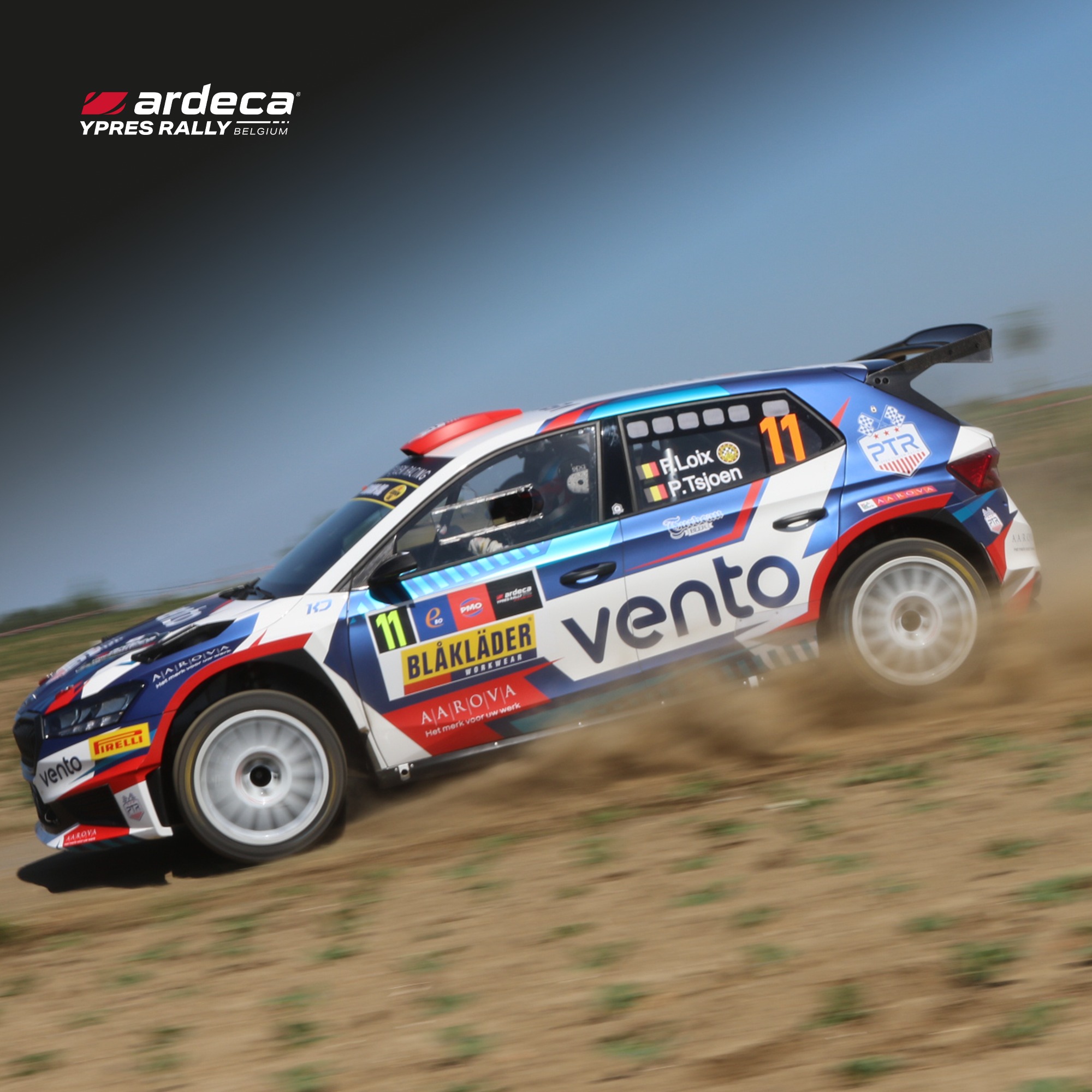 Another highlight is the ascent of Chris Ingram (VW Polo GTI R5). With the rally in hand, the predictions from the morning have come true, with the stage times suggesting that Adrien Fourmaux (Ford Fiesta Rally2) has gone into "management" mode. Perhaps it let off a little too much, as he left Ingram to do the heavy lifting, and lost 12.6 seconds on Dikkebus, effectively halving his head. He bounced back on the next session, retaking 7 seconds on Hollebeke.  With just two stages left, Fourmaux leads Ingram by 22 seconds. That leaves the Englishman needing to take a second per kilometre to overhaul Fourmaux but as we mentioned, anything can happen in Ypres. It takes is a small mistake or mechanical issue…
The fight for fourth turned into a fight for third after Loix's issue. We expected a lot and it is delivering. Niels Reynvoet (Citroën C3 Rally2), Davy Vanneste (VW Polo GTI R5), Cédric Cherain (Hyundai i20 N Rally2) and Maxime Potty (Citroën C3 Rally2) are separated by just 15 seconds. These drivers all have interesting stories in this year's Ypres Rally. Attacking "to make up for lost time", Cherain has set his sights on the provisional podium, while Potty passed Vanneste and now has Reynvoet in line as just 7 seconds separate them. Suffice to say that everything remains possible!
Further back, changes in times after a red flag affected Charles Munster (Hyundai i20 N Rally2) negatively as he did not enter the top 10 and Jos Verstappen positively as he now sits in 14th, having previously been outside the top 20. Now, they are respectively 12th and 13th.
The next and last two stages are scheduled at 6:37 p.m. (Reninge) and 7:12 p.m. (Watou); for a total of 26.48 km which promises to be intense. A beautiful end in sight…