William Byron became the first multi-time winner at the reconfigured Atlanta Motor Speedway as rain entered the area and forced NASCAR to call the race early.
Notching his 4th victory of 2023 – the only driver this year to do so – Byron clawed his way back to the front after and early spin that saw his #24 Axalta Chevrolet go a lap down to the leaders. At lap 167, Byron surged past then leader AJ Allmendinger and held his own against challenges from the #16 machine and the #99 of Daniel Suarez as caution flags flew on lap 178 when Ricky Stenhouse Jr, Ryan Preece, and Bubba Wallace collected one another in turn 3.
With the field under caution, NASCAR pulled drivers out of their cars on lap 185 and red flagged the race as severe storms moved into the area surrounding the track, and soon thereafter delacred Byron the winner. With the 8th victory of his career, Byron adds to the lore of the #24 as he and Jeff Gordon now combine for 101 victories with the number, tied fr 3rd on the all time list with the #2 and #3 cars, most famously driven by Rusty Wallace and Dale Earnhardt Sr.
Suarez finished second, following a string of strong finishes for the Trackhouse team, with Allmendiger taking 3rd place ahead of Michael McDowell and Kyle Busch.
Happy says "Goodbye"
Kevin Harvick, making his final start at the track where he earned his first win in a drag race to the line against Jeff Gordon, led the field prior to the race with former team owner Richard Childress driving Harvick's Atlanta-winning #29 Chevrolet.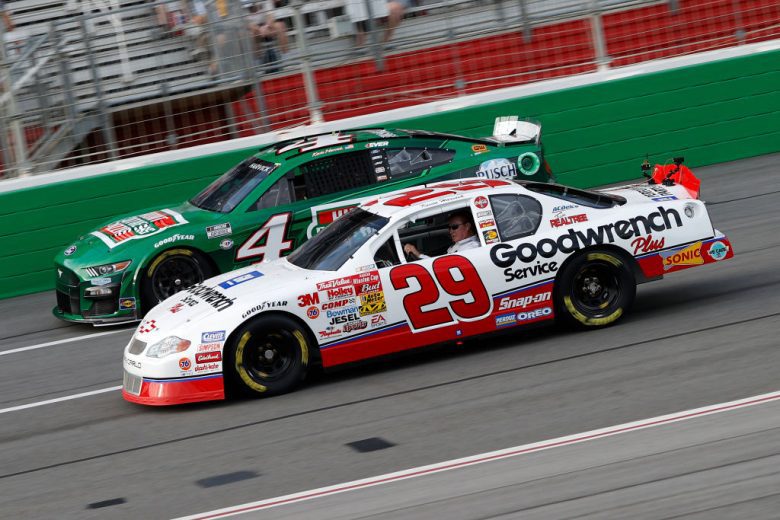 The event marked a monumental chapter in both Harvick and Childress's careers as the Atlanta victory was the first for RCR following the death of Dale Earnhardt Sr., as Harvick was tasked with filling his seat.
NASCAR FLASHBACK: Harvick's first win at Atlanta
With his victory in Atlanta, Byron retakes the lead in the regular season championship ahead of Martin Truex Jr., who looks to be the favorite as teams head north to the New Hampshire Motor Speedway for the Crayon 301 on Sunday, July 16th. Catch the action on USA Network in the US at 2:30pm ET.