Exclusive interview and article by Sam Tickell.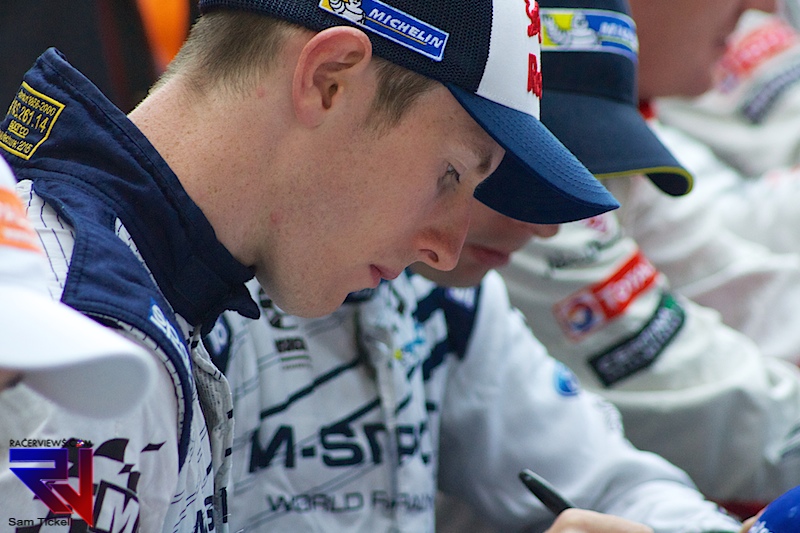 It was zero to hero for Elfyn Evans after the Welshman struggled in Rally Australia, he shot to the day 1 lead at the Tour de Corse. Naturally the two events are miles apart, one having extreme dust, the other featuring twisty, and at times very wet tarmac.
For many the Tour de Corse was new, having been away from the WRC for the best part of a decade.  The torrential rain also posed a number of problems and dilemmas for the crews but in a way, this does not pose the same issues as a rally in Australia does.
As many drivers suggested, Australia was a different beast, a different type of gravel.  As Evans explains, for those at the top it has other challenges – and it is hard to get around those challenges.
"The tarmac rallies are not so bad as we get to test but we don't test for the long haul events. This is probably the most tricky. You come in off the back of a tarmac rally and you come in with no testing. You go straight in and have to be straight on the pace. So it is one of the more difficult.  What we tend to do is more distance on shakedown to learn more there."
Australia proved to be very difficult for Evans, visibly frustrated with the car, unable to get a feeling for the car or the roads saying at times that the car had a mind of its own.  Indeed after his best day in Australia – the Saturday stages, he was still disappointed.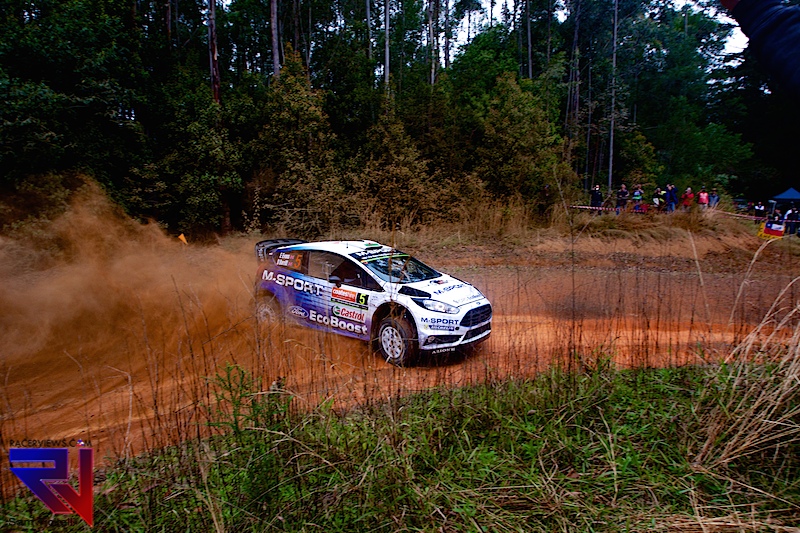 "I think the character of the stages to be a lot happier when the going is fast and flowing – we don't have so much of a problem. Obviously when it gets tight, twisty and narrow I struggle a lot more and therefore the times have been better today – although they aren't where we want them. I am still not where I want to be – we have a lot of work to do."
In fact his Australia performance put his place in the MSport team in jeopardy with team boss Malcolm Wilson having to publicly defend his driver.
Indeed the 2015 season was an up and down year for Evans. After being brought on by MSport in 2014 with a multiyear view to develop into a WRC frontrunner, some may have expected more from Evans this year.
But how does Evans rate his year?
"We had a good start to the year – a solid start but had a pretty dismal midseason to be honest for various reasons.  It knocked the wind out of my confidence a bit – it is fair to say. I feel now that my confidence – the championship position has already been compromised so there is nothing to lose as such. We are concentrating on doing the best job we can enjoying the rest of the year."
Naturally, things maybe different if he was driving for Volkswagen.  They are the team to beat and MSport is certainly the smallest of the factory teams, making the task of shining all that much harder.
"They [the VWs] seem to be in a league of their own at the minute. We are doing the best we can to be the best of the rest. That is what we are aiming for. The VWs are the best at the moment and we are doing everything we can to beat them."
And at times the Welsh driver has shone. He has taken his first podium in the WRC in Argentina – along with Citroen's Kris Meeke, taking advantage of the VW's rare mechanical issues.
Surprisingly perhaps, such a drive doesn't rate highly in the mind of Evans, even though the record books will suggest it is a high point of his career to date.
"The podium was something nice to have. The rally of high attrition and we made sure we stayed out of trouble. In some ways it was rewarding but in some ways it felt a little empty as well. It wasn't done purely on speed. I think there are rallies that I have driven better that I haven't got the result in. It is one of those things. For sure on the last stage it was quite easy to drive round and get to the end as there as no pressure"
For Evans, there are other rallies that he rates higher – for his own performance and satisfaction as a competitor.  Indeed, he highlights two rallies where he finished sixth as rallies where he put in better performances, but where all the pieces didn't fall into position.
"Germany this year, I felt I drove well for the majority of the rally. Things didn't go our way with the setup etc. But you know there are rallies like France last year where we drove well but we had a problem there. For sure, it is definitely events where you can show your speed are the more rewarding rallies."
But the Tour de Corse has proven to one of those rallies – where things come together.
From zero in Australia to hero, leading in France, eventually finishing in a career best second – on a rally with the history of the Tour de Corse.
And perhaps that turn around surprised the Welshman – commenting with surprise at the end of day 1.
"I didn't expect to be that fast! The conditions were really difficult as the grip was constantly changing. To be honest I am quite surprised to be leading tonight!"
But perhaps, it just a glimpse of what we can expect from Evans when the pieces do fall into place.
—
By Sam Tickell, October 2015
RacerViews was established in 2011 and with the aim of delivering a new web experience to motorsport fans. We bring you more than just the news.  Our exclusive interview and galleries brings you the views from the track, from the racers. Our extensive race review collection allows you to keep up with the action from around the world. Our team of passionate pros have decades of experience in the motorsport field. Our social media presence on Facebook, Twitter and iTunes  bring you more, a holistic experience.  We have more than 3100 followers on Twitter and more than 1.5million views on Google Plus.  Our mission is to bring exclusive content is in safe hands. Over the time we have partnered with motorsport teams likeAndreas Wirth, Stig Richards Motorsport, One of a Kind Motorsport, Dark Horse Racing and MRT Performance in order to give you the best exclusive motorsport coverage.
We are always looking for new people to join our team and we are always looking to publish stories, photos and audio in world-class publications around the world. If this interests you contact us