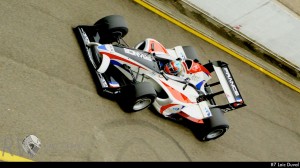 We were able to catch up with Super GT's Loic Duval at the recent A1GP round in Sydney, Australia. Duval finished second in the Super GT Championship in 2007 and had been testing in Japan just hours before the first qualifying session for the A1GP race – a race in which he was competing for A1GP Team France.
How has your A1GP season gone so far?
It's not bad. I did 8 races, 5 podiums for A1GP France. We are equal second in the Championship, 2 points behind New Zealand so it is not so bad. Could be better maybe but we are consistent, fast and always at the front. Anything is possible the Championship is still long, so it is ok.
You have had a bit of bad luck in not getting a win in A1GP, do you think this weekend is the one?
It is the target to win a race, to win here. First of all, we have to think about the Championship, so points are really important. Bur for sure, I want to win here. I was really close the last weekend in Taupo so we are going to do the maximum to win the race here.
Can you tell us about your 2007 season went in Super GT?
Super GT went well. We are driving with Dunlop tyres. There are only 2 cars with Dunlop tyres, we finished second in the Championship which was really good, and it was the best result for Dunlop ever so it was a good season. I also did the Formula Nippon in Japan. Two years ago it was not so bad but last year I had some small problems in the summer, I had three races off and we finished only sixth in the Championship. We were quite consistent at the front, we just had some mechanical problems, so it was not bad in Japan.
What can we expect for your 2008 season?
I am going to drive for the Nakajima team in Japan in Super GT and Formula Nippon, and maybe the A1GP. I don't know about the end of this season, and maybe the next one. I am thinking about the V8 Supercars, it is a nice Championship, it would be nice to drive in the V8 so one day if I could have a test and drive, we will see.
First of all, we have to think about the Championship, so points are really important.
Can you tell us how the Super GT and A1GP compare?
It is impossible to compare. You have an endurance car and a sprint car so it is really difficult to compare. The GT car is really fast. They are about 5-6 seconds quicker than a DTM and the DTM is similar to a Formula 3 so a GT car in Japan is really fast. An A1GP car is completely different. It is a sprint. Your are not driving for yourself, in GT we have two drivers but I like both, both are really exciting. Bit different, for sure, with GT you have the two drivers and many people in the team. In A1GP there is only one driver and you are racing for your country. Both are really exciting.
Do you have any prospects for Le Mans or other major sportscar events in the future?
I am really thinking about Le Mans, first of all because it is French and it is a great race. Last year I was trying to find a drive to do Le Mans. Last year I had some opportunities but not good opportunities so I am still thinking about it and maybe there is 50% chance to see me in Le Mans this year.
Thank-you and best of luck.
Interview and article by Sam Tickell on 02 March 2008