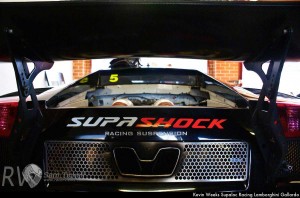 Recently, we were able to catch up with Australian GT Championship competitor, Kevin Weeks.  Kevin had just come off an up and down weekend at Townsville, where a race 1 incident cost him valueable positions but a race 2 performance saw him take his first win in the Championship.
Thanks for joining us Kevin, you had a great race weekend at Townsville, taking your first GT Championship victory.
Yes, we came off pole at Eastern Creek where we had a lot of speed in qualifying but not so much in the race.  At Townsville it was different and we actually qualified fourth and had difficulty getting to grips with the circuit.  The car wasn't handling as well in the first couple of practice sessions.  We developed the car through the sessions and really got it on song for the races.  The first race I jumped the start.  The guy in front of me was so slow – I was doing 45 km/h in the rolling start.  I had a drive through penalty and I finished sixth in that race after being as high as second.
I knew the car had the pace.  I was still very surprised at the speed the car had for the second race.  I'm sure part of that was getting to know the track.  The track is quite technical even though it looks simple.  So by the time I got to the second race I had really sorted the track – particularly the lines through turns four and five.  We really got some good pace going and I went from fifth to third on the first lap, second on the next lap and took the lead on lap five.  I pulled a seven second gap over the next few laps.  I was surprised that the car had so much performance.  I was expecting the tyres to go off as we run quite a small tyre on the Lambo but they hung in and we maintained the gap.
It was quite surprising and we are very happy to have the win.
On the race 1 penalty – do you think the rule or start procedure could be revised?
We are supposed to maintain 75km/h on a rolling start.  I was running in 1st gear at 3000rpm which is 45km/h so it is quite clear that the guys running ahead weren't going as fast as they should.  I should have stayed were I was.  I pulled out alongside Mark Eddy when I should have stayed in line.  I can't blame anyone other than myself.
I believe you are looking at getting a new car for the Championship?
Yes, we have purchased a Ford GT which will arrive in the next day or so.  We will be running it from next year when the rules change.  With the current rule book we are unable to race it.  We will run it from Adelaide 2012.
I was surprised that the car had so much performance.  I was expecting the tyres to go off as we run quite a small tyre on the Lambo but they hung in and we maintained the gap.
This is the first race weekend with the new ownership – how did that go?
The people that are running it, Craig Deneyer's team, were there observing – not doing anything.  I think Tony [Quinn] will be very good for the category.  He is a great guy and a personal friend and I think he will do well.  He runs a very substantial business [VIP Petfoods], and he will have the financial support necessary and he is a competitor.  He knows what the competitors want and I think it will be positive.  I look forward to having him there as the owner.
Finally, the Australian GT Championship will more closely reflect FIA GT3 rules in 2012, what do you think of that?
I think it is a good thing.  It makes it a lot clearer to understand exactly what it is and the cars that we buy will be immediately complaint.  They won't require additional work so it will be good thing.
Thanks and congratulations on your first win in GT
Thanks.
Interview and article by Sam Tickell, July 2011