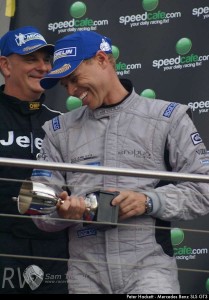 Peter Hackett from Erebus Racing joined us to have a chat at Round 5 of the 2011 Vodka O Australian GT Championship on the weekend.  Hackett and the Erebus team have been responsible for bringing the stunning Mercedes Benz SLS GT3 to Australia and despite parity measures, proved its (and his) pace with its first victory on the weekend.  The car was first raced at Eastern Creek and has gained much attention since its debut.  Hackett was the 2001 Australian F3 Champion and also finished 7th at the Macau F3 race in the same year.
Day to day, Hackett founded Drive Experience – an advanced driving instructing course with Mercedes Benz.  Hackett is also a Super Licence Driver Instructor and has worked with the Jim Russell Racing Drivers School in the past.
Hi Peter, thanks for joining me, this is the third race in your Mercedes Benz SLS GT3 – how is it coming along?
It is fantastic and a place like Phillip Island really suits a GT car like this.  We have been developing the car over the weekend although we haven't done any testing since Townsville.  We had some problems with some braking temperature issues up there and we have tried to address these here.  We made some good progress through the practice sessions with braking, ride height, changed the wings, the bars – all sorts of things.  We threw some new tyres at it to see where we're at in terms of a performance window.  We were quickest on Friday then on Saturday we were a second quicker again, which we weren't expecting.
It was really quite exciting actually.  We did a time early in the first session on Saturday and then there was a red flag.  After the session restarted, Greg Crick got us by 2-1000ths of a second and then Mark Eddy came in and blew us all away.  We then went out on a new set of tyres to see if we can go faster but it was as fast as the car would go.  In qualifying trim we did seven laps within a tenth of a second – so there is consistency.
It also goes to show that the parity measures are very good and working.  The times are there.  We are going as fast we can and I am sure they are going as fast as they can and in the race, anything can happen.  We have a good consistent car and as we have shown at Townsville and Eastern Creek we can turn laps with times near each other and hopefully we will do that here.
Did you need any waivers to race this car?
No, no, no.  The rules are really simple.  The Australian GT rules say that you can have a car from before 2009.  If you want to race a FIA GT3 car that was not available in 2009 you can apply to have it but that car, if successful, would be reduced in performance to 2009 spec.
In 2009 there was no SLS GT3, there was no Audi R8 and our car was let in under the same rule as the Audi R8 and it has been slowed down to suit.  I don't argue about parity.  I'd rather be racing with the parity and ride height and have close racing and a car like this racing.
You look at this car and you listen to is and undoubtedly, it is a welcome addition to the category.
Yeah – people say you aren't allowed new cars. Well you are – you just have to bring in something that wasn't available in 2009.  That is why you aren't allowed to bring in a 2010 model Lamborghini, as there is already a 2009 model Lamborghini.
The Mercedes replaced your Lamborghini.
Yeah – our Lamborghini was badly damaged in an accident at Sandown at the end of last year.  The insurance company was still having issues over what to do with the payout.  We had an opportunity to start again really and so we looked at what we could do.  We knew the rules would change for next year and we didn't want to buy a car that would only be good for this year.  It made more sense to get something that would be available in the future.  With the SLS we had a very small window of opportunity, so we grabbed it.
[mudslide:picasa,0,racerviewsphotos,5649932233093289393,512,center]
Looking at your personal career, you have been around for many years, gaining some success along the way – F3 Champion…
Formula Holden too.  Yeah I did F3 and that kind of stuff along the way.  I then went to Europe and did F3000 with the Minardi Junior team.  I came back and did Formula Holden or Formula 4000 as it was known then with Team Ralt Australia.  That was the same year that I ran second in the Nations Cup – the first year of Australian GT in the Lamborghini Diablo.  Now we are back again, I think it is a great category and definitely where we want to be.
Is there any plans to expand to 2 cars or more for Erebus?
Yeah definitely.  We are talking to drivers to run a second car next year.  We will also try to get on the grid for the 12 Hour race next year.  We have representatives from HWA – the sporting arm of AMG coming out to the Bathurst V8 round to see what Australian motorsports is all about.  Hopefully they will come away from Bathurst saying that it is a fantastic event and they will support GT racing here.  It would be ideal if they brought out a couple European customers to our 12 hour race.  They could then leave a car or two here and we would run a multi-car team in the Australian GT Championship next year.
Australian GT Championship has recently changed hands recently.  2010 was a great season but changes in the Australian motorsport scene and some competitor dissatisfaction may have threatened the category.  How are you looking at the future of the category?
To be honest, I don't get too involved in that side of it.  I just want to go racing.  I guess the investors in the category think it is a good business to own and investors and competitors in the category now have a new vote of confidence.  They are well buoyed and there are a lot of rumours of a lot of new cars for next year.  I know there is a big push to get some longer distance races into dusk with the V8 Supercars.  You could imagine racing for three hours into dusk at places like Clipsal [Adelaide], the Grand Prix [Melbourne] or even Gold Coast.  Brakes glowing, flames spitting, headlights glowing in endurance racing in the dark – it would be brilliant.
Currently the GT Championship run most of their races with V8 Supercars – are stand alone rounds with more track time important to the Series despite not having the 'buzz' of a V8 event?
GT drivers go racing for a different reason.  Track time is important to us and we get a lot of it here.  There is no way we get the same amount of track time at V8 or Grand Prix meeting – unless it was after hours, which is why I would love the after hours races.  Here too, we get a lot of infrastructure, there is a lot that goes into racing a modern day GT car.  We need space and we need facilities and it is hard to get that when you are supporting someone else's category.  Headlining our own series at a couple rounds I think is important.
We are going as fast we can and I am sure they are going as fast as they can and in the race, anything can happen.
Looking at race day, if the conditions change from qualifying, how will it go for you?
The SLS has some great electronics that will assist me in any conditions.  We have a 10 stage ABS system and a 10 stage traction control system that helps dial the car in and out depending on how the conditions are.  In the end though, if it is a little changeable or it is difficult conditions the better drivers still always come to the front.
Thanks Peter for joining us and I look forward to seeing the Mercedes in action through the year.
Thanks.
To find out more about Peter and Erebus Racing, see their website.