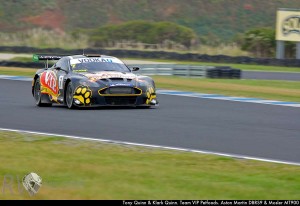 Motorsport these days is usually full of carefully planned politically correct interviews and press conferences.  Tony Quinn, the new owner of the Vodka 0 Australian GT Championship breaks that mould.
Tony didn't have a privileged childhood, living in what he calls a 'gypsy caravan' until he was 14 in Scotland.  Later he would emigrate to Australia.  His wealth is self made, starting the VIP Petfoods company and growing it from nothing to Australia's leading domestic pet food brand – and a brand that compete in the wider market.
He takes a common sense approach.  He doesn't like waste and doesn't suffer fools.  Indeed he tested me prior to our interview starting.  He grilled me, ran the interview – at least in part to see if this was worth his time.  It was an interesting experience – but a worthwhile one.
Quinn's motorsport experience is also extensive; running a multitude of cars across the Australian GT Championship, tarmac rallying, production racing and sponsoring Steve Owen in the V8 Supercar Championship.  He was also the owner of the Carrera Cup in Australia before selling it to Sherrin in 2004.
"When I sold Carrera Cup in 2004 for $2 million – what was it Kerry Packer said – 'You only have one Alan Bond in your life' I think I will only have one Ian Sherrin in my life."
"He bought it cause he wanted it.  He came from a lot of money.  His family sold out – he wanted the thing good or bad, he bought it and two years later it was out of business."
After selling Carrera Cup one had to wonder why he would purchase the Australian GT Championship, which had a rocky 2011 after a stellar 2010.  The racing landscape had undoubtedly changed in Australia over the off-season with Porsche recreating the Carrera Cup.
This left a smaller GT field – and a highly politicked one.  Extensive parity measures were used to control the pace of the field and heavy driver restrictions were also in place.
A tense situation came to head at Round 3 at Eastern Creek this year when a driver boycott threatened the round and delayed the first race.
"The Championship was in a state of disarray and the management that had it were struggling with the competitors…They were changing the rules to suit themselves and the core group of competitors had had enough with the inconsistencies."
"At the end of the day the previous management did a great job but they probably weren't diplomatic enough for this job.  At the end of the day dealing with the competitors is very different than dealing with staff – where you are paying the wages and you can instruct them.  When you are running a series with paying competitors, it is different."
"There was a revolt at Eastern Creek and after that I called Martin [Wagg, Director] among other people.  I said 'mate its game over, what are you going to do?'  He said he was going to carry on which I said was stupid."
"I asked how much he wanted, we came to $250 000 and we did the deal quite quickly and easily from there."
"From my perspective, it was a case of saving it from self destruction.  It was going to implode."
[mudslide:picasa,0,racerviewsphotos,5656133107164237873,512,center]
But what now of the future of the Championship?  This is something that we should learn abou shortly, but what we do already know is that Quinn won't be taking a hands-on approach.
"The next thing I did after buying it was getting in touch with the Spherix guys [who run the V8 Ute Championship] to see if they wanted to run it."
"I now have 5% more to do with it than any other competitor.  I don't set the rules, I don't do the office work – I don't do any of that.  I underwrite the series but these guys will operate the business properly, find sponsors and have a three year plan."
"I think the three year plan will be announced before Bathurst.  In the next couple of weeks we will have a full plan on where we will take it.  From what I know now, it looks very positive."
"This series has something.  Most sportscars you know nothing about the cars and then with V8 Supercars, Konica, Utes etcetera, you can't tell the difference between the cars.  Here you have difference between the cars, you can recognise the cars.  You have a favourite or second favourite that you can cheer on.  That will be the success of the series. "
I spoke to the Nissan guy yesterday and he asked me if I wanted one – and I said, if you get one, I will buy it.
"And commercially too, I discovered with Carrera Cup – part of the sponsor challenge, you get through the presentations and the leg work – but at the end of the day, the guy making the decision has to like the Porsche.  Here you have more options."
"We will still have challenges keeping the cars competitive against each other.  These engineers too are smart people.  That will be one of the biggest challenges that management have.  The balancing act that you have is not to piss off the competitors too much but you have to make an example of one or two to make everyone realise."
"They will know by Bathurst what next year will bring and by Clipsal [Round 1 of the 2012 Championship in Adelaide] if anyone is different to what they should be, it will be game over."
Tony and his son, Klark though will continue to compete in the Australian GT Championship – and Tony hopes to bring a new GT3 into the country.
"I race the Aston Martin at the moment and I love driving it. I think I wasted eight years of my life driving the Porsche which is a very hard car to drive.  The trouble is that the professional guys make it look easy to drive but it is not.  Since I have gone away from the Porsche into the Aston and the Nissans, I think I have gained a few spots – I have been better at it and enjoyed it more."
"As for what is next I am not sure.  People have talked about the McLaren and I have put in a deposit on a new Aston Martin.  I have also looked at a Nissan GTR GT3.  I really wanted one for 2012 and it had to compete in 2011 for me to be able to race it."
"I spoke to the Nissan guy yesterday and he asked me if I wanted one – and I said, if you get one, I will buy it."
When it comes to other sportscar racing, Quinn likes the Targa rallies the best – even more than the GT Championship.  The open roads, racing against the clock and the amount of seat time really appeals to Tony.
Tony also likes endurance racing and working in the team.  He competes in endurance production races.
His journey to this place as driver, team and category owner was not a quick one.  Tony competed in his teens but quickly recognised this wasn't the way he could make his career.
"There are very few people who make money in this business, it is a terrible business.  The good times are limited and the disappointments are plentiful and cruel.  You have to be pretty thick skinned or pretty ignorant to carry on."
"I think a lot of people are in it and don't really know what it is…Proportionally if people put the same effort into an ice cream shop, example, they would be a lot better off."
"When I was a young fella in Scotland racing at Engleston and Knockhill had just opened, racing to the podium used to give you money.  The first ever Formula Ford race I was in I qualified second.  There was also this Italian feller there – he was Italian but spoke with an American accent."
"They gave him a midfield car and he blitzed us.  He had never been there before and never driven the car before and he was gone.  We were all just in a second race.  He finished the second race with a slow puncture too.  We were mesmerised by his talent.  His name was Eddie Cheever."
"At that point, I decided that even as good as I was locally, when you see real talent next to you, you know it.  In those days, you drove the car.  I think that was the point in time where I realised I shouldn't do this for a living."
"I then went away – get married, kids, emigrate,  business and then 25 years later I did a targa and loved it.  It was like riding a bike – you don't forget how to do it."
"I was very lucky and fortunate to have that happen.  A lot of young guys don't have that.  A lot of them are good but not that special.  I have said to a lot of young guys, unless you can start from the back of the grid, and set lap records you really want to think about what you are doing in your life."
"I don't want to dampen their enthusiasm, I want to make sure they don't waste too much time and money.  If they apply their skills to business, they might be like me – come back in later life and enjoy it."
I don't set the rules, I don't do the office work – I don't do any of that.  I underwrite the series but these guys will operate the business properly, find sponsors and have a three year plan
The coming weeks will undoubtedly be some of the most important in the Series' history.  The Australian GT Championship has lurched through highs and lows since its relaunch in 2006.
Tony Quinn and the Spherix Group will undoubtedly lead the Series in a different direction to the previous management.   When he owned Carrera Cup, he built it, sold it for a fortune and the next owners could not keep it.
It will be interesting to sit back and watch to see if the man who created a pet food business, a driving career and previous successful motorsport categories from scratch can take the Vodka 0 Australian GT Championship to new – and sustainable – heights.
[singlepic id=40 w=270 h=270 float=]