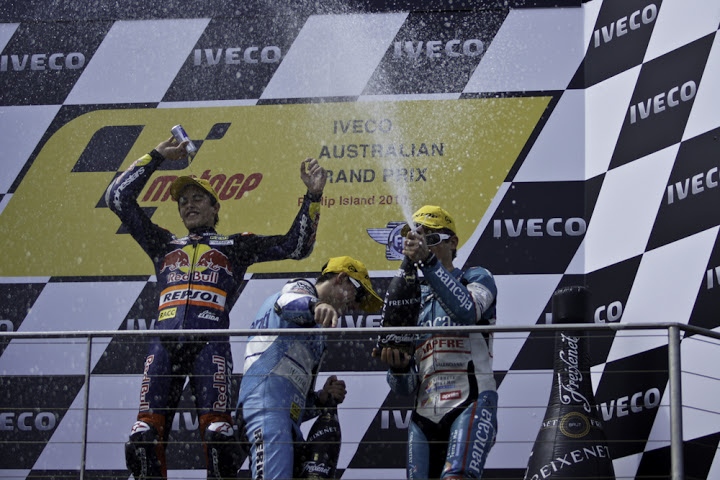 RV: Thanks Marc for joining us, the weather this weekend has been quite awful with the rain and the wind, how difficult has it been to handle that on a 125cc machine?
Marc Marquez: Sure, it is difficult because in the rain you can just put the rain tyres on but with the wind.  It is so fast and on the 125 you can feel it more.  On some parts of the circuit it is hard to keep the line and stay on the bike.
RV: You have won pole position today, how important is that?
Marc Marquez: Pole position is always important, but the most important part is the race.  People will remember who won the World Championship, not who won more pole positions.  We have stay concentrated for the race.  Pole position is important at the level we are at but tomorrow we will see.
RV: You have had a great championship to date, currently leading the Championship, how do you prepare for the final rounds of 2010?
Marc Marquez: The season is always difficult as all the riders will push a lot.  I have to not think about the Championship and I want to think about the race tomorrow.  We will see but tomorrow we will make another step towards the Championship.
RV: This year you have ridden the Derbi instead of the KTM which you rode for the last two years, what are the differences between the bikes?
Marc Marquez: The KTM compared to the Aprillia or Derbi is much different.  The KTM  was down on power but this year the engine is much better.  The chassis is also more stable in the first part of the corner.
RV: Looking to 2011, do you have any plans you can tell us about at the moment?
Marc Marquez: No nothing yet.  The future is important and I have to think about my position but at the moment I just want to think about the races and to win this Championship.  It is difficult to take a decision now.
RV:  A couple quick questions to finish.  First – your favorite bike you have ridden?
Marc Marquez: My favourite bike is the Derbi now.
RV: Your favourite track?
Marc Marquez: My favourite track is here Phillip Island.  I like it a lot.  I also like Montemelo and Jerez.  I generally like the faster tracks.
RV: Your best race?
Marc Marquez: My best race – I like a lot – in Silverstone in 2010.  I had a great fight with Pol Esparargo.  Very nice race.
RV: Finally, what do you do to relax?
Marc Marquez: I like to be with friends.  Bicycle too.  You know the normal life of a teenager!
RV: Thanks Marc, best of luck tomorrow.
Marc Marquez: Thanks.
Interview by Sam Tickell