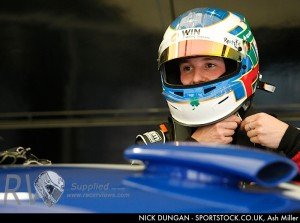 Ash Miller has been a great friend to Racer Views throughout the 2011 season and we recently had a chat with him about his 2011 season and future goals.
Ash has had success in Australian Sportscars particularly in the Production Sports categories in his Mazda MX5.  In 2011 he switched to a Lotus Elise and went to Europe to sample the Renault Clio series.
Hi Ash, thanks for joining me. A part season in the Production Sports, a trip overseas and testing different cars – can you take us though your 2011 season?
2011 has been, in a nutshell, one of the most diverse and interesting experiences of my life.
The experience gained from such a roller coaster ride has been something that I never thought I'd experience but, here we are. The start of the year was always going to be a bit of a stop gap, while I sorted out my direction for the year. I was very lucky to team up with John Prefontaine, and get a chance to tackle Bathurst in his Lotus Elise, so right from the first round 2011 had a different flavour.
Eastern Creek was a bit of a non event, with reliability issues, but already my mind was cast to greater things. The choice to get overseas and put myself infront of the right people was already made.
It took alot of work but initially, the plan was to team up with Prestige Racing and compete in the Britcar 24 Hour race. Planning for that was in full swing, and I was preparing myself for long stints in the car.
James Walker was integral in organising it all – a GT2 racer for Ferrari who has just launched IgnitionSport Manegement, so it was lucky to get in and work with him to get all the finer points in place. He put me in touch with Prestige and worked out the deal.
The Clio Cup option with Scuderia Vittoria was a back up plan. But it came into effect when Prestige had a damaged car, and couldn't make it to the 24 hour race. That's when Danny Buxton's team came to the rescue, and the rest is history. I was UK bound in a Clio Cup car.
That experience opened up a lot of doors, and really set things into play for 2012.
So from Prodsports to UK Clio Cup in a year, has been a pretty interesting state of affairs. But I'm committed to going further.
And if all that happened in 2011, I can't wait for 2012!
It is still early, but what are your aims for 2012 – where would you like to end up?
The plan is to relocate. I have a job lined up in the UK, and I'm planning on kicking off 2012 with a move over there. Obviously, I'd love to keep doing the Clio Cup, or something similar, but as always, money is an issue. It's times like these where you really have to think outside the box. But that's what makes the challenge exciting, and sets you apart from others.
3 to 4 years, the goal is Le Mans, and other endurance sports car races. I have my sights set firmly on realising the goal as a professional, and I won't stop until that goal is realised.
You raced a long time with a Mazda MX5 with great success at a state, then national level.  Why did you choose to race the Lotus in 2011?
Basically, money was the main reason. The MX5 had done it's job in getting us to the front, but it was time to take the next step. The Mazda has been up for sale for a little while, and I got a few offers to co-drive in the One Hour series for this year. John and his Lotus was the only non-MX5 offer, so it was a great chance to branch out. The Lotus was undergoing development as well, so it was great to lend a hand with developing some new machinery. It had fantastic pace, and straight away it was the quickest thing out there against the MX5's, but as always, development curves are governed by reliability. It was a chance to drive something different, really. So it was an easy choice.
How different was the Lotus to drive to the MX5?  And did you have any issues getting to grips to the Clio in the UK?
The Lotus was a very different car. The major difference was the balance – the MX5 is a very forgiving car, and you can really hustle it to the limit. It can step out, and you'll feel it, and it will come back accordingly.
The Lotus, with the engine in the rear, is a lot more knife edge. A lot more direct, but it bites harder. It's like comparing a Sheepdog to a Whippet. The sheepdog is obedient, fit, and can go all day. The whippet is lean, mean, and agile. A sense of purpose.
The Clio was different again, but there weren't any issues. Going into the event, I kept an open mind and learned as much as I could, let the car speak to me. The hardest bit was practicing restraint on the throttle – and being patient in the front wheel drive. But once racing came around, the Clio was a very forgiving and very easy car to push.
Was there a noticeable difference in the on track competition?  Were the English more aggressive on track?
The British know what they're doing. The whole scene is very…professional. The guys in the Clios know what they're doing, and the thing that stood out most is that every guy on the grid is there for the purpose of racing, and racing hard. In a class like that, a genuine stepping stone into the British Touring Cars, the competitiveness is palpable. No one gives an inch. They were more aggressive, but you need to be as well. I loved the chance to work hard to battle – you have to use your head much more. They defend well. They're all quick. The guys at the pointy end are ruthless. So it was very intense – but also addictive. I felt very much at home.
Your weekend racing in the Clio Cup – how did you rate your performance?
Obviously, no driver rates their performances highly if it wasn't resulting in a win. But, for my first overseas run, I was happy. My aim was a top 10, and I was running in there, despite eventually finishing just outside. Pace wise, with no time in the car before Friday practice, to Qualify within 7 tenths of pole was an achievement I was proud of. So I don't think I could put a rating on it, because it was good for reasons, and also a learning experience for reasons. But I was happy with the progress and the end result.
httpv://youtu.be/LbR0nWUTu9w
Ash Miller in his Lotus at Bathurst, 2011
Finally, looking longer term – you're hoping to get over and race in the UK in 2012, where do you want to end up in say 3 or 4 years?
3 to 4 years, the goal is Le Mans, and other endurance sports car races. I have my sights set firmly on realising the goal as a professional, and I won't stop until that goal is realised. Being in the UK is a huge plus, and definitely the right place to be. You have to be infront of the right people, and that's half the battle.
So, being on the grid for the 2016 Le Mans, is the ultimate goal.
Basically, it doesn't matter what floats your boat as a company, I believe I have a marketing solution within motorsport to boost sales, and increase marketing value. I've been given an opportunity to be put on a global stage – and I can bring any brand with me. I guess, the question then is, as a company, who'll be the first to get involved in a dynamic new angle?
Interview by Sam Tickell, December 2011