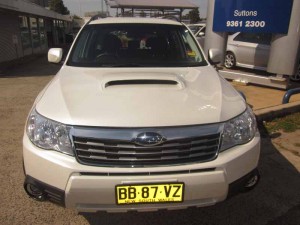 The MRT Performance Subaru Forester will hit the dirt for the first time as Brett Middleton and co driver Andrew Benefield prepare for the 2012 ECB Australian SUV Rally Championship.
Middleton will be testing the team's all new Subaru SUV car at Wakefield this Monday (13/2/12) as he prepares for his 2012 assault.
'We have put a lot of work into the car and I am really looking forward to getting it out and giving it a go on tarmac and gravel,' Brett said.
'It should handle the loose surface well as well as the tarmac and we will give the Murray Coote designed suspension a good test,' he added
The Subaru Forester SUV rally car shares the similar suspension as other current Subaru STi rally cars but sits higher.
The two litre turbo diesel boxer engine has been focused on and data logging is one area essential for the team are to continue to develop the car.
MRT will utilise a MoTeC Advanced Data Logger (ADL) to get that extra advantage.
'Rallying a car like this is new to the world of rally and getting the best information possible on its performance is vital,' Brett said
'The MoTeC ADL will be able to give us a lot of information, and the results will be clear to see.' he added
The MoTeC ADL system incorporates global positioning systems (GPS); monitors oil, air, inlet and water temperatures; along with the fuel mixture and more
Brett and his team at MRT Performance have seen significant increases in power from the Subaru Forester as they prepare it for battle.
Tests at the MRT Performance workshop saw early increases in torque and power as part of the EcuTeK retune and the team is confident of more performance improvements before the season kicks off at ECB Rally Calder.
'With the MoTeC system and the EcuTeK retune, we are really getting the best out of the turbo diesel engine in the Forester,' Brett said.
The first round of the Bosch Australian Rally Championship featuring the Australian East Coast Bullbars SUV rally championship takes place at Rally Calder in Victoria on 1-4 March.
—
MRT Performance has a wide web presence both via their website and social media channels – Flickr, You Tube and Facebook
RacerViews was established in 2011 and with the aim of delivering a new web experience to motorsport fans.  We bring exclusive interviews and photos from motorsports finest drivers of yesterday, today and tomorrow.  Our team has over 30 years of experience in the motorsport field.  With a heavy presence on Facebook and Twitter where we have over 2800 followers,  our mission to bring exclusive content is in safe hands.  We have partnered with motorsport teams like Stig Richards Motorsport, One of a Kind Motorsport, Dark Horse Racing and MRT Performance in order to give you the best exclusive motorsport coverage.
We are always looking for new people to join our team.  If you are a motorsports photographer or journalist looking for additional exposure or a great place to learn your trade, contact us and go trackside!