Editor's note: This article was written prior to his trial and imprisonment for child sexual offences as outlined here. We debated whether to take the article offline but have decided to keep it here with this note. Obviously we find the actions heinous and stand with the victims of his crimes.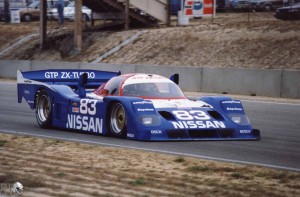 We are detailing Australia's first family of motorsport – the Brabham family.  They Brabham family are one of the few families that have successfully had multiple generations to win championships and had multiple siblngs to win championships.  The Brabhams are mentioned in the same breath as the Andrettis and Fittapaldis.  They are legeds of the sport and over the years we have interviewed the Brabham brothers.  We will bring you interviews with the brothers, Geoff, David and Gary and pictures of the family racing exploits.
To date, we have brought you an interview with Geoff, David and a gallery commemorating Sir Jack Brabham's first F1 Championship with a recreation event at the Gold Coast.
Here we catch up with Gary with a brand new interview.
Hi Gary, thanks for joining me.  You raced internationally for over a decade.  To start off, what was a major highlight for you?
In America, winning the 12 Hours of Sebring with my brother Geoff was definitely a highlight.
Through your career, you had numerous Championship chases going on, your Brabham name and more importantly your results suggested that had the pace but your season seemed be cut short.
Because I ran out of money!  It was really hard to get sponsorship, I probably put that down more to – two things – they assume that my old man [Sir Jack Brabham] is wealthy so why doesn't he pay for it; and the other one was my nationality.  If you go to sponsors in England or America or any country – they seem to want to sponsor their own.  My biggest sponsors were the Japanese sponsors like Panasonic or NEC.
In 1988 you had to swap between NEC and Panasonic.  Was that because of the Seoul Olympics or was there other reasons?
Panasonic was a one year deal and through people I met with NEC.  I knew it was going to end – but it was good to meet the NEC people.  NEC – I had them in 1988 and 1989 – they were my two best years and really the two years I was fully funded.
In those two years you were British F3000 Champion and second in British F3.  It was obvious you had the talent – you received tests with Benetton and Leyton House.  Did you think an F1 drive was on the horizon?
Yeah.  I came close to getting sponsors for that.  There was a bit of a recession at the beginning of the 1990s.  NEC didn't want to go into Formula 1 as the budget would have to come out of Japan.  I never really had an opportunity.  People like Fosters were never really into sponsoring cars or drivers – except for a short time in Indycar.  It was a struggle all the way through to get sponsors.
Benetton was a great opportunity in testing but I was never experienced enough to be a full time driver for them.  Boutesn and Nannini had a fair few years in F1 behind them.  I then went to Life has I had no real options on the table and they ended up a disaster.  I went back to F3000 and after that I went to America.  I couldn't see any further opportunities in Europe.
So I went to America with the aim of doing Indycar – Geoff had been there for a good 18 years and was very well established.  My first race in America was the one I won with Geoff at the 12 Hours of Sebring.
At the time when you went to America, there was a lot of interest in sportscars and the factories were throwing money and technology into the cars.  Having driving F1 cars, what was it like to jump into a factory sportscar?
It was great!  Loved it.  Sportscars, I really enjoyed as they really suited my driving style.  I was always smooth and easy on the car.  At Sebring and Daytona 24 Hours I could do an extra couple of laps on a tank of fuel.  The tyres too – the tyres they took off my car they would save for later as they were hardly worn in!  At one stage I was one and a half seconds faster than everyone.  I love the sportscars.
Was it money again that held you back from a full campaign?
Yeah, all teams wanted sponsors.  When I did the two Indycar races on the Gold Coast that was funded by companies from Australia.  But when I was looking for sponsors in America, I spent $75 000 on looking for sponsorship – entertaining, brochures, traveling, seeing people etcetera – with not one opportunity.
That certainly puts it into perspective of how expensive and difficult it is to attract the sponsors in the first place.
Yeah.  When Geoff was there – in era where sponsorship wasn't a real problem as the teams had it.  That changed when the Brazilians came over and the driver had to bring money.  Geoff was all signed and ready to drive in his 11th year in Indycar and the team secured Budweiser sponsorship.  They went to Budweiser and said, this is the car and the engine, Geoff will be our driver.  They went no – we are an American company and want an American driver.  That is were Scott Pruett got his break.  That was the end of Geoff's Indycar career.
How quickly things can turn in motorsport.  It certainly suggests you were a victim of timing, with the global economy.  As the middle Brabham, it seemed not to go your way.
Yeah David's the youngest and still going!
He is certainly going strong.  What was it like personally to be able team up with Geoff and race with your brother?
I had never driven with Geoff before but I had driven with David.  With Geoff, it was the best car and I learnt a lot from him about sportscars and endurance racing.  To actually win an important international race with him was a major highlight.  The other highlight was winning the Olton Park Gold Cup.  My old man was there too and with David winning in his category, we were both on the podium with dad who had won it four times.
Certainly a Brabham affair that year – and a trophy that seems to belong in the family.
In 1989 we all won a Championship each.  Geoff won the IMSA GTP, David won the British F3 and I won the British F3000.
A special year – did you get together and celebrate such a rare family achievement?
Not really no – Geoff was in America so we never really saw him.
It is one of those amazing things, very few families in the world have the ability to win championships in their chosen field, nonetheless to all win one in the one year.
Yeah – dad had a painting commissioned for it.  Dad was at the top, Geoff, David and I were there with our cars that we won in.  There is only four of them – we have one each.
httpv://youtu.be/mxUyII6iSOc
The Life F1 disaster
Of course when you had a couple of races in the IMSA cars, it wasn't your first shot at sportscar racing.  You had previously raced in the Thundersports – in your opinion, just how far did sportscars progress in those years?
Yeah, they were completely different.  Plus I think Nissan's budget for that year was $34million.
Obvioulsy 10 or 20 times the budget of the Life you tried to race in F1.
Yeah – and more!  They were totally different cars.  I enjoyed sportscars.  I think the thing I enjoyed most of all was testing, and I had a good reputation for it, I got to test different cars.  Even Nissan used to fly me to America just to test. They were developing a V12 engine so they used to fly me around to test the car.  I also did the testing for Benetton, Leyton House, Brabham – a whole heap of things I did testing wise as I was able to give good feedback.  I found that fascinating and really enjoyed watching the technology change.  The racing, I enjoyed also, but I wouldn't care if there was one spectator or 10 000.
I enjoyed sportscars.  I think the thing I enjoyed most of all was testing, and I had a good reputation for it, I got to test different cars.  Even Nissan used to fly me to America just to test.
You did historic racing as well – was that just for fun?
Yeah I did touring cars – I did Bathurst three times.  The historic one I did at Watkins Glen – I drove dad's 1959 Cooper and then jumped in a 1989 Brabham F1 car and the difference between the two was quite astounding.
Guys like Alan Jones came back to Australia and did a lot of touring car racing – was that on your radar for later in your driving career?
Touring cars wasn't my sort of thing.  I didn't enjoy it.  Bathurst was always a good race to do and a good challenge and it was also an opportunity to come home.  Touring cars was never really something that I aspired to do.  I always wanted to do single seaters and sportscars.
Your last couple of races were CART in Australia, what was it like to race in Australia in an international championship?
I was the first Aussie to do it so it was a pretty big deal.  The first year I finished 13th – the year that Mansell won (1993).  With that Series I had a year old car and a year old engine.  To get the latest stuff you had to sign up for the whole year at $1.5million engine lease deal so I had to settle for year old cars in both years that I raced.  I never really had a chance to show well.  The only thing that was a disappointment was in 1994.  I had a problem with the popoff valve and the engine kept cutting out and I ended up last on the grid.  It was raining for the race and I loved the wet.  Six laps went by and I had passed Al Unser Jr for 11th and I got round the next corner and the gearbox broke.  I had a box full of neutrals and retired.  That would have been a really good opportunity to showcase myself.  At that point, no one in America really knew I had raced in Europe.  It never really counted for shit that I raced in Europe.  Everything has changed now but that is what it was at that time.
I do have to ask, can't go past it – Life.  You only got a handful of laps in the car, we all know it was never a qualify-able car but what was it like to drive and what, really was wrong with it?
The only thing that did happen was at Brazil in untimed practice, I was sixth fastest down the straight.
httpv://youtu.be/Se_ZcRffC0k
Gary Brabham, Eddie Irvine and Paul Warwick racing karts in the F3000 days
So it was ok at something?
It has a lot of low down grunt.
But couldn't turn that into anything?
I never really got to the stage to see.  I only did four and a half laps  at Phoenix and the engine blew up in qualifying and I only got to do 400m in Brazil.
Then you didn't have to see anymore to see that it wasn't going anywhere?
Yes.  I think it was after that too that Herbie Blash contacted dad to see if I could join the Brabham team but dad told them I was contacted to Life, which I wasn't.  Then between the period between Monaco and the next race, they did a deal with David to join the team and I ended up swapping places with David at Middlebridge.  I was in the wrong place at the wrong time.
At least with the testing, you had a go at proper F1 machinery at the time.
Oh yeah.  It was good to look back to look back to say I  beat Damon Hill and Eddie Irvine in the lower categories.  Some people carry on and some people don't.  I look back on it as an achievement.
Of course if circumstances, the economy and funding had been kinder to you, your name could be up with Hill and Irvine.  With a British F3000 title and second in British F3, F1 could have worked.
You look at F3.  Lehto won, I was second, Eddie Irvine was third, Damon Hill was fourth, Martin Donnelly was fifth and Roland Ratzenberger was sixth.  Every single one of those drivers ended up in F1.
Some had the opportunity and of course with Hill, came World Champion.  It does prove that luck can go hand in hand with opportunity and prove how cruel the motorsport game can be.
Well it is!  But you can't look back and say that was a waste of time because it wasn't.  I got to do lots of things and have a great career.
You have also taken your skills to your post motorsport career with driver training too.
Mainly corporate training.  I used to run a few high performance days with dad where he would come out and give talks and hot laps.  I went from there into corporate workplace health and safety in relation to the operation of a vehicle.
Finally do you ever want to jump in and race again?
No.  There are a lot of people that stay in the industry for a long time but I have chosen to do something else.  It was related but I enjoy the training and I have brought in a lot of workplace health and safety initiatives that cut company car accidents down to zero.  That was a challenge in itself.  As long as I have something as a challenge, I am happy.
Thanks Gary for your time, I very much appreciate it.
No worries.  Thank-you.
—
Interview by Sam Tickell, January 2012
RacerViews was established in 2011 and with the aim of delivering a new web experience to motorsport fans.  We bring exclusive interviews and photos from motorsports finest drivers of yesterday, today and tomorrow.  Our team has over 30 years of experience in the motorsport field.  With a heavy presence on Facebook and Twitter where we have over 2800 followers,  our mission to bring exclusive content is in safe hands.  We have partnered with motorsport teams like Stig Richards Motorsport, One of a Kind Motorsport, Dark Horse Racing and MRT Performance in order to give you the best exclusive motorsport coverage.
We are always looking for new people to join our team.  If you are a motorsports photographer or journalist looking for additional exposure or a great place to learn your trade, contact us and go trackside!
[singlepic id=38 w=270 h=270 float=]