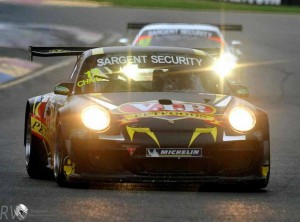 A new season heralded a new era for the Sargent Security Australian GT Championship.  It also hearalded a new car for Klark Quinn – moving from a Mosler to a Porsche GT3-R.
He won back to back races at the Clipsal track in Adelaide last year and repeated it this year.  We caught up with him after his win.
For more information on the Championship including points, photos and results, visit www.australiangt.com.au
Hi Klark, thanks for joining me – a great weekend with a double victory.
Yes – I wasn't expecting that.  It was a bit of a surprise to be honest.  The weekend certainly had lots of exciting bits and pieces and I wasn't expecting to come away with two wins – that's for sure.
In the first race you were battling with Peter Hackett in the Mercedes and Allan Simonsen in the Ferrari  – then at the end of the race, it seemed to go your way.
It really did.  Hackett and I were having a great dice the whole race – before and after the safety car.  We were switching positions and about half way through the race it started to rain on certain spots on the track.  It came very unpredictable, the track and the first spot of rain we got was on turn 8 – the last place you want rain.  Our windscreens just got covered in water.  So as we were heading to turn 8, at a million mile an hour, a big wash of water comes across our windshields.  It was like WOW!
From that point on, neither of us wanted to lead the race.  We weren't doing anything stupid and if one wanted to pass the other, neither would really fight it.  Then the safety car happened and we came out and kept the dice going.  The last four laps of the race, Allan Simonsen got right behind me.  I knew he was going to be quick and he came through the field.  I let him through without too many dramas.
Peter Hackett on the other hand had other ideas and defended his position a lot harder than I had.  Coming out of the last turn, at Clipsal, up behind some backmarkers – they got away, I got held up coming on the front straight.  Through turn 1, 2, 3 and coming onto 4, Mark Eddy was there.  He, Simonson and Hackett – Eddy turned in and by the time I got there, they were all facing the wrong way.   I just did a Steven Bradbury – got past the lot of them and cruised to the victory two laps later.
An ideal way to start the season –you did the same last year in a Mosler.  This year you are in a Porsche, what is that car like this year?
The Porsche wasn't handling the best the whole weekend.  It became drivable and to my liking on the Sunday race.  The first race, it certainly wasn't pleasurable.  A Porsche is a Porsche and it is such a good car.  They are so reliable and predictable and really aggressive.  I really love that style of racing – where you have to throw the car around the track..  Especially a concrete track like Clipsal or places like Bathurst, Indy and Townsivlle.  Places like that, I really enjoy and they suit the Porsche.  You get to throw them around and you can do it with the Porsche.  Where with a Mosler, Audi or Ferrari, you have to be a bit more gentle and nimble with the car to get a good lap time.
I just did a Steven Bradbury – got past the lot of them and cruised to the victory two laps later.
You had a great start last year but lost out due to mechanical issues through the season.  Are you planning a full Championship assault this year?
That's what I am here for.  I have never won a motorsport Championship in my life.  That is the goal this year – to come away with a Championship at the end of the year.  The point system this year is totally different to last year.  Last year you could come forth in every race and you would have won the Championship without ever winning a race.  Last year was about consistency, this year is a lot about consistency but also about race wins and qualifying.  This year we have qualifying points, so it will be very important to qualify well.
Congratulations Klark again and best of luck for the rest of the season.
Thanks.
—
Interview and article by Sam Tickell, March 2012
Interview by Sam Tickell, February 2012
RacerViews was established in 2011 and with the aim of delivering a new web experience to motorsport fans.  We bring exclusive interviews and photos from motorsports finest drivers of yesterday, today and tomorrow.  Our team has over 30 years of experience in the motorsport field.  With a heavy presence on Facebook, Twitter and iTunes where we have over 2800 followers,  our mission to bring exclusive content is in safe hands.  We have partnered with motorsport teams like Stig Richards Motorsport, One of a Kind Motorsport, Dark Horse Racing and MRT Performance in order to give you the best exclusive motorsport coverage.
We are always looking for new people to join our team.  If you are a motorsports photographer or journalist looking for additional exposure or a great place to learn your trade, contact us