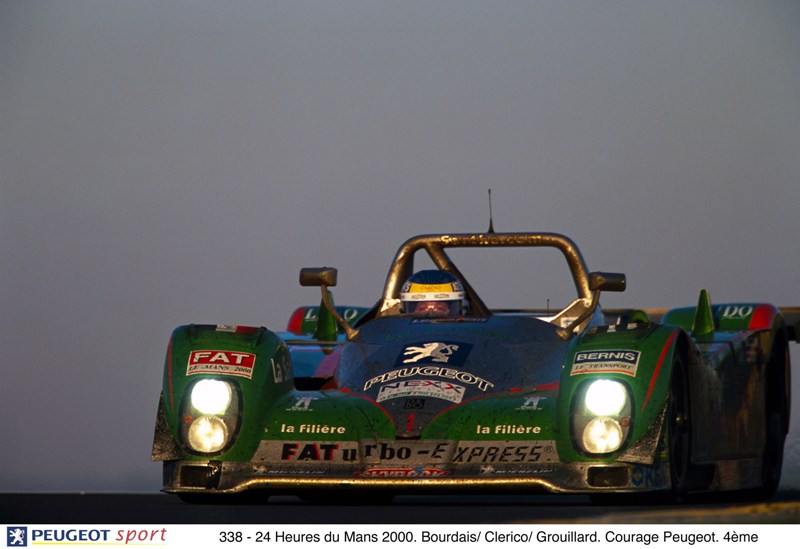 I don't really think we were treated to a 'classic' Le Mans this year.  That may seem a little harsh but I do have my reasons to say that.  First, though, you must realise that for me, even a dull Le Mans is better than the best race from anywhere.  I just love this race.
The Peugeot departure certainly didn't help.  With those guys, we had been spoilt over the previous few years – and even with Bentley/Audi battles and the Pescarolo/Audi battles before that.  It was always fun to see if David (Pescarolo) could kill the German giant and if the Brits could beat the Germans and if we could see a French win on home soil.  They gave us great racing – and we have undoubtedly been spoilt.
We were also hurt a little by the Toyota program being a little late – without a run a Spa, they were always going to struggle.  They showed though that they have pace.  For Toyota, it was always going to be an uphill battle, but they got the lead for a small while.
They did generate some headlines – probably not the ones they wanted.  Anthony Davidson's massive crash and taking out the Deltawing would not be what they wanted to be known for.  I hope they continue on – and continue on a little more seriously than they did with the GT-One.  If you have listed to our interview with Vincenzo Sospiri, he thought that those cars were rocketships beset with bad luck.  The truth is though that if you race a car only three times in two years, success will never come your way.
The Audi success though was great – and the interteam battle was fantastic.  It was, for me at least, to be super excited about the interteam battle – and after another McNish crash, the battle was effectively over.  We love McNish as much as anyone, but he has a concerning habit of having errors with the R18.
All congratulations though to the Audi team and in particular the #1 squad – first win by a hybrid – an awesome achievement.
I do wish though that the Deltawing could have had more laps.  It proved itself in practice with 3:42s – proving that it could turn corners.  What's more, it completed an amazing amount of laps on single set of tyres.  They were predicting 10-13 lap stints too, which wasn't bad considering the 40 litre fuel tank it had.  But we may have to wait; there is word that the ALMS may let it in to Petit Le Mans and a full campaign for 2013.  For one, I hope that happens – new thoughts need to be encouraged.  We spend so much time on mechanics we tend to forget that other areas enhance racing and car technology too.
We spend so much time on mechanics we tend to forget that other areas enhance racing and car technology too.
A hearty congratulations goes to Peter Barron's squad too in the LMP2 – great to see them back with so much success.  The GT battles were also intense and a shame the Aston GTE AM squad went out so early – they could have pulled a surprise.
But as we sit here after the race, a cloud hovers over Lola and Pescarolo.  Many of the Lola Cars staff have left the organisation as the group looks to a way out of administration.  We hear that there are spares shortages now and that Rebellion are rumoured to be looking at the Dome.  Others – like Dyson, Blackswan, Status and more must be looking to see what they can do.  Hopefully someone steps up the plate.
And then there is Pescarolo.  It looks like they don't have the funds to complete the rest of the year.  Plus they don't own either of the cars they raced at Le Mans.  After one bailout, it could be curtains for them.  What they tried to do was commendable and if they tried in the 70s, they would have succeeded.  Life in racing though is very different.  Now you need all the stars to line up to take a win.  If Audi/Peugeot/Toyota turn up, you are going to racing to be best of the rest – something that never wins sponsors, which is a shame.  Gone is the wins from those like Rondeau or Matra.  Nigel Robuck lamented those wins in the 70 and 80s in his column in Motorsport a few months ago – we love them.  That is the spirit of Le Mans and motorsport – increasingly that is lost.
A life in LMP2 could be a better way though.  Designed for privateers, it is going through a bit of a boom stage.  Mazda with the diesel LMP2 engine will pose a bit of a parity battle but a good development nonetheless.  Gerard Welter was considering a Peugeot diesel engine a few years back but he is now in the GreenGT car for next year – the beast that it is.  So it will be interesting to see who gets in that game – maybe we could see a Peugeot return – just battling against Nissan and Mazda instead of Audi.
LMP2, though has lost some smaller guys – the Pilbeams and Lucchini have gone and the future of Norma and Radical there can't be guaranteed either.  The woes of Lola too must be a worry.  The OAK and Oreca may be the future there for a while.  But the big European grids and growth in America is good to see.
And as we look to the future and the 2013 Le Mans 24 Hours, we hope that Toyota will be back to race Audi at the front.  No doubt it will be a great race – and one to very much look forward to.
And just to finish, a neat video from Nissan Europe on the Deltawing's first lap in the 24 hours…
httpv://youtu.be/yz_8mTL3xQk
What do you think? Leave your comments below or on our Facebook page.
—
(c) Sam Tickell, May 2012
RacerViews was established in 2011 and with the aim of delivering a new web experience to motorsport fans.  We bring exclusive interviews and photos from motorsports finest drivers of yesterday, today and tomorrow.  Our team of photographers, writers and driver has decades of experience in the motorsport field.  With a heavy presence on Facebook,  iTunes and Twitter where we have over 2900 followers,  our mission to bring exclusive content is in safe hands.  We have partnered with motorsport teams like Stig Richards Motorsport, One of a Kind Motorsport, Dark Horse Racing, Andreas Wirth Racing and MRT Performance in order to give you the best exclusive motorsport coverage.
We are always looking for new people to join our team.  If you are a motorsports photographer or journalist looking for additional exposure or a great place to learn your trade, contact us