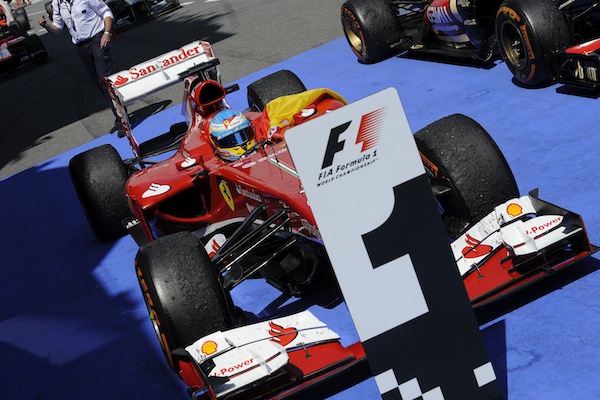 It is time to have a look at the Spanish F1 Grand Prix, famous for its pitstops and an Alonso win. But did anything else happen? No, really it seems not. But the rest gave for some good entertainment.
After a mega qualifying the race looked good for Mercedes, who have a thing for management and GP2 Champions
Wouldn't that be our 2005 and 2006 #GP2 champions on tomorrow's #F1 front row? Yes, it would 🙂

— GP2 Series Official(@GP2_Official) May 11, 2013
The Vettel whinging on the opening lap was a little…err annoying
Hey Vettel, if you wanted them to go faster, you should have gone faster in qualifying, neh #F1 — Neil Hudson (@neilhudson) May 12, 2013
Alonso was always going to be strong in front of their home crowd
"We are not too scared of Mercedes," says Alonso, who starts fifth on the grid and took the lead on lap one herethe last two years. #F1 — F1 Fanatic (@f1fanatic_co_uk) May 12, 2013
After qualifying, it all went so badly for Mercedes
You'd think that with the 5,734 people in Mercedes' upper management they would have fixed their tyre life issues by now… #F1 — Richard Craill (@Craillsy) May 12, 2013
Hamilton: "Now I've been overtaken by a Williams…" < Not a happy bunny. #F1 — The F1 Times (@F1Times) May 12, 2013
But no one had the tactics and pace of Ferrari
Parting #F1 shot from Barcelona: this weekend's top team. twitter.com/MauriceHamilto…

— Maurice Hamilton (@MauriceHamilton) May 12, 2013
And Alonso was the man to the delight of the Spanish fans
Still, Alonso deserves to win this 'event'. I'm no so sure I can call it a race though #F1

— Neil Hudson (@neilhudson) May 12, 2013
Even though the stewards lost their minds for a while. Fortunately sense was back by decision time
I despair…RT is you do too…#F1 twitter.com/mrjakehumphrey… — Jake Humphrey (@mrjakehumphrey) May 12, 2013
Lewis will be wondering…at least the old team aren't doing well either
#F1 Attention to detail on @lewishamilton 's helmet. Courtesy of @jasonfowlerjlf twitter.com/PFF1/status/33… — Parc Fermé (@PFF1) May 13, 2013
When the answer is 'more than Mark Webber of the start' you know it is bad
Mercedes race woes are the feature of my #weekly #f1 #cartoon for @formula1blog this week… #f1chat @f1chat twitter.com/R4THBONE/statu… — Rathbone (@R4THBONE) May 13, 2013
And now this. What are your thoughts? Head to our Facebook or Twitter pages to tell us!
Lo sabemos @schecoperez hemos visto la foto de tu rueda #F1 #McLaren twitter.com/alejandrocorcu… — Alejandro Corcuera (@alejandrocorcu) May 13, 2013
Expect untold #f1 tyre #pirelli negativity in morning papers Monday.Just because you don't understand it don't make it wrong… #SpanishGP — Darren Heath (@F1Photographer) May 12, 2013
@supasix1 '13 tyres just another variable to be learnt as is the case with so many aspects of #f1

— Darren Heath (@F1Photographer) May 12, 2013
Pirelli: we can bring back processions: #F1 – Pirelli says it will help bring back boring processions to Formu… bit.ly/166h5Oj

— AUTOSPORT (@autosportnews) May 13, 2013
Lotus feel tyre changes would be unfair jackleslief1.blogspot.co.uk/2013/05/lotus-… #F1 — Jack Leslie (@JackLeslieF1) May 14, 2013
Would he say this if they were actually winning? Doubt it – #F1 not racing any more, say Red Bullbuff.ly/18Gd5mw — The Flying Welshman (@Bix_Barton_SW6) May 14, 2013
I guess you can tell, we are with Heath on this one. Something is against a top team – lets ban it? Or lets figure out a way to make it work for us. F1 used to be one, now it is the other
For you Alonso fans
#F1 La Portada del GP de España. twitter.com/EnricoTornello…

— Enrico Tornello (@EnricoTornello) May 13, 2013
For you fans of a cross dressing Richard Branson, a bet won by Tony Fernandez and raising money for charity
On one end of the spectrum, you have #F1 rivalries like Senna/Prost. On the other end of the spectrum, you have this: twitter.com/squelchuk/stat…

— Fake Charlie Whiting (@charlie_whiting) May 12, 2013
Don't forget, you can find the full results here
—
Compiled by Sam Tickell, May 2013
RacerViews was established in 2011 and with the aim of delivering a new web experience to motorsport fans. We bring exclusive interviews and photos from motorsports finest drivers of yesterday, today and tomorrow. Our team has over 30 years of experience in the motorsport field. With a heavy presence on Facebook, Twitter and iTunes where we have over 2800 followers, our mission to bring exclusive content is in safe hands. We have partnered with motorsport teams like Stig Richards Motorsport, One of a Kind Motorsport, Dark Horse Racing and MRT Performance in order to give you the best exclusive motorsport coverage.
We are always looking for new people to join our team. If you are a motorsports photographer or journalist looking for additional exposure or a great place to learn your trade, contact us