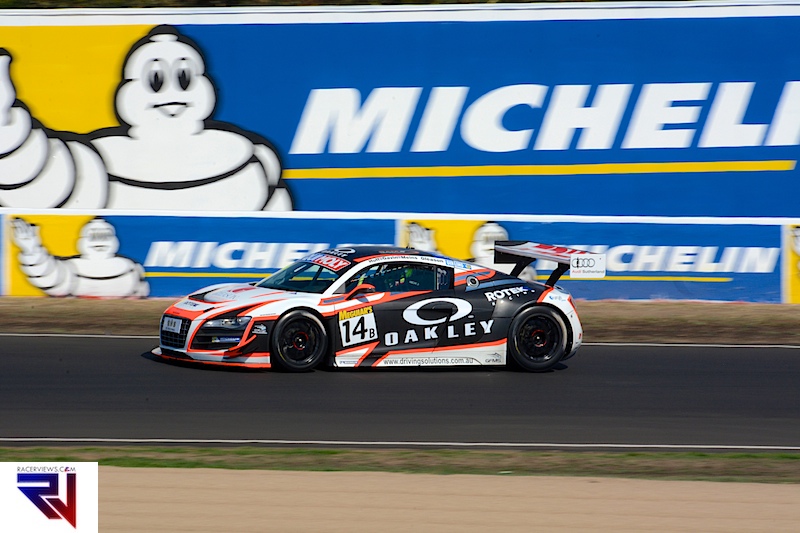 As we continue to catch up on our Liqui-Moly Bathurst 12 Hours coverage, we were lucky enough to get some time to talk with ALMS and Le Mans legend, Oliver Gavin.
Olly and I were distracted a couple of times and therefore the audio was cut on three occasions.
In this interview, however we discuss Olly's time at Bathurst and getting used to the Mountain in an Audi GT3 machine.  His team which included 4 time WTCC Champion Rob Huff, GT front runner Richard Meins and Richard Glasson were mega quick but were halted from the class lead with a mechanical issue.  A $50 part put an end to their race.
But we couldn't talk with Olly without discussing his F1 time and of course, his time in America.  We talk how he got to Corvette and the surprising help he got on the way.  We talk about how it was to race against the big guys in GT1 and what it was like racing against his teammates and no one else in GT1.  We talk the development of the GTE car, his expectations of the C7R and how TUSCC has come together.
I'd like to thank Olly for his candor and his time in this fascinating extended interview.  You can find more out on Olly at his website.
Download this episode (right click and save)
Click here to subscribe to RacerViews iTunes channel
@JarvoB @janmagnussen This is the pic that I have from that day. Mega race. #WheelToWheelAction pic.twitter.com/iNS3VPcu

— Oliver Gavin (@olivergavin) April 6, 2012
Oliver Gavin laughs #ALMS #Sebring12 podium pic.twitter.com/3XHcNw4AZB — Brian McKay (@BrianMcKayUSA) March 18, 2013
Great shot from @regislefebure #Sebring12hrs podium. Tan Man @RWestbrook1 wins again! What do u think @TommyMilner ? pic.twitter.com/D5FfCYkuvZ — Oliver Gavin (@olivergavin) April 2, 2013
@Seabs was this pic, from that Barcelona test?? One #TeamSpirit, other #MildSeven ?? #MeganeWithTheRoofRack pic.twitter.com/PQgxNH9T1r

— Oliver Gavin (@olivergavin) April 10, 2013
Bertrand Gachot (Canada 1994) by ~F1-history on @deviantART http://t.co/JpZcNopiuy #F1 #Photography

— Chris S (@mcrisever) June 1, 2013
(yes we know this is Gachot, but Gavin came close to making his F1 debut in the 1994 Pacific!)
"@PhillipKinch: @olivergavin A quick blast from the past for you Olly! pic.twitter.com/TuUAdK65MT" Great car, great year! #EdenbridgeRacing #95 — Oliver Gavin (@olivergavin) June 18, 2013
RT @CampbellJim Gary Pratt with 1-2 ALMS GT class finish pic.twitter.com/4kQp3qEnUi

— Charley Robertson (@cor2006) August 31, 2013
"@57BDR: 2013 Petit Le Mans. @CorvetteRacing @olivergavin @TommyMilner @RWestbrook1 pic.twitter.com/nmmZHIuTjR" Great pic!

— Oliver Gavin (@olivergavin) November 9, 2013
#Corvette racing #C7.R qualifies fourth on Thursday @24hoursoflemans with Oliver Gavin #Chevrolet pic.twitter.com/lMswy4AmF7

— Chevrolet Europe (@ChevroletEurope) January 26, 2014
—
By Sam Tickell, February 2014
RacerViews was established in 2011 and with the aim of delivering a new web experience to motorsport fans. We bring exclusive interviews and photos from motorsports finest drivers of yesterday, today and tomorrow. Our team has over 30 years of experience in the motorsport field. With a heavy presence on Facebook, Twitter and iTunes where we have over 2800 followers, our mission to bring exclusive content is in safe hands. We have partnered with motorsport teams like Stig Richards Motorsport, One of a Kind Motorsport, Dark Horse Racing and MRT Performance in order to give you the best exclusive motorsport coverage.
We are always looking for new people to join our team. If you are a motorsports photographer or journalist looking for additional exposure or a great place to learn your trade, contact us