If you watched the World Rallycross at Hockenheim and weren't converted, you never will be. Mattias Ekstrom mastered the tactics to take out the weekend…
Sweden's Mattias Ekstrom took an epic victory at today's World RX of Hockenheim, round two of The 2016 FIA World Rallycross Championship presented by Monster Energy. Finland's Topi Heikkinen finished runner-up making it an EKS RX one-two in the Audi S1 EKS RX quattro.  America's Ken Block took the third podium spot in his Hoonigan Racing Division run Ford Focus RS RX Supercar.
Ekstrom – who was also competing in the DTM German Touring Car Championship at the Hockenheimring this weekend – was top qualifier at the end of the World RX qualifying sessions before going on to win Free Practice 3 in DTM.  He went on to compete in DTM's second race this afternoon.
"I've never been happier in my entire life – to win in World RX and now in front of my loyal DTM fans is a dream come true," said Ekstrom who is tied at the top of the World RX drivers' standings alongside Petter Solberg [48 points]. "Topi is a great racer, he certainly made it tough for me! I had my opportunity at the Joker Lap and I managed to take it a smooth line ahead of Topi. What an amazing day but it's not over yet as now it's time for DTM!"
Runner-up Heikkinen, who also won the coveted Monster Energy Super Charge Award, added: "This is an excellent result for the entire team, we have to be happy with this result.  The car is super-fast and we have a great team behind us.  In the final, I was struggling with tyre-wear but I'm complaining about first world problems as that was our only issue. Now we have to keep the momentum going and gain more points in Belgium.  Mettet is one of my favourite tracks, I've won there for the past two years so why not making it a third next week?"
Ken Block qualified 13th yesterday, narrowly missing out on today's semi-finals but was promoted to the top 12 after Timmy Hansen was disqualified from Q4. Block battled his way through his semi-final to make it to the all-important final where he took P3.
"This is a huge accomplishment – not just for me but for the whole team who have worked so hard to make this happen," beamed Block, who has finished on the podium twice out of the four World RX events he has started.  "We are still trying to learn the car and there have been lots of set-up changes to try and figure out what can make the Focus work as well as possible.  We are definitely on the right path but some more experimentation is still needed."
Reigning World RX Champion Petter Solberg struggled with car differential issues on day one and an engine problem on day two.  Solberg's team changed the engine on his Citroen DS3 Supercar overnight and the Norwegian battled on to finish Hockenheim RX fourth overall.
One of the most impressive drives this weekend, however, was that of Britain's Liam Doran who won the second semi-final and finished the event fifth overall.  Doran's result is even more impressive considering his JRM Racing prepared MINI is down on power compared to the other 600bhp Supercars.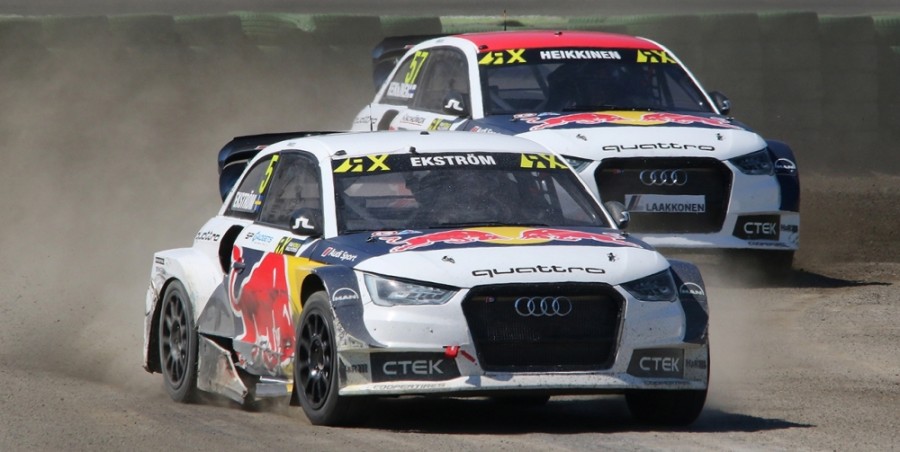 "It's been an absolutely incredible weekend," confirmed 29-year old Doran. "The MINI RX worked great and that allowed me to drive as hard as I could across all three days. The semi-final win was probably one of my best races for a long time. The final was frustrating because the steering damage we picked up meant I couldn't push and that put the leading pack just out of reach – but P5 is still a mega result at only our second event as a team."
Portugal RX runner-up Robin Larsson was on course for his second podium in a row but clipped the wall on the fourth lap, rolling his privately-run Audi A1 Supercar. Larsson nursed his car to the finish line, eventually finishing sixth overall.
Volkswagen RX Sweden's Johan Kristoffersson finished Hockenheim RX in P7, the driver denied a spot in the final due to a rear-left puncture.  In the overall drivers' standings Kristoffersson is fourth, six points adrift of Heikkinen who is third.
Frenchman Sebastien Loeb had an impressive weekend in his Team Peugeot-Hansen run Peugeot 208 WRX Supercar.  Placed seventh after Q4, Loeb and his compatriot Davy Jeanney made contact in the first semi-final which prevented both drivers from making the final.
Latvia's Janis Baumanis [World RX Team Austria], Sweden's Kevin Eriksson [Olsbergs MSE] and Norway's Andreas Bakkerud [Hoonigan Racing Division] also made the final 12.  Baumanis was fighting Kristoffersson for the lead in the first semi-final but made contact with the Swede at the Joker Lap exit which broke his car's suspension.
Elsewhere, Timmy Hansen had a difficult weekend when his car ignited during Q3.  Team Peugeot-Hansen did a miraculous job of getting his car back to the grid in time for Q4, where Hansen won his race.  However, the Swede was later disqualified from the session due to his car being underweight.
In the opening round of the RX Lites Cup, which was a guest support category at Hockenheim this weekend, it was Norway's Thomas Bryntesson who took the victory ahead of France's Cyril Raymond and Norway's Joachim Hvaal. Bryntesson was twice fastest in qualifying to finish TQ, before making the best start in both the semi-final and final to win the event and score maximum points at the first of the seven RX Lites rounds.
Round three of World RX takes place at the Mettet circuit in Belgium in just under a week (13-15 May).
Full results from World RX of Hockenheim can be found on the following link:http://www.fiaworldrallycross.com/result/hoc/2016
Championship standings can be found at: www.fiaworldrallycross.com/standings