The second round of the Lamborghini Super Trofeo Asia Series took Jono Lester to the Japanese Suzuka circuit.
After his successful debut in the Championship last time out, the New Zealander was looking forward to the legendary circuit, having achieved great results there in his past Asian racing life.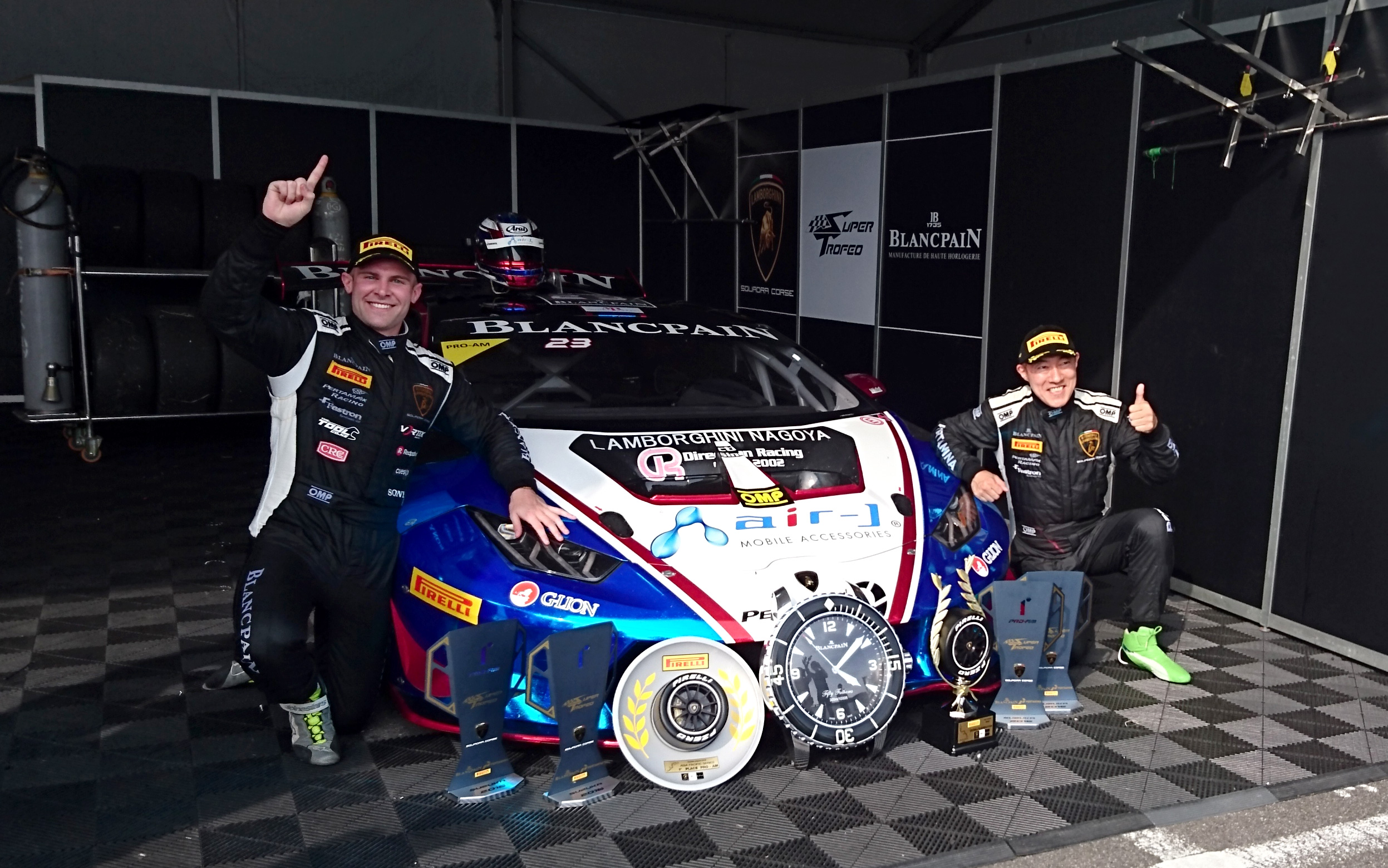 It was also a race that would be a little less frantic for Lester – having had more time to prepare – both mentally and physically.  What was also important is that he is more attuned to the team and how they operate.
He is more familiar with the car and how to make the changes the Air-J team need to suit both Lester and teammate  Yasuyuki Uchida.
"I think it is now about refining the relationship with the team.  Now that I know who does what and to what level, we can find ways to improve the package to move forward.  There are a few little things that we did at Suzuka that we did better like radio communication."
"The radio communication for example was a lot more fluent and effective.  Also now that I know the car I can jump in the car and be quick straight away – where at Shanghai it would take me a few laps."
"But we will continue to improve throughout the year."
As you can imagine, there is a language gap between the Japanese team and Lester – whose first language is English.
Lester does have and advantage though, having race in Japan in the past and actively learning Japanese.
"There is a [language barrier]. Uchida speaks a little bit of English but it is enough to get the bulk of the job done. I have started to learn the language – and have put a lot of importance on that. I see a future in Japan now and I see that as an important step."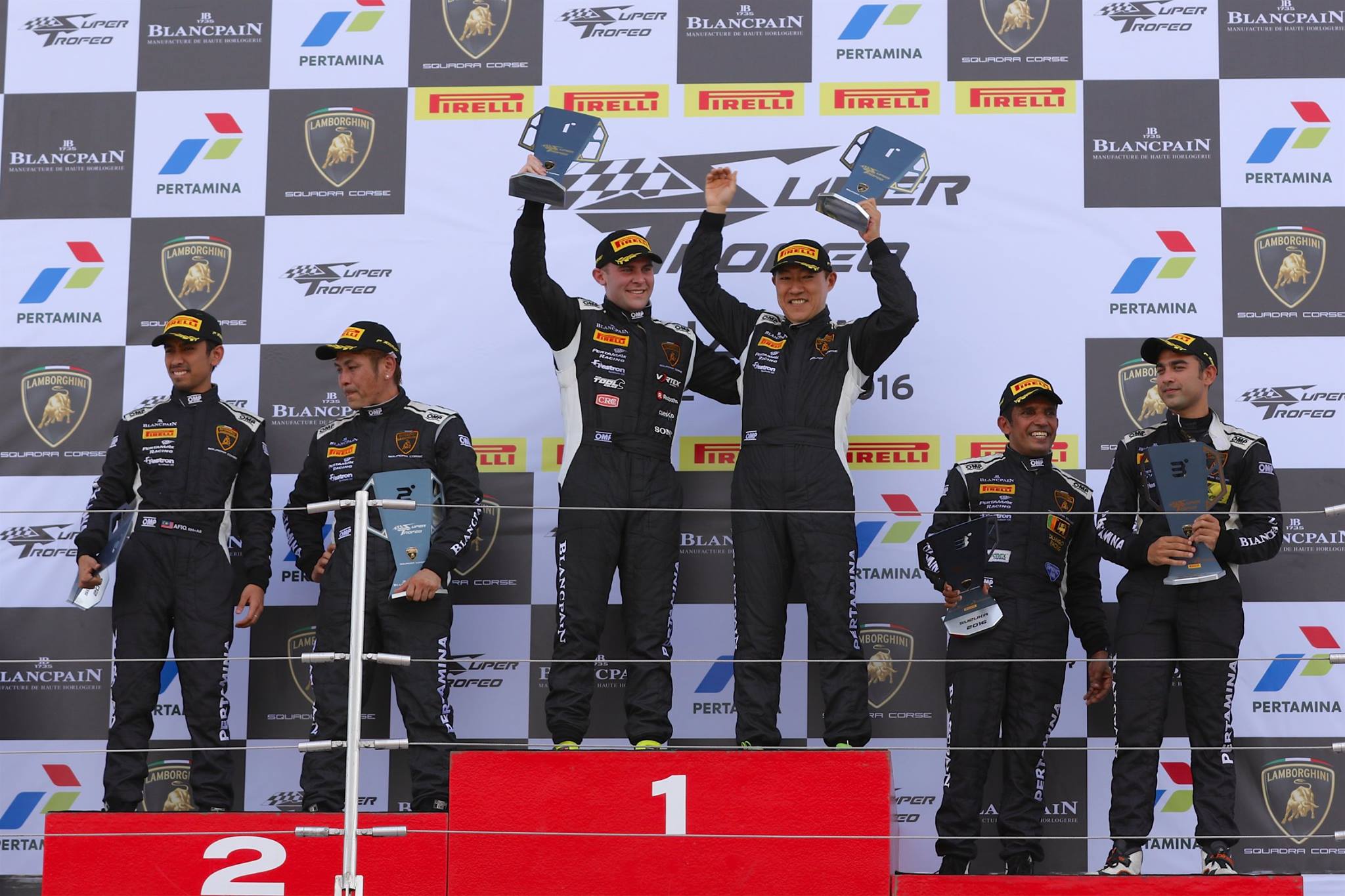 "If I can tighten up the communication, the relationship, the feedback – it all is a necessary thing to do."
"It has it challenges but we are doing a good job."
As for the on track action, it was a great weekend. Lester was immediately on the pace to take pole position and took a fairly simple win in race one.
Fine conditions were there for race one with Lester and Uchida able to control the race, winning the 50 minute affair by 16 seconds.
Race two was a little more complex.  The track was damp and there was a three way fight for the win between Lester/Uchida and Italian Max Wiser and Malaysian Afiq Yazid,
The battle would last to the flag and on Uchida was on slick tyres.  In the tricky conditions he was able to snag second place.
"It was great to grab out first victory in only our third race together at a circuit that i enjoy."
"We battled the weather like we did at Shanghai and we came away with an almost perfect score – it was a damn good weekend."
"The Lamborghini with its mid engined layout loved it [Suzuka] as well. The demanding nature…it is where the technical element came in, we had a car that reacted properly and it made it a pleasure a drive."
The Racerviews Info
By Sam Tickell, June 2016
RacerViews was established in 2011 and with the aim of delivering a new web experience to motorsport fans. We bring you more than just the news.  Our exclusive interview and galleries brings you the views from the track, from the racers. Our extensive race review collection allows you to keep up with the action from around the world. Our team of passionate pros have decades of experience in the motorsport field. Our social media presence on Facebook, Twitter and iTunes  bring you more, a holistic experience.  We have more than 3100 followers on Twitter and more than 2 million views on Google Plus.  Our mission is to bring exclusive content is in safe hands. Over the time we have partnered with motorsport teams likeAndreas Wirth, Stig Richards Motorsport, One of a Kind Motorsport, Dark Horse Racing and MRT Performance in order to give you the best exclusive motorsport coverage.
We are always looking for new people to join our team and we are always looking to publish stories, photos and audio in world-class publications around the world. If this interests you contact us